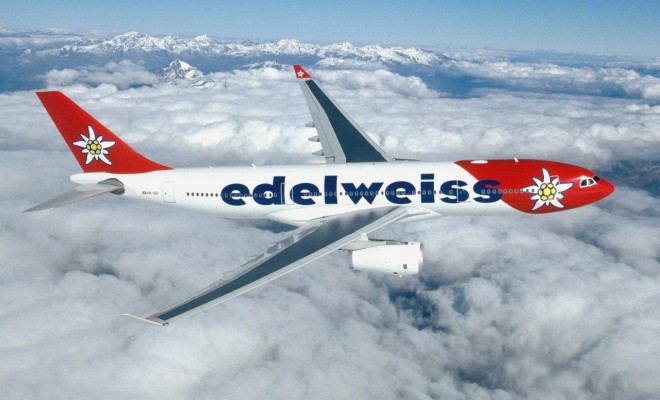 FLYING IN STYLE WITH EDELWEISS AIR
Navigating the route between Las Vegas and Zurich
By Elaine & Scott Harris
Photos by Edelweiss Air
Edelweiss Air is offering a direct route around the world with nonstop service between Las Vegas and the Swiss city of Zurich.
The airline first arrived in May at McCarran International Airport with two weekly nonstop flights on-board the 285-seat Airbus A330 aircraft. The flight between Las Vegas and Zurich is about 11 hours.
Edelweiss says it took just four months to carry more than 14,000 travelers to Las Vegas. In addition, it will add a third weekly nonstop flight starting next June. The new schedule will feature flights on Sundays, Wednesdays and Fridays.
We decided to try the flight out for ourselves. Our trip began in the VIP lounge of McCarran with complimentary beverages and small plates which were just a taste of what was to come high above the clouds.
We boarded the Airbus and were escorted to our cubicles in business class. The stylish features, amenities and service prepared us for arrival with warm, Swiss hospitality. Settling in, we reclined our seats which can lie flat and be converted into two-meter long beds. An in-flight entertainment system comes with large 16-inch high-definition touch screens. To make the flight even more comfortable, travelers can enjoy a selection of 65 movies, 60 TV programs, 400 music albums and 15 games. Guest can also charge a cell phone or tablet in the in-seat power supply and USB port.
A nice glass (yes real glass!) of champagne offered before takeoff by our ever attentive flight attendants set us in the right mood for our flight. Once at cruising altitude, our A330 became a 5 star restaurant and resort in the sky. After a few tasty glasses of champagne, our flight attendant arrived with an aperitif with an amuse-bouche. There were no plastic forks and cups on this flight. Setups came with real cloth napkins and silverware. Our lovely Swiss hostesses returned again and again with two appetizers and a choice of four entrees, a cheese course, dessert and a sweet surprise.
To make the flight even more relaxing, complementary beverages include beer, wine and cocktails all for your pleasure.
After a wonderful in-flight experience, you will arrive refreshed and ready to go at Zurich International Airport where you can hop a train to countless destinations throughout Switzerland or Europe. Edelweiss Air provides true luxury service. We can't say more about this Swiss treasure in the sky as it provides extraordinary Swiss hospitality from takeoff to landing. To book your experience, visit www.edelweissair.ch/en/ .
Edelweiss is related to Swiss International Air Lines and is a member of the Lufthansa Group.