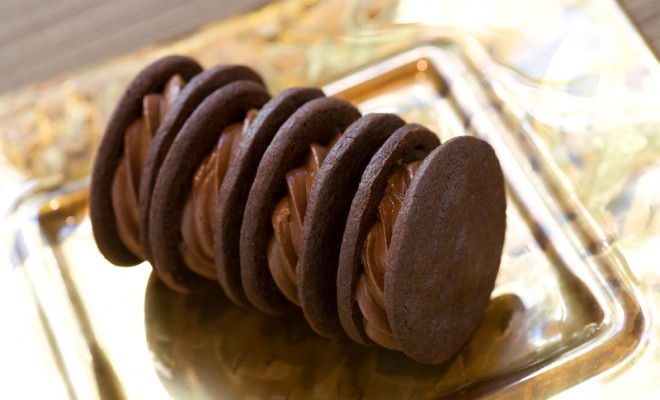 Chocolate and spice and everything nice
|
Chocolate and spice and everything nice
How Chef Megan Romano is tapping into the sweet tooth of Las Vegas
By Sandra Mallut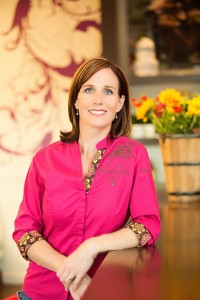 Photos: Chocolate & Spice Bakery
Pastry Chef and Chocolatier Megan Romano is one of my new favorite chefs in Las Vegas. I plan on gaining tons of weight from visiting her wonderful shop that's appropriately called Chocolate & Spice.   The first item I tried was her fabulous croissant which had the most amazing texture, crunch and sweetness. Upon my second visit, I sampled the BLT croissant sandwich and it was beyond awesome.  I ordered a cupcake and lemon tart for dessert and they were so good, I had to resist the urge to eat both at the same time!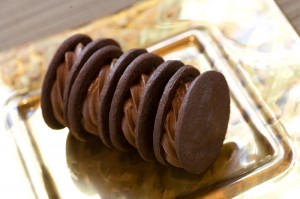 Chef Romano has followed a long road to becoming one of the top chefs in her industry while spreading a little bit of sugar-coated sweetness around Las Vegas.
The honors and accomplishments of Chef Megan Romano
Best Dessert Award, Chambord 2006 – Chambord Poached Pear Clafoutis with Blackberry Chambord Sorbet
Golden Scoop Award, Pastry Scoop 2007
Michelen One Star, 2007 to 2012 (Aureole Restaurant, Mandalay Bay)
It's A Sweet Life, Self-Published Pastry Cook Book, 2010
After graduating from Northwestern University near Chicago, Romano took a risk and sought a position – any position – in the kitchen of the late Chef Charlie Trotter, a world-renowned culinary master in the Windy City. She spent this time absorbing the skills of a cook, developing a real appreciation for unique product cultivated from all over the world, inventive presentation and the chef's inspirational drive in communicating his love of food.  At first glimpse, Romano loved what she saw and was hooked.
She returned to New York and aspired to work for another American icon of the kitchen, Chef Charlie Palmer of Aureole.  She appreciated Palmer's common sense approach.
"The food was bold, robust, presented at its best without much fuss," she recalls.
Romano made her mark quickly in the fast-paced kitchen.
"Megan is unbelievably creative, that's evident in her work, of course, but she's also very solid," remembers Palmer. "Her passion, her talent and her work ethic… you can rely on her to bring these qualities to work every day and to set an example for others".
After successfully making her way through every station in the kitchen, Romano took advantage of working for yet another mentor in New York, Chef Grey Kunz of Lespinasse at the St. Regis. Kunz's Swiss-Asian fusion style of cuisine is notable for having meticulous layers of pristine ingredients assembled into a perfectly seamless composition.  Romano worked as an entremetier, saucier, poissonier and patissier for Kunz – the latest of several world-acclaimed chefs deliberately selected to bring a new and different level of understanding to her own work.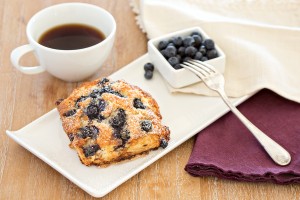 Today, Executive Pastry Chef Megan Romano focuses on seeking the best products for clean, crisp flavors while offering customers new taste profiles and whimsical presentations – all with the underlying theme that food is fun.  She has achieved her dream of opening a neighborhood bakery café known for both savory and sweet seasonal items created daily. A signature line of artisan chocolates has become a big hit at the bakery while a self-published pastry cookbook, It's a Sweet Life, shares her exciting recipes among a growing collection of foodies and fans.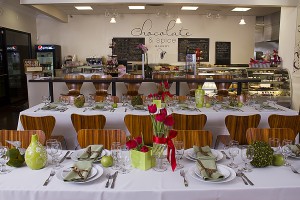 Specialties Available at the Bakery:
Apple Cranberry Pie
Stone Fruit Tart
Holiday Gift Boxes
Mocha Brownie with Ice Cream
Artisan Chocolate Bon Bons
Crème Brulee French Toast – on the Breakfast Menu
Egg White Frittata – on the Breakfast Menu
Egg and Turkey Muffin – on the Breakfast Menu
Croissant BLT Sandwich – And so much MORE!
Stop by Chocolate & Spice http://chocolatenspice.com/
Chef Megan Romano http://www.chefmeganromano.com
Contact Information
(702) 527-7772
(855) 243-BAKE
(702) 485-1391
megan@chocolatenspice.com
7293 W Sahara Ave Las Vegas, NV 89117
Hours of Operation
Monday: 7am-6pm
Tuesday: 7am-6pm
Wednesday: 7am-6pm
Thursday: 7am-6pm
Friday: 7am-6pm
Saturday: 7am-6pm
Sunday: Closed