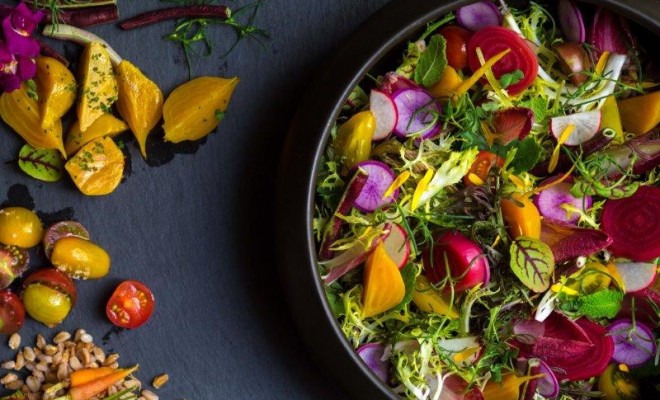 Harvest by Roy Ellamar
|
By Michael Uzmann
Photos: Harvest by Roy Ellamar
Harvest by Roy Ellamar: Your new favorite restaurant
In a city often associated with simple luck, it's easy to overlook the hard work that takes place behind the scenes. But every so often, true recognition comes to those most deserving. The reinvention of Bellagio's Sensi into Harvest by Roy Ellamar is a win for both the chef, who is considered one of the nicest in Las Vegas, and for fans of farm-to-table cuisine.
Described by Ellamar as an "homage to the origin of food," Harvest shines as a nearly one-million dollar investment near the Conservatory & Botanical Gardens and Bellagio ballrooms, backed by the chef's Hawaiian heritage with roots in "farming, fishing and respect for the land."
The result is a compelling space that marries seductive lighting to organic elements and conducive to everything from a quick bite at the bar or shared plates with friends to a more substantial meal for a night on the town without the kids.
Truly a "chef-centric" spot, the room is built around a jewel box kitchen where no less than two dozen men and women work diligently to craft rustic plates intended to show off the beauty of superior ingredients prepared simply to coax maximum flavor from each bite.
A meal at Harvest begins by browsing the list of drinks on a digital tablet. The cocktails are priced to Strip standards but are far more innovative than most with fresh seasonal ingredients presented with spirit-forward flavors, including a fizzy French 75.
Cutting no corners with regard to sourcing, America's best farmers and purveyors are proudly listed in a manner that has yet to seen on any menu in Las Vegas. Diners are enticed shortly after seating by a well-culled menu divided into nine sections, each consisting of only a handful of items. The culinary team is given additional flexibility by a duo of rolling wagons, one sweet for desserts and one savory for snacks between courses, with each featuring a few small bites poised to change daily.
Heavy on small plates, prices are more than one might pay in the suburbs though certainly less than most of the casino offerings on the Strip that use lower quality ingredients and far less finesse. None but the most ardent vegetarian should partake in dinner at Harvest without ordering the chef's $25 charcuterie board featuring four sizable selections of house-made pates and terrines plus briny Broadbent ham and accouterments. The sliced meat is equally well presented atop a puffy flatbread baked inside one of Sensi's remaining Tandori ovens while vegetarian naan and an elegant cheese board appear equally prone to please.
The concepts of ocean, garden and ranch continue with salads, soups and shellfish, as well as standouts like the golden brioche buns topped with crispy duck confit and medallions of seared foie gras from Grimaud Farms. Those seeking something a bit less heavy would do well to investigate the ruby red beets served with a sauce made of greens and tangy yogurt or farro ancient grains cooked into a toothsome porridge with a slow cooked egg and wild mushroom ragout.
Downplaying pride regarding "the faith Bellagio has placed in me," Chef Ellamar seems far happier to discuss relationships established "first at Robuchon and since 2008 at Sensi" when discussing sources such as Pitman Farms for Mary's Free Range Chicken or Painted Hills for 100 percent grass fed beef. Although larger plates from the rotisserie and grill may seem simple, the execution itself speaks volumes to the care involved in the process. The aforementioned chicken's three-step process of brine, smoke and roast adds complexity and crunch to a bird far beyond the menu-requisite white meat.
The dessert wagon offers nine petite bites for those looking to save calories but still finish with something sweet. Larger plated desserts incorporate concepts of seasonality along with texture. The wine-soaked pear and gingerbread or the deconstructed apple cobbler are both good choices for sharing while the bacon-imbued toffee pudding is so good, diners may want to order one of each for themselves.
Executing at an extremely high level for a restaurant fresh out the gate and offering the sort of menu Las Vegas sorely needs, Harvest by Roy Ellamar shows signs of an awakening amongst casino executives. The days of pizza, burgers and perhaps even celebrity chefs could soon be on the decline, while the farm-to-table movement, long embraced by other culinary destinations, is now finding a local home in the hands of a humble and hardworking Las Vegas veteran who has earned his shot at the spotlight and name on the marquee.