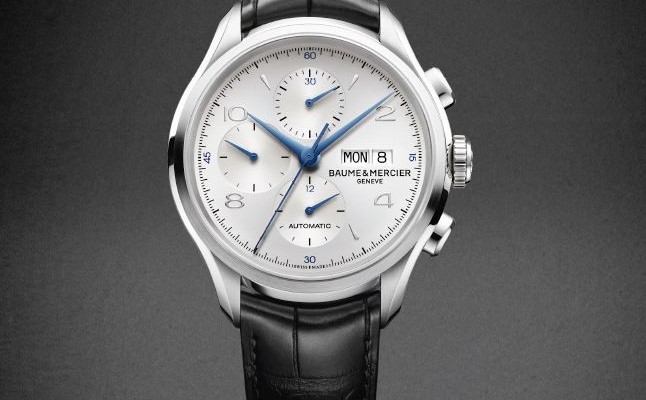 Timeless Watches throughout the Centuries
|
Baume & Mercier
Timeless Watches throughout the Centuries
Baume & Mercier, iconic Swiss brand watchmakers since 1830, continues to show its timeless appeal in the 21st century.
Famed photographer Peter Lindbergh captured "Life is About Moments" for the Baume & Mercier celebration campaign with a special focus on women. Baume & Mercier pieces reveal each of the many facets of their personalities; to capture their desires, to convey their emotions and to enable them to live their dreams.
In 2014 Promesse was created as an ode to elegance and designed to gracefully mold feminine curves with finely mastered design. It plays on light through the subtle nesting of a round shape within an oval, drawn from the rich Baume & Mercier legacy of ladies' watches. For the Salon International de la Haute Horlogerie (SIHH) 2015, Baume & Mercier has enriched the Promesse line with an irresistibly charming piece: a diamond-set polished stainless steel watch adorned with a natural mother-of pearl bezel.
An iconic timepiece encapsulating the Baume & Mercier know-how, this Promesse set with 61 diamonds on a steel 34 mm-diameter case vividly expresses its expertise in the realm of jewelry timepieces. Its intensely feminine natural white mother-of-pearl bezel emphasizes its oval design and enhances the tone of the silver-colored dial with its "drapé" guilloché decor, illuminated by the presence of Roman numerals and diamond-set indexes. Available on a polished stainless steel bracelet, this Promesse plays on its pristine purity to recall the most precious commitments in a woman's life.
43 MM CLIFTON CHRONOGRAPH: The power of balance
An absolute concentration of power and urban chic, this latest addition to the Clifton collection by Baume & Mercier, is a self-winding chronograph, and reveals its full potential when confronted with the trials of everyday life. Its understated, dynamic design is an expression of the strength of character by the person wearing it.
CLIFTON CHRONOGRAPHS
CLIFTON 10123
With the ideal proportions of its masterful design, the decidedly urban design of this 43mm steel timepiece inspired by the golden fifties offers an undeniable vintage appeal. Its complication, specially developed to measure very short intervals of time, will satisfy the highest precision requirements of various professional and leisure activities. Featuring blued hands against a sun satin-finished silver dial, this model contains a sturdy, durable self-winding caliber and is mounted on an alligator skin strap with large square scales fastened by a triple folding buckle with safety catch. This elegant watch will satisfy urbanites in search of a timepiece poised to triumph when confronted by any test.
CLIFTON 10129
This chronograph has an undeniably traditional character, featuring a sun satin finished silver dial to contrast with its golden hands and golden digits. The effect is further accentuated by a full grain brown alligator skin strap with large square scales, fastened by a triple folding buckle with safety catch. The most precious and undoubtedly the most vintage of the collection, this 43 mm steel watch contains a self-winding caliber known for its sturdiness. It will be the obvious choice for aficionados in search of a precise timepiece that age cannot alter.
CLIFTON 10130
With its 43 mm steel case liberally inspired by a 1950s model, this chronograph plays on a tastefully sporty note, with a flexible steel strap made up of fine steel links. It fulfills urbanites in search of a distinctly masculine timepiece or those living in humid regions. Water-resistant in five atmospheres, this efficient watch contains a Swiss-made, self-winding mechanical movement (ETA 7750) known for its durability. The trained eye will appreciate the open display in the three o'clock position that simultaneously gives the day and date.
For more information, visit WWW.BAUME-ET-MERCIER.COM.
Photography courtesy of Baume & Mercier
facebook.com/BaumeEtMercier
twitter.com/baumeetmercier
youtube.com/user/baumeetmercier
Instagram.com/baumeetmercier
e.weibo.com/baumemercier
t.qq.com/baumeetmercier
By Debbie Hall
Debbie Hall has lived in Las Vegas for more than 35 years and is an expert on food, the arts, shopping, attractions and entertainment in Southern Nevada. She writes for Las Vegas Woman, Sunseeker, Veterans Reporters News and provides digital content for Informer Media Group, CBS Las Vegas and the Examiner.
Twitter: @DangerousDeb
Facebook: DangerousDebbie
Email: cmediacom@gmail.com