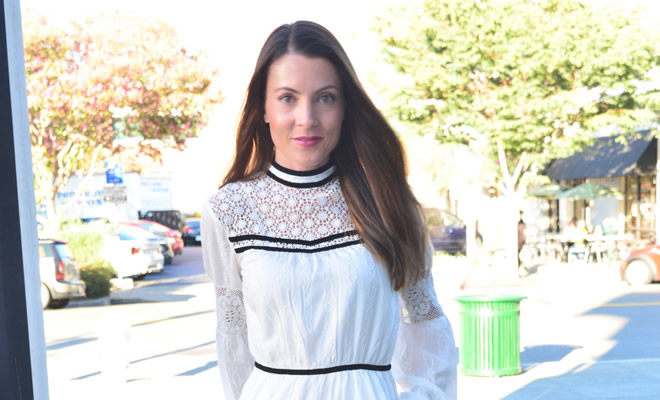 2015 Fall Fashion
|
Fall is quickly approaching! As it does, I find myself thinking not only about the return of pumpkin spice everything, but more importantly, a new season of fashion.
So many of the new fall looks are heavily based on the 70's trend. Two of my favorites: the flared jean, and floral boho dresses. The trick to rocking either of these is to remember to keep the look modern. Mix in of-the-moment pieces to make it your own. To keep things from looking too costume-like, try a singular piece with a 70's feel.  Also, keep other pieces fitted. They will work better with the exaggerated silhouette of flares or boho dresses.
There's a lot of talk about the 'car wash' hem skirt for Fall. If you haven't seen it yet, it literally looks like the squid-monster thing that washes your car! Personally, I'm not sure I'm on board with this trend. If I were to go there, I'm picturing myself in either a tweed or wool skirt, paired with Victorian lace tights and over-the-knee boots.
Speaking of over-the-knee boots, they will be a big part of Fall fashion. This is one of my favorites. It's functional, adding warmth to any look, and versatile; OTK boots can be worn with pants, skirts or dresses. Just be mindful of your hemline when rocking them with skirts or dresses. Anything too short is very a-la Julia Roberts in Pretty Woman.
If you shy away from trends because you feel they aren't flattering on you, I've got one that works on just about anyone! Fall 2015 continues the high-waisted trend. From jeans, to slacks and skirts, you'll be seeing a lot of it!
Fur accents (faux or real, you decide), will be popping up as the foliage begins to turn color. Whether it's a fur cuff on a sleeve, boot or jacket collar, this cozy trend is on point for Fall!
When the weather begins to cool off, I find myself reaching for pieces with a rich, cozy feel. Chunky knits, luxe leathers and rich suedes will all be all the rage this Fall season.
As for accessories, Fall ushers in the return of dainty jewelry. Gone are the days of the chunky statement necklace. In its place is something more subtle, think smaller pieces with shimmer, sparkle or sheen. If your a bag girl, like I am, you'll be glad to know that rumor has it that crocodile (again, real or faux) will be big this Fall. Look for it to be paired up with Fall's other bag trend, the top handle bag.
When it comes to trends, the important thing is to let yourself shine through. Take something that's "in" and make it your own. Be sure to wear any of these trends with confidence and a happy smile. A woman who exudes confidence and happiness never goes out of style!
People will stare, make it worth their while.
Fashion has been a way of life for me. Ever since I was a little girl, I remember picking out my outfits and being very particular about my clothes! I would prepare my outfits each night, for school the next day.
I grew up in the tiny mountain town of Ojai, CA, and eventually moved to West LA to regain my anonymity. Fate later led me to Walnut Creek, where I live with my husband and our fur-child, Rosco.