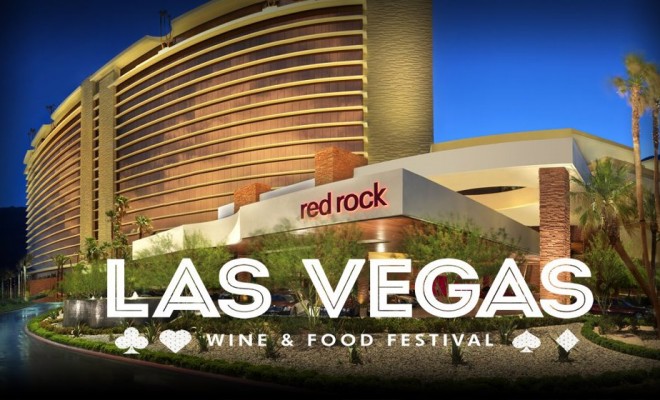 Vegas Wine & Food Feature for Vegas 2 LA Magazine
|
Every year, the Vegas Wine & Food Festival presents an enviable collection of chefs from some of Vegas' best restaurants and beyond–and 2014 may be the most interesting gathering yet. Here are some highlights of who you'll get to meet and eat with at this year's events: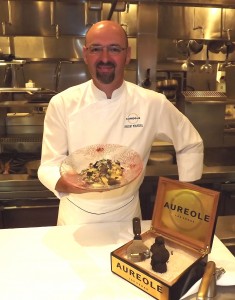 Aureole: Executive Chef Vincent Pouessel
Among the elite of veteran chefs running the Vegas Strip's finest restaurant kitchens, Aureole's Vincent Pouessel is tireless in his reinvention of classic and innovative dishes informed by both his classical French training and the American ingredient traditions of Chef Charlie Palmer.
Bachi Burger
A Vegas original, Bachi Burger combines the classic American burger of top quality American Wagyu and Angus beef with an inspired variety of Asian and Pacific accents like shishito peppers, chinese sausage, mizuna letuce, red bean, japanese eggplant, miso goma dressing and purple taro buns.
The Bacchanal at Caesars Palace
The lavish casino buffet is an icon of Vegas dining, but nobody does it better than Caesars Palace, where their seemingly endless Bacchanal has won rave reviews–and long lines!–from adoring eaters.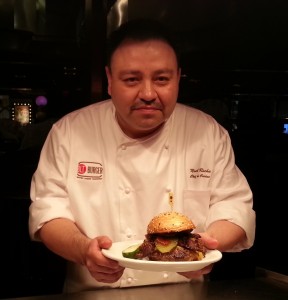 BLT Burger: Executive Chef Noel Rocha
Gourmet burger joints abound on the Strip, but one of the first, Laurent Tourondel's BLT, is still the one to beat, making an average of 1500 customers a day happy with house ground beef, turkey and lamb burgers on fresh baked buns–matched by seductively thick boozy milkshakes.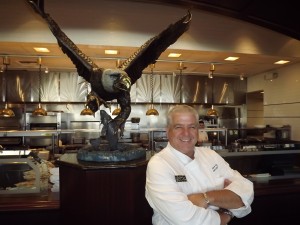 Capital Grille: Executive Chef Dave Sacco
Classic elegance and premier ingredients sum up the Capital Grille's philosophy. With 54 locations across the continent, Capital Grille's buying power gives it access to some of the best beef sources in the heartland, dry aged and cut in house by none other than Chef Dave himself.
CRAVE: Executive Chef Bill King
Focusing on seasonal and regional ingredients, the select locations of CRAVE in Minnesota, Florida, Ohio, Texas and Nebraska serve everything from kogi beef tacos to chipotle seasoned sushi rolls, alongside more famiilar salads and flatbreads.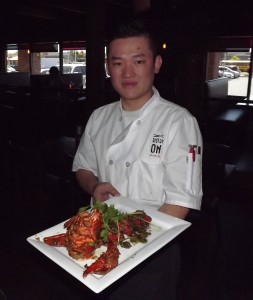 District One: Chef/Owner Khai Vu
Not satisfied with just opening another typical Vietnamese restaurant, Khai Vu spent five years travelling Asia and the Americas finding flavors and ingredients to combine in new but not overly complicated ways. Look for his incredible Maine lobster pho, ahi tacos or stir-fried clam.
Ellis Island's BBQ & Brewery
One of the best kept secrets on this off-Strip casino is their generously portioned fall-off-the-bone tender barbecue , served alongside Ellis Island's own microbrews.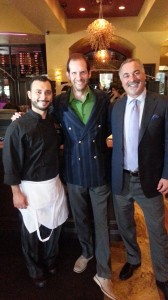 Ferraro's: Executive Chef Mimmo Ferraro
Classic American Italian food? Easy. Authentic regional Italian? Harder, but not impossible. Combining the two, and putting your own family stamp on it? Truly rare, but Mimmo Ferraro does it every single day at his revered Vegas family restaurant, pairing with one of the best Italian wine cellars around.
Goodie Girls: Executive Chef/Owner Annette Starbuck
The culmination of Cupcake Wars winner Annette Starbuck's amazing success story, Goodie Girls' two Southern California locations offer cupcakes and other fresh treats in a rotating array of inspired flavors. "Baking is a passion of mine," says Annette, "and I create every cupcake with all my heart and soul."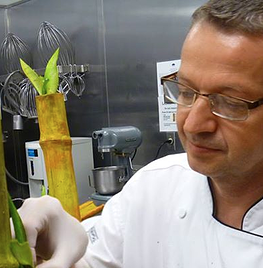 Haute Sweet: Chefs Gianni Santin and Tida Pichakron
With multiple Food Network appearances between them, Chefs Gianni and TIda (former pastry chef at Vegas' Mandarin Oriental) create some of Dallas, Texas' most enviable pastries and desserts.
Hearthstone Kitchen & Cellar: Executive Chef/Partner Brian Massie
Chef Brian, who oversees so many tried-and-true Light Group restaurants (STACK, FIX, Citizens…), should need no introduction. Hearthstone, his first off-Strip venture in Summerlin, will offer seasonal rustic American dining focusing on wood-oven specialties and extensive wine selections in an inviting atmosphere.
Herbs & Rye: Owner/Mixologist Nectaly Mendoza
Former Strip mixologist Mendoza built his dream bar, and has seen the city's serious spirit lovers flock to it (many national accolades have followed too). But Herbs& Rye is more than just Vegas' most dedicated temple to perfect cocktails, it also offers solid destination dining.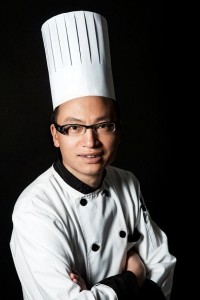 Lao Sze Chuan: Chef/Owner Tony Hu
This exciting addition to Vegas' Asian scene is a spin-off of Tony Hu's Michelin Guide-honored Chicago restaurant, where dishes like "Tony's Three Chili Chicken" make new fanatics ("chicken crack!") every day. Expect specially made Sichuan, Mandarin, Cantonese, Hunan and Shanghai style dishes all at the new Palms resort location.
Mastro's Ocean Club: Executive Chef Jonathan Clary
With a breathtaking setting inside the estimable Crystals retail center, Mastro's Ocean Club takes a stylish approach to classic seafood, from Arctic char Oreganata to Vanilla battered twin lobster tails. Even sushi gets its own spin here in dishes like albacore with black truffles or clear lobster rolls.
Maggiano's Little Italy
Classic family-style American Italian is what's on the menu at Maggiano's, where you'll get your fix of chicken parm, "Mom's Lasagna" baked ziti and a variety of flatbreads.
Marsatta Fancy Chocolates
N9ne Steakhouse: Executive Chef Barry Dakake
Almost an institution by Vegas standards, newly remodeled N9ne still draws a great crowd of celebs, athletes, high rollers and serious eaters to Chef Barry's carefully selected steaks as well as creative plates like Philly cheesesteak egg rolls and lobster pot stickers. Ask to see his celebrity signature door!
Origin India: Executive Chef Vinod Ahuja
Widely praised both locally and nationally, Origin India's Chef Vinod Ahuja combines classic Indian recipes like Murgh Chillli Milli chicken and lamb Pakhtooni Kebab with modern inspiration for an elegant experience worthy of the Vegas dining scene.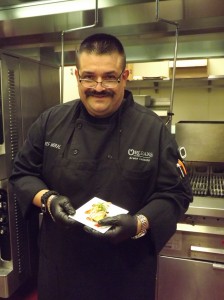 Orleans Arena: Executive Chef Gil Hernandez
Overseeing a dedicated team of event staff, Chef Gil brings tireless inspiration to the Orleans Arena, whether executing concessions for a sporting event or catering a meeting of thousands.
Redneck Tapas and Bourbon Bar: Chef/Owner Andrew Weiss
"Our concept is to deliver five star quality food for the Joe Schmo," says Chef Andrew Weiss, whose Redneck Tapas is set to bring authentic Southern tastes to Vegas' West side later this year. For a sneak preview, look for his pulled pork, peach gazpacho and more at the Festival.
Rossa: Chef Massimo Pisati
With a firm understanding of both the traditions of his native Italy and the crowd-pleasing flavors of American Italian, Chef Massimo will present a revived Rossa restaurant at Red Rock Casino in September, 2014.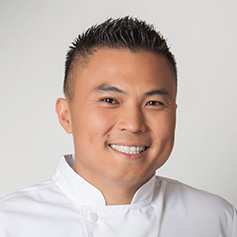 Roy's: Chef/Partner: Quy Trinh
Chef Trinh brings a wide range of Pacific Rim inspiration to Roy's in suburban Summerlin. Dishes like Lilikoi pear salad, jade pesto lamb and red curry chicken samosas show original approaches to classic flavors.
Sauced : Chef/Owner Mike Booth
Former Strip chef Mike Booth puts clearly puts love, creativity, and a lot of flavor into everything he serves on the Sauced food truck–and when catering events of all sizes. Look for his award-winning "Big Easy Balls"–sort of Cajun arancini, if you can imagine–as well as a lot of original sandwiches.
Scarpetta: Executive Chef/Owner Scott Conant
What more can be said about star chef Scott Conant's Vegas flagship team? Simple some of the most original, creative but still ingredient-driven Italian cuisine in the country. The spaghetti is legendary.
Sushi Samba
Fun and fabulous SushiSamba calls on the unique fusion of Japanese and South American flavors for an exotic adventure of tasty, textural raw and grilled plates. Chiccharon de calamar plays nicely with Kanpachi tiraditos, pork belly ramen and chicken anticuchos on their expansive menu. If none of that makes sense to you…well you need to come try it!
Chef DJ Seals
Southern California-based independent Chef DJ Seals specializes in Louisiana flavors, but takes equal pride in her ability to cook French, Chinese or any other cuisine you can name. "I get a high from people enjoying my food," she says.
Smith & Wollensky                
Steak lovers have undoubtedly heard of the Smith & Wollensky brand, grilling Prime beef–dry aged and butched on site– for over 35 years in cities across the country. Menu highlights include the coffee and cocoa rubbed filet mignon, the tenderloin trio, and four cheese truffled mac & cheese. And then there's the whole Maine lobsters stuffed with crab meat!
STK: Executive Chef Stephen Hopcraft
Don't be fooled by the clubby atmosphere. Chef Stephen, a veteran of Charlie Trotter and Michael Mina restaurants brings incredible detail and creativity to every dish at this hot steakhouse, from the buttery monkeybread, foie gras and waffles and Wagyu sliders to the hefty 34 ounce Cowboy rib steak.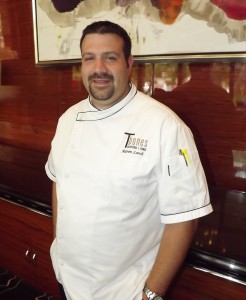 TBones: Executive Chef Aaron Losch
At a glance, Red Rock Casino's TBones Chophouse might seem like just another place to get a hunk of meat. But Executive Chef Aaron Losch puts personal touches on every aspect of the menu from Texas onions in the French onion soup to cucumber gin sorbet on the oysters. Steaks are carefully sourced from Niman Ranch and other respected sources.