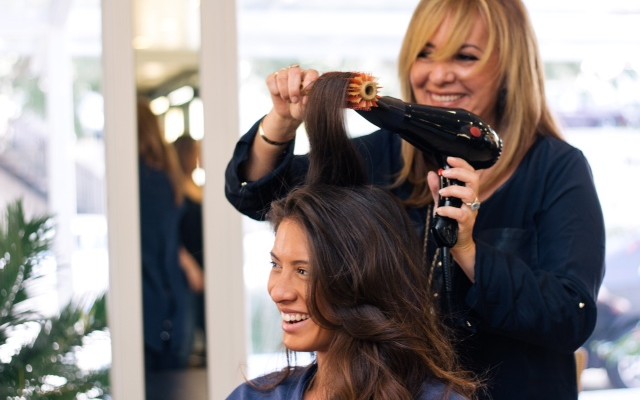 Boot Camp Bombshell
|
HOW TO BE A BOOT CAMP BOMBSHELL
Whether you're a militarist, a pacifist or a conscientious objector, there's one battle we all face — life. For most of us that includes having too much to do and not nearly enough time to do it, let alone to look good while we're at it. And research shows that attractive people, especially women, do better in school, in romance, and even at work where they tend to earn higher salaries and get better job offers.
The single most crucial aspect of anyone's appearance, both personal and public, is hair. Even middle-aged billionaires like Donald Trump can't escape criticism over their hair and it's even more important for women. "The Donald" might have learned from the advice Hillary Rodham Clinton gave the 2001 graduating class at Yale College: "The most important thing I have to say today is that hair matters. Pay attention to your hair. Because everyone else will."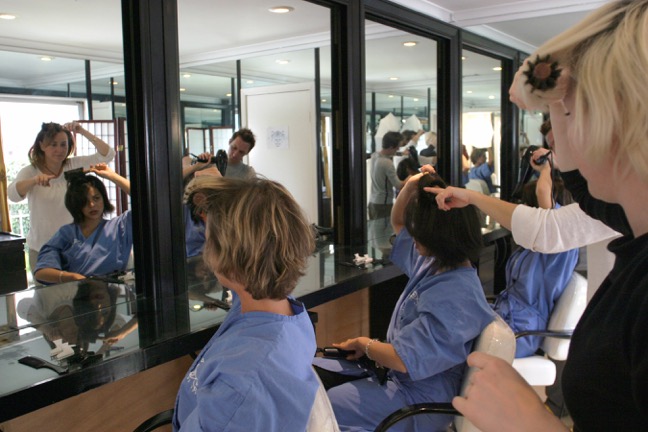 In the film, Working Girl, Melanie Griffith's character puts it straight, "You wanna be taken seriously, you need serious hair." That's because "hair is one of the first things others notice about us and one of the primary ways we declare our identity to them," says sociologist Rose Weitz, author of Rapunzel's Daughters: What Women's Hair Tells Us about Women's Lives (Farrar, Straus and Giroux).
Indisputably, the most effective and least expensive way to drastically change that identity is by changing one's hairdo. The modern woman's up-to-the-minute arsenal of health and beauty aids includes everything from antioxidants to aerobics and medications to meditation. Until now, the only thing lacking was time.
Enter Muriel Mastey, known professionally as Muriel M.
Born in Casablanca, Morocco, Muriel moved to Paris with her family when she was just seven years old. By that age the budding hair stylist already had a large following, albeit all of her clientele were dolls. She could not have foreseen that one day she'd be the stylist for Ruth Handler, creator of the Barbie doll and co-founder of Mattel. It was only natural for Muriel to follow in the footsteps of her family's hair gurus, artists who catered to the social elite. In fact, it may have been Muriel's Uncle, who styled the tresses of fashion icon Coco Chanel, that inspired the designer to observe, "A woman who cuts her hair is about to change her life."
Muriel's own life changed when, at 18 years old and in training at L'Oreal Paris, she was chosen to work with Jean-Louis David at his flagship salon off the Champs Elysees. The next stop for Muriel and her business partner/husband, Xavier Guerin, was Beverly Hills. While working as a leading stylist at the Cristophe Salon, she attracted attention for her "lifestyle" haircuts geared specifically to stylish, sexy, hip and artistic women.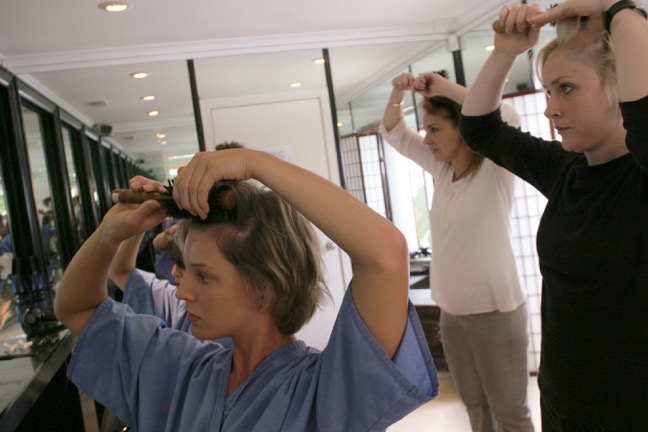 When they launched their first Point De Vue Salon, Hollywood's own elite came calling — celebs like Jessica Alba, Sharon Stone and Rosario Dawson, even Colin Firth and Patty and Bruce Springsteen. Word was splashed on the pages of Allure, Glamour, In Style and W Magazines and Muriel made appearances on Access Hollywood, CNN, the Rachael Ray Show and many others.
"THE BEST PLACE FOR A MAKE OVER IN LOS ANGELES. MURIEL HELPS EACH CLIENT FIND HER OWN STYLE AND TEACHES HER HOW TO LOVE IT."
Allure Magazine
Muriel has her own arsenal: painting sunlight (lighter) or moonlight (darker) tones with an artists' brush; a French vanilla coco glamour bath; hair collagen; teinture; root lift soft curl perms; scalp jouvence (hair masque and scalp massage); reconditioning and straightening. For many celebs a seat in Muriel's chair is the first stop on the way to the Red Carpet but everyone gets a warm welcome as a coterie of locals who have been coming since the doors opened will attest.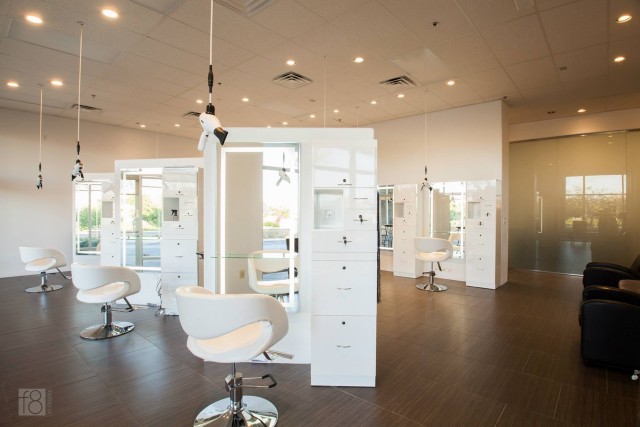 And now there are doors open in Las Vegas as well as Los Angeles. Behind them Point de Vue is more than a point of view — it is a belief that every woman not only can be empowered by her own style and beauty but can learn to reproduce them herself. "I want my clients to feel confident and radiant," says Muriel. "I'm committed to helping them find their own beauty and style and to giving them the tools and skills to create and maintain it…"
To do that she created HAIR BOOTCAMP, very special hair care and beauty workshops that are a culmination of her over 20 years of experience, tricks, tips and techniques.
Clients come in with their hair washed and done the same way they do it regularly.
They bring their "arsenal" of tools: blow dryers; products; combs; brushes and whatever else they have been using so the Muriel M crew can use it or lose it. After all, give a girl a hairstyle and she'll look great for a day but TEACH a girl to style her own hair and she'll never look awful again.
The steps are simple: Get fit (Learn how to move your brush, comb and hairdryer);
Work it out (practice your newly found skills on yourself and others); Educate yourself (how to use products such as shampoo, conditioners, gels, and mousse for the healthiest hair). Finally, accept what your hair can and cannot do.
The standard enlistment program is two hours plus a one hour follow up the following week: $200.00. They can accommodate up to ten people at a time.
Tools and products are available at a discount at the end of the workshop. All participants get a completion certificate at the end of Hair Bootcamp. For corporations or parties, they also offer a forum presentation, with one or two models, a larger group of woman, and time for a Q&A. For booking, contact http://www.pointdevuesalon.com
Wavering? Remember the words of Joan Crawford, the Golden Age of Hollywood femme fatale, who said, "I think the most important thing a woman can have — next to talent, of course — is her hairdresser." After all, Samson was the strongest man who ever lived and all it took to sap his powers was one bad haircut.
Los Angeles
Muriel Mastey's POINT DE VUE SALON at Lionel Renard
8113 West 3rd Street
Los Angeles CA, 90048
Las Vegas
Muriel Mastey's POINT DE VUE SALON at Lex Lounge
3645 South Town Center Drive, Summerlin Las Vegas, Nevada 89135
Book online at http://pdvsalonbooking.salonrunner.com
By Andrea Rademan
Andrea Rademan is the former Vice President of the International Food Wine & Travel Writers Association whose articles on food travel, entertainment and lifestyle are published worldwide. She continues to follow her passion for fine dining as editor-at-large for Vegas2LA.