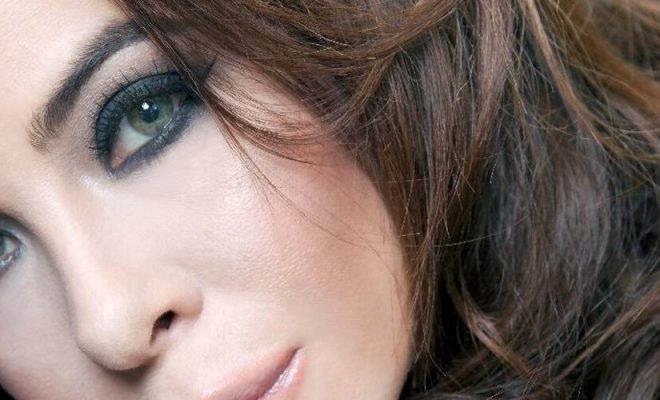 HOT MESS
|
YOUR HOT MESS' MAKEUP LINE

TASH Cosmetics (Owned by Tasha Guerrero-Castagna) partners with Actress, Scream Queen, Life & Dating Coach, and Author, Brooke Lewis, to launch their 'Profess Your Hot Mess' makeup line Winter 2017.
In conjunction with the release of Brooke's latest book Coaching From A Professed Hot Mess, the "Beauty Divas" teamed up to bring you the makeup line 'Profess Your Hot Mess'. To quote Brooke in her book, "Let's break the 'rules' and stop chasing "perfection." It gets tiring trying to be "perfect" all the time, doesn't it?" TASH Cosmetics and Brooke Lewis are committed to encouraging women to "feel good about themselves" and promoting beauty from the inside out, as expressed in their mission statement, "Let's stop trying to be "perfect" and get "pretty" from the inside out!"
"Life works in "beautiful" mysterious ways! I dreamed of a Ms. Vampy makeup line for years and had been 'in talks' with a few companies, but nothing ever felt "right", nor came to fruition. After my book release, Tasha reached out to me to ask if she could send me a gift basket to try her products, as a person in the public eye. Being a "GlamGal", of course I accepted her generous offer and the rest is history! I fell in love with her products! I have severe allergies, skin sensitivities and can easily break out. TASH Cosmetics are natural, hypoallergenic, perfect for my skin and created all my favorite eye and lip colors. Plus, Tasha is a "Beauty Diva" Sweetheart, so I knew we were the perfect makeup match!" – Brooke Lewis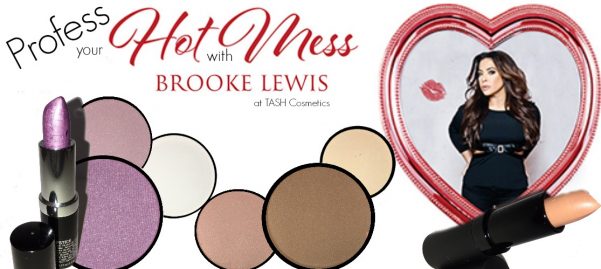 TASH Cosmetics makeup and skin care products are always freshly made to order, natural, hypoallergenic, non-comedogenic, and made in the USA. TASH Cosmetics DOES NOT believe in animal testing. "We love our furry friends," states Tasha Guerrero-Castagna. TASH Cosmetics' mission is to create and provide healthy, natural alternatives for beautiful vibrant makeup and quality, effective skin care. Their products are made to last – A little bit goes a long way so you get a "better bang for your buck". They have a women's and men's line, cater to all age groups from "tweens" to "sexy seniors" and are proud to provide quality, luxurious products to everyone.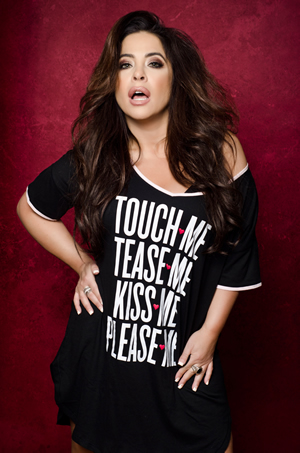 "Working with Brooke has been so much fun! She is so easy to work with, and bounce ideas off of. Her positive energy is contagious and inspiring. She has a great eye for color and together we have created several lines that will suit everyone's taste. When we were creating her line, one of the things she really wanted to do was give women the option of CHOICE. Being a business woman myself, this really meshed well with my own personal beliefs and the mission of TASH Cosmetics." – Tasha Guerrero-Castagna
Together TASH Cosmetics and Brooke Lewis have created 'Profess Your Hot Mess' ™ which is a line of very tasteful, highly pigmented colors ranging from gorgeous shades of purples to neutral, earthy browns… Purple Haze, Moonlite Mauve, White Lace, Mocha, Hush Brown, Nude, just to name a few. Brooke has created a line of very versatile eyeshadow colors that mix and match well together, as well as a lipstick to top off the look. There is something in this line for all women.
'Profess Your Hot Mess' makeup can be purchased at TASH Cosmetics: http://tashcosmetics.com/p/the-brooke-lewis-line
For more information on Brooke Lewis and Coaching From A Professed Hot Mess: http://beyouandbefearlesslifecoach.com/hot-mess.php
'Hot Mess': refers to when a "person's appearance is in a state of total disarray while still maintaining an undeniable attractiveness" & allure." – Coaching From A Professed Hot Mess
For our fabulous Vegas2LA readers  when you purchase your holiday gifts now with discount code #BROOKE17 and receive 15% OFF!   Happy Holidays!