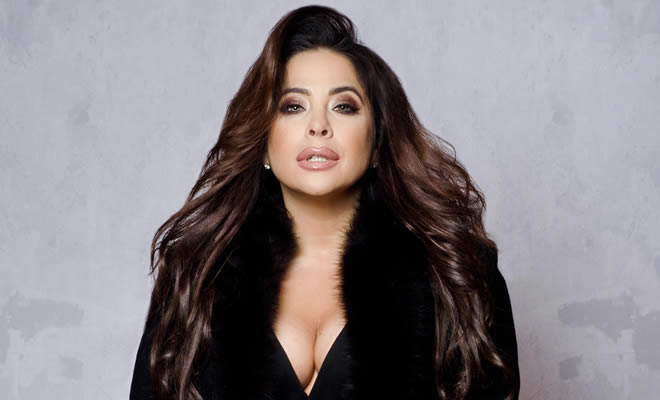 Charity Chocolate & Cosmetics
|
ONE YEAR SINCE INDULGE LA AND BROOKE LEWIS HAS ACCOMPLISHED THINGS IN MS. VAMPY YEARS!
Three times is a charm with one of our favorite celebrity guests at Indulge LA. The vivacious and versatile, Brooke Lewis, is back to "indulge" for the third year in a row, so she stopped by to share all her 2016 accomplishments with our Vegas2LA readers. This award-winning actress, producer, Board Certified Life Coach, TV Dating Expert, writer and author truly has accomplished things this year that most people accomplish in 100 years…then, again, she is Ms. Vampy!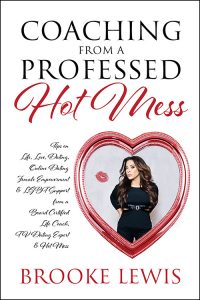 On the acting front, Brooke has a lot to celebrate, as the horror, comedy film, Slime City Massacre, which won her the B Movie Golden Cob Award for Scream Queen of the Year 2010, had a huge re-release through Camp Motion Pictures in December. She was also honored at Zed Fest Film Festival with the Mary Pickford Award, which is the festival's highest award honor for women in film. Zed Fest also followed with Outstanding Acting Performance for her work in the psychological thriller, Sprinkles, while, just this month, the Mediterranean Film Festival (MedFF) in Italy honored her with a Best Actress award for the same film. She is scheduled to hit the festival circuit again in 2017 with thriller Psycho Therapy, which was written and directed by Staci Layne Wilson and also stars Ricky Dean Logan of Nightmare on Elm Street fame.
After writing for media and publications for many years as an Expert, Brooke has added "Author" to her list of many titles in the past two years. In 2016, she published her self-help, motivational, how-to book, Coaching From A Professed Hot Mess. She calls this her "blessed and beautiful lil bedside table book," which consists of tips on life, love, dating, online dating, female empowerment and LGBT support. To quote Brooke in her book, "I cannot tell you how good it feels to be self-aware enough to admit and embrace my "flaws." Along with my strengths, my "flaws" and weaknesses make me vulnerable, special and unique. I also believe that by sharing my HOT MESS quirks with you, it will support you in embracing your HOT MESS quirks, too! Let's break the 'rules' and stop chasing "perfection." It gets tiring trying to be "perfect" all the time, doesn't it?". Coaching From A Professed Hot Mess hit #1 New Release in both Etiquette and Guides & Advice on Amazon. This book was also the winner of the Beverly Hills Book Awards 2016 Self-help Motivational Book.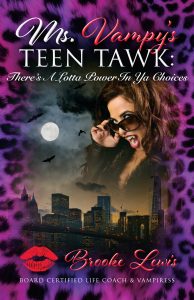 Following this book, she came back with a vampy vengeance and published Ms. Vampy's Teen Tawk: There's A Lotta Power In Ya Choices non-fiction, self-help book for teen girls. Straight from Ms. Vampy's "tawk" in the book, "I am a Vampiress from Brooklyn with a mission! Do you know how many teen girls struggle with the courage to make the right choices and find their own voice? My mission is to empower teen girls to be courageous, so they can make the right choices and find their own voice. I may be over 100 years old now, but, remember, Vampires never grow up! I still feel like a teenager at heart and I still struggle with the same issues and challenges I did 85 years ago. I've also been through over 100 years of challenges and experiences, so I think that qualifies me as a freakin' "expert", don't you? I will also tell ya that some of my biggest successes and lessons have come from making mistakes and the wrong choices. You just gotta pick yourself up, start over and make different choices the next time. At any time, you have the power to create a "do-ova" and feel differently, think differently, dress differently and be different. I, and this book, are here to support you, guide you and honor you in areas where you are feeling stuck, confused, fearful, insecure or simply needing help. VAMP IT OUT!" After just releasing, this book hit #1 New Release in both Juvenile Social Situations and Self-esteem & Self-respect on Amazon Kindle. See, vampire years, I tell ya!
The next stop on the 2016 Brooke Lewis accomplishment train is her fabulous product branding deals. In conjunction with the release of Brooke's book Coaching From A Professed Hot Mess, Rock n' Roll Lifestyle Company Metal Babe Mayhem (Owned by Alison "MetalBabe" Cohen) partnered with Brooke to launch their 'Rock Your Hot Mess' clothing line Fall 2016. Following this release, the Girl Power duo teamed up two more times to bring you the 'Ms. Vampy Design' and 'Scream Queen Brooke Lewis' design clothing brands, both designed by talented Pinup artist, Bill Bronson.
Last, but not least, and one brand we are excited to promote at Indulge LA 2017, is Brooke's collaboration with TASH Cosmetics. Also in conjunction with the release of Coaching From A Professed Hot Mess, TASH Cosmetics (Owned by Tasha Guerrero-Castagna) partnered with Brooke to launch their 'Profess Your Hot Mess' makeup line Winter 2017. TASH Cosmetics and Brooke Lewis are committed to encouraging women to "feel good about themselves" and promoting beauty from the inside out, as expressed in their mission statement, "Let's stop trying to be "perfect" and get "pretty" from the inside out!" We are proud to have them unveil their next makeup line, 'Ms. Vampy Girl' for teens at Indulge LA. See, we have fun and celebration for the whole family…makeup for Moms and daughters with a Margarita in hand for the Moms!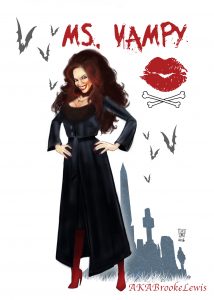 Thank you to our Vegas2LA readers for allowing us to indulge in a little Brooke Lewis. We really do believe Brooke has conquered like 100 vampire years of accomplishments. Wonder what she comes back with for Indulge LA 2018? Hey, maybe she will be our next President? Oh wait, she just said the only thing she wants to be President of is her own career Empire. A toast to that at Indulge LA 2017!
For more information on Brooke Lewis, find her at: Twitter, Instagram and Facebook @BrookeLewisLA
http://www.imdb.com/name/nm0506989/
http://beyouandbefearlesslifecoach.com/
Photographer- Birdie Thompson
Makeup- Glamourax