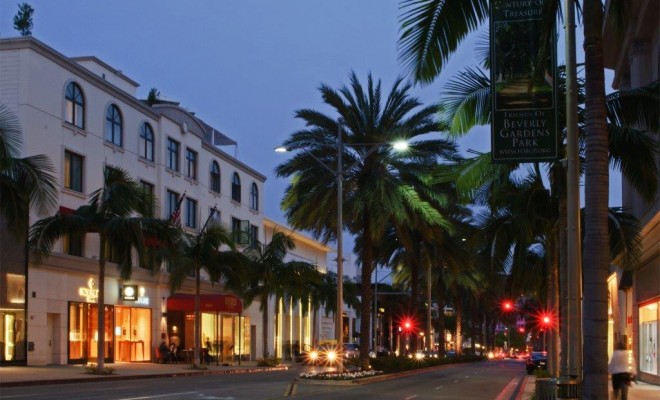 An Insiders Guide to Dining in Beverly Hills
|
The 90210 zip code is shorthand for Beverly Hills, the most famous "small town" in America. It's an address so coveted that two of the leading local hotels, the SLS and the Four Seasons, aren't actually in the city but adjacent.
The year 1914 marks the centennial for both Beverly Hills and the hotel that bears its name, as noted by Robert S. Anderson, great-grandson of the hotel founders, in Beverly Hills – The First 100 Years (Rizzoli). Douglas Fairbanks and Mary Pickford, Rudolph Valentino and Will Rogers, who became the first elected mayor, started a celebrity stampede when they built homes on what had been bean fields. Today, fewer than 35,000 residents live in their rarified shadows, surrounded by architectural landmarks such as the Italian Renaissance-style estate and city park known as Greystone Mansion and a post office that is listed on the National Register of Historic Places.
There are landmark restaurants too. Lawry's The Prime Rib has been famous for their rock salt-roasted prime beef rib dinner since they opened in 1938. Although it's no longer $1.25, the meat is still carved to order tableside from rolling silver carts and served with a spinning bowl salad. These days, there is always a fish dish, something vegetarian and no regular leaves without the signature C.C. Brown's hot fudge sundae which is also prepared tableside.
To taste the best of Beverly Hills chocolates, sign up for a tour at walkingchocolatetour@gmail.com which stops at Edelweiss Chocolates, satiating presidents of countries and movie studios since 1942; the singular Cheese Store, which carries chocolates and rare cheeses from all over the globe; The Beverly Hills Brownie Company; Vosges Haut-Chocolat; Teuscher's Chocolates; American Tea Room and Venezuelan chocolates from Coupa Cafe.
In the "Golden Triangle" area north of Wilshire, you'll find Via Rodeo, Beverly Hills' version of a strip mall, and House of Bijan, an appointment-only clothing store, as well as pricey tourist magnet eateries like Spago and Urasawa. Nate 'n Al Delicatessen has been serving up matzah ball soup, kishka and corned beef to Hollywood legends like Groucho Marx, Jack Benny and Mel Brooks since 1945. Celebrity-watching is nothing new here but the front patio is and so is the kids menu. Pick up an apple strudel from the bakery on your way out and try not to bump into Larry King, who is often here when he's not at the Original Brooklyn Water Bagel Co..
If you think finding good health insurance is hard, try tracking down a good bagel. Even though a bagel boom has spawned all sorts of New World twists, Old World-style bagels are nearly extinct. The Original Brooklyn Water Bagel Co. employs a unique water treatment system "in every recipe, beverage, ice cube, and kettle used to boil [their] bagels" before baking them. All 16 varieties have a crisp crust and a dense interior which is perfect for topping with a cream cheese shmear or whitefish salad. Hit the coffee station to customize a refillable cup of hot or cold fresh-roasted small batch coffee with unique blends, creamers, U-Bet syrup for chocolate egg cream or ice cubes made from frozen fresh-brewed coffee.
Real insiders know that the $24 plate of spaghetti at Scarpetta at the Montage hotel is actually worth every penny. In-the-know big spenders may follow that with a $55 Scotch cocktail at £10 ("Ten Pound"), a reservations-only bar and hideaway above the restaurant that specializes in the world's most precious whisky, the Macallan Single Malt. Paninoteca, which runs out of Scarpetta's courtyard-side kitchen, is ideal for a weekday lunch from Chef Freddy Vargas' grab-and-go menu. Everything is made to order, ready in a minute and served with fantastic house-made bread and condiments. Choose from the Padrino Hero of Italian cold cuts, pork belly porchetta, grilled eggplant, house-made pastrami, roast beef, chicken or Sicilian tuna salad. Add one of four sides (don't miss the focaccia) and four desserts before taking your haul outside to the Beverly Canon Gardens where you can dine al fresco.
Thomas Keller's rustic French eatery Bouchon is across the way. Bar Bouchon offers small plates and Bouchon Bakery serves an all-day selection of drinks and small bites to eat on their terrace or in the garden.
Even big spenders like to save on calories. At Kimmy Tang's 9021Pho, a French-Vietnamese bistro where the bill comes to less than the tip at pricier places, the chef doesn't skimp on flavor in the pho – a Vietnamese noodle soup. Other favorites include crispy sole, charcoal pork salad, star anise salmon, garlic eggplant and all-the-rage bánh mì baguette sandwiches. The restaurant gained some unique attention when paparazzi cameras caught Kanye West bumping his head into a street sign while on his way to dinner there with Kim Kardashian.
Families love to gather at vivacious Vicky Mense's Xian on Sunday nights where the chef eschews MSG and oil for power zone rice, tofu and organic green tea noodles. Orange chicken, soft shell crab and honey soy charbroiled lamb chops lead the parade of best sellers. Order in advance for special dishes such as sautéed assorted mushrooms or pork pump – pork butt simmered in rock sugar, anise and soy for eight hours. Chin Chin is their south-of-Wilshire Blvd. counterpart.
Every neighborhood needs at least one good sports bar but how many have the Q-Seal of Italian hospitality, a glass-encased lounge with seven flat screens plus one on a sunny patio and an Enomatic dispenser that lets you sample one, three or six-ounce pours of sixteen different wines? Welcome to Via Alloro. It's from brothers Tanino and Giacamino of the Drago family. So in lieu of greasy burgers you'll chow down on scallops carpaccio, fried zucchini blossoms, Florentine steak and 19 types of pasta. Or just nibble on a pizza at one of the corner sidewalk tables.
Giacomino also partnered with Chef Yoji Tajima to create nearby Yojisan Sushi, a unique form Japanese-Italian fusion that includes red snapper and Asian pear carpaccio; hamachi and burrata sashimi; mozzarella tempura and grappa among the beverages.
Crazy Fish has been a neighborhood institution since 1988. Until it tacked on an extra room, the crowds were so large that sometimes there were more people waiting on the sidewalk than inside. Nearly everyone orders the kinta roll (spicy tuna with tempura seaweed, drizzled in eel sauce); spicy tuna with avocado; uni; or yellowtail collar. Many other items are equally tempting. And huge. And inexpensive. Sake special, anyone?
Upscale chains that got a start or push in Beverly Hills include Sprinkles Cupcakes, The Cheesecake Factory, California Pizza Kitchen, Ruth's Chris Steakhouse and Burger Lounge. This immaculate and friendly place touts grass-fed beef, free range turkey and organic quinoa burgers. Belgian-style fries are fresh-cut and onion rings are panko-coated. Salads are monstrous and available with house-made fresh buttermilk ranch dressing.
Yogurt is the food trend of the decade but Greek-style yogurt, with its thick, creamy texture, is usually artificially produced with thickening agents. You can get the real stuff in Greece or at Go Greek, which flies it in from Athens. Belly up to their yogurt bar for 0%, 2% or 10% fat yogurt and top it with tart cherry, quince, rose or carrot preserves or thyme honey. You can also opt for one of 13 sweet or savory parfaits such as Kyra with fig, walnut and honey or Megara with cucumber, toasted pita, olive oil, sea salt, crushed black pepper and oregano.
Smoke pours out of the witches' cauldrons at Ice Cream Lab, a liquid nitrogen ice creamery that's been on fire since day one. Actually, they're mixing bowls designed by twenty-something owners Joseph Lifschutz and Tommy Ngan who brought the idea back from Hong Kong. Throw in some apple chunks, pie crust pieces and cream… flip a switch… and you've got the flash-frozen Angeles Apple Pie. They use only local, organic ingredients with no additives, preservatives or harmful chemicals so the only thing you have to worry about is which of the four regular or two seasonal special flavors to choose and whether to get a cream or yogurt base.
Harajuku, which sells made-to-order Japanese-style crepes, is named for a hip Tokyo neighborhood that is famous for them. Like a French crepe, the batter is spread thin and the edges are slightly crisped but mochi flour makes the plain, green tea or buckwheat flour slightly chewy and the finished product is rolled into a cone shape and eaten in hand. Available fillings include sweet azuki beans, butter-sugar cinnamon, fruit, chocolate, nutella and ice cream.
It's time for a checkup and Dr. Sandwich is in. Just write your order on a
prescription pad menu and the crew in scrub suits behind the counter will fill a fluffy pita, fresh baguette or lafa with falafel, shawarma, grilled chicken breast or spicy sausage. It's the closest place to Tel Aviv for sabich (sliced eggplant, hard boiled egg, parsley, hummus, chopped salad and tahini) and it's the best kosher restaurant in Beverly Hills.
As long as every restaurant that can afford it covets a Beverly Hills address, the parade of new arrivals will continue. As the locals know, there are appetizing pockets of pleasure to be found all over this gilt-edged city, including places where you don't have to be a billionaire to eat like one. And no matter what your financial status, even if you run low on money, you'll never run out of places to eat.
A French Triumvirate
Before Farshid Hakim introduced Los Angeles to real French pastry at La Provence Patisserie & Café in Beverly Hills, his laboriously executed treats created a dessert tsunami in Malibu. When the City Council lured him to Terminal 4 at Los Angeles International Airport, his sales hit the stratosphere. Locals come daily for fresh soups, Mediterranean salads and panini sandwiches on homemade baguettes. Surprise: there's a wonderful coffee bar where house roasted beans are used to prepare some of the best java in town.
Don't expect French frippery at L'Amande,a French bakery in a former Radio Shack space, but who cares when you can feast on French hot chocolate as thick as molasses and croissants wrapped around pistachio cream and coated with chopped pistachios. Of course there are freshly baked baguettes, pan-de-mie, quiche, and croque monsieur sandwiches but the toppers may be the unctuous grilled cheese on raisin-walnut bread and the French-style smoked salmon sandwich which comes on a baguette with ricotta, onion and capers.
Chaumont is hailed for their authentic custard-filled chocolate éclairs, tarte tatin and the best croissants in town but regulars know that they also make a very un-French banh mi with miso-marinated black cod in a house-made baguette smeared with harissa mayo along with some do chua pickles, cilantro, mint and cucumbers for company. Yep, that's how they do French in Beverly Hills.
By Andrea Rademan
Andrea Rademan is the former Vice President of the International Food Wine & Travel Writers Association whose articles on food travel, entertainment and lifestyle are published worldwide. She continues to follow her passion for fine dining as editor-at-large for Vegas2LA.