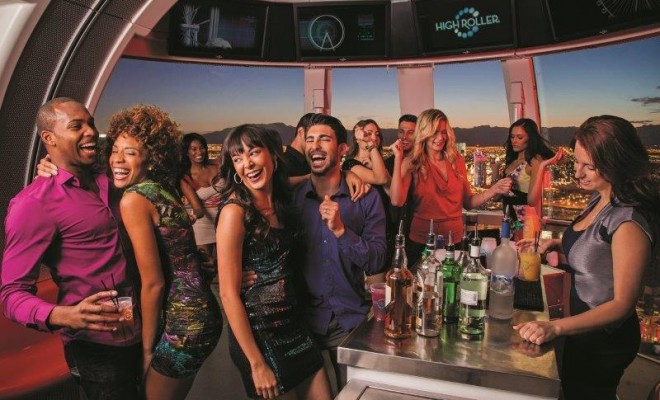 The LINQ
|
Much More than the Big Wheel in Town
By Bob Barnes
After transitioning from Imperial Palace to The Quad and last year to The LINQ, the Strip resort has been known for its main attraction, the High Roller. Now, after several million dollars in renovations completed, in addition to luring in both tourists and locals to the highest observation wheel in the world, an assortment of bars are delivering unique libations that stand out for both creativity and excellence.
3535 Infusion Bar, named for The LINQ's Las Vegas Boulevard address and also for its number of house-made infusions, is located in the center of the casino and has the distinction of doing something no other bar in Vegas is doing, infusing spirits using syrups and fruit purees to make creations featuring favorite flavors you could have only fantasized about. Like heat? Then you can handle the El Fuego made with mango citrus & jalapeño-infused Sauza tequila, agave nectar, mango purée and house-made sour mix; or Sushi-Tini made with wasabi & ginger-infused Bombay gin with fresh citrus and soy honey reduction rim. Think everything goes better with bacon? The aptly-named Pig Newton features ancho & bacon-infused Jim Beam bourbon, fig-infused Jack Daniel's Tennessee Honey, sweet vermouth and orange bitters. Like coffee in your drink? The Espresso Bourbon is Maker's Mark bourbon infused with espresso coffee beans made by aging in a mini-barrel for a minimum of 30 days. Can't decide on which one? No problem, as you can order a flight of three different 2 ounce servings before deciding which to commit a full pour to. 3535 was honored by Vegas2LA Magazine as one of the Best New Bars of the Year in 2014.
The masterminds behind the creative offerings are General Manager of Beverage Operations T.J. McNally, Beverage Operations Manager Eddie Famania and Assistant Manager Chris Sailer. The trio work together experimenting with different flavors, such as three delights I was treated to during my visit: one with Skittles-infused SKY Vodka, one with Nutella-infused Herradura Tequila and the third with Sriracha-infused Sauza Tequila. Sailer, who formerly helmed the kitchens at Hi-Scores and later Shakespeare's Pub, now uses his chef background to be creative with drinks using fresh fruits and vegetables.
"Creating beverages is more fun," he says. "I don't have to follow a menu, and can use the knowledge I have to mix culinary into beverage, like mixing cooked apple, cinnamon and brown sugar with Bulleit Bourbon."
Heading on out to The LINQ Promenade you'll find Squeeze, offering freshly-made healthy shakes and smoothies and design-your-own drink options with choice of fresh-pressed juice, fruit and supplements such as chia seed, protein powder, wheatgrass, flax seed and whole-grain oats. Of course it's Vegas, so you can spike everything on the menu or choose the house-made Sangria with organic Pinot Noir, Absolut Berri Acai Vodka, red apples, red grapes, blueberries, orange raspberries and orange blossom honey. The Squeeze menu items are also delivered to the newly-opened Spa at The LINQ.
Beer lovers aren't left out, with TAG Lounge & Bar located in the casino next to O'Sheas, offering more than 200 craft beers. The list is ordered by style of beer with iPads providing details on each one. A combination beer bar and sports bar, 48 TVs are scattered throughout and gamers can enjoy free play on six PlayStations. While the majority of beers are offered in bottles, two self-serve tables are equipped with four taps featuring beers from the same brewery, which during my visit was Speak Easy. All of TAG's bartenders are Cicerone Servers who are well-trained on the beer selection, which has notable gems such as Dogfish Head Palo Santo Marron, Kasteel Rouge, Old Rasputin, Goose Island Matilda and local brews including Big Dog's Dirty Dog IPA and Joseph James Citra Rye. You won't pay Strip prices here, with most beers priced at $7 and 12 ounce pours at the draft tables going for $5.
The newly-opened LINQ Pool is the result of an 8 million dollar renovation. Of note is that locals over 21 are admitted free all the time. Several cabanas are available for rent, with TV, fan, fridge and comfortable seating and hotel rooms situated poolside come equipped with their own. Other entertaining accoutrements are an oversized jenga, cornhole game, beer pong, full bar, a deck overlooking the LINQ Promenade, DJ's 7 days a week and the Recovery Room—an air conditioned venue with pool tables, TVs, foosball and shuffleboard, all of which are free to enjoy.
Your tour of The LINQ is not complete without stopping in at Guy Fieri's Vegas Kitchen & Bar. Open for breakfast, lunch and dinner, General Manager Joe Opalewski and Executive Chef Tony Leitera do a great job leading their team to provide a delicious meal in a relaxed and fun atmosphere. The beer selection is better than average, with 16 taps pouring the likes of Victory Golden Monkey and locally-brewed Joseph James Weize Guy Hefeweizen as well as a frozen tap system dispensing eight different spirits, delivering the liquors cold without being watered down by ice. Two of the more creative dishes are the General's Wings covered in a sweet & spicy sauce, topped with toasted sesame seeds and jalapenos, and served with crushed wasabi peas, rice crackers and peanuts for dipping and the Guy-talian Fondue Dippers—pepperoni-wrapped breadstick twists with a sausage and Swiss cheese dip.
The aforementioned venues are ably overseen by our friend Jay Bluhm, The LINQ Hotel & Casino Director of Food and Beverage. If you thought The LINQ's only attraction was the 550-foot tall observation wheel, you now know that's not the case. Go check it out in person and tell them I sent you! Cheers!
Bob Barnes is a native Las Vegan, editorial director of The Las Vegas Food & Beverage Professional, regional correspondent for Celebrator Beer News and covers the Las Vegas restaurant scene for Gayot .com. He welcomes your inquiries and can be reached via email at lvbobb@cox.net.