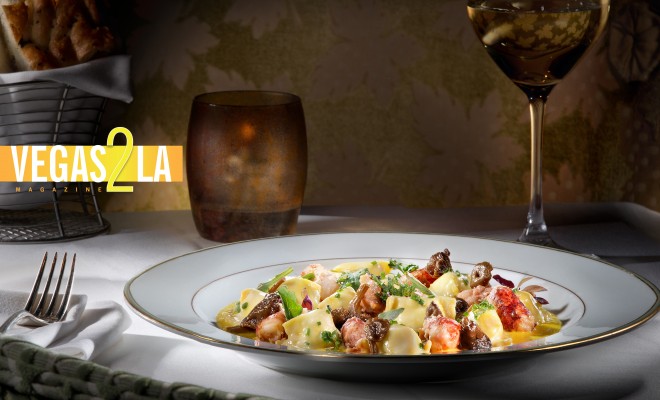 Portofino by Chef Michael LaPlaca
|
The Best Italian Restaurant in Las Vegas?
Your best bet for Italian cuisine in Las Vegas may be tucked away in a corner of the casino floor at the Mirage resort.
Rebranded in mid-2014 under the direction of General Manager Chris Zadie and Chef Michael LaPlaca, Portofino has achieved new heights of recognition in the past year and with good reason. Native Ohioan LaPlaca is undoubtedly turning out some of the most adventurous and satisfying Italian food in Las Vegas with ingredient sourcing second-to-none and nearly everything including pastas and sauces made in house.
Previously occupied by Onda, the restaurant is still sporting much of the original space's design with a palate of beige highlighted by lines of cursive decorating the walls. Zadie describes the Portofino concept as "taking very classic Italian offerings and putting a very modern spin on them while at the same time keeping a friendly and professional atmosphere with a classic Vegas style touch."
For those fortunate enough to have sat down for a meal, there is little doubt this vision is being thoroughly enacted; a rare situation in a city where kitchen and service sometimes fall short of marching so step-in-step.
Fronted by a recently updated lounge where several bargains join a traditional Italian wine list plus several cocktails mixed by bartenders employed by the Mirage for more than a decade, seating in the restaurant's main room features plenty of polish with white tablecloths. Whether one opts to dine a la carte or via family-style servings, the staff is ready and willing to accommodate. Zadie's passion is readily apparent as is Chef LaPlaca's "vision on the plate each and every time."
Looking specifically at the food, the menu at Portofino follows a rather traditional format of antipasti, pasti, secondi and dolci. Although some signatures have been present since day one, seasonal updates and regular specials help keep the crew engaged while equally giving guests a reason to return frequently. Each dish puts a unique spin on something familiar in order to show the concepts and ingredients in a whole new light.
Starting with salad and progressing to more substantial fare, antipastis include a Caprese punctuated by sundried rounds of tomato and garlic that act to accentuate the musky funk of fresh buffalo mozzarella. Signature crab cakes feigning as arancini redefine both ideas with unexpected levity while a far more "serious" composition is found in the starter of tender octopus glazed in aged balsamic atop spicy hash, making a strong case for the best of The Strip.
Repeatedly celebrated for their pastas and eschewing a trend for under-saucing that seems more and more pervasive these days, not a single one tasted to date has been less than superlative. The gnocchi are so light they threaten to float off the plate beside crispy sweetbreads while tender agnolotti are every bit as creamy and decadent as lobster and cream would suggest. The ribbons of pappardelle are served in a sauce of foie gras boiled to a perfect al dente while the signature wide-noodle "Ripatelli" performs a rarity with lamb, rendering it aromatic and vegetal and not so rich as to overwhelm.
Running the gamut with entrees, everything from crispy skinned branzino to "steak and potatoes" offered in portion sizes often big enough to share, those looking for the city's best Osso Bucco would be well served to book a seat at Portofino. Here the dish is appropriately served with nothing more than a spoon to remove veal from the bone and yet as good as this dish is, an even better bite is found in the upscaled take on Chicken Parmesan – a destination dish for any fan of the classic with a housemade sausage of leg and thigh wrapped inside a roulade of Mary's Free Range breast coated in the lightest of breadings beneath marinara and melted mozzarella.
A recent upgrade to the pastry department has seen new creativity flood the spring and summer menu, although options for both cannoli and tiramisu still remain for diners fancying a classic. For those willing to take paths less traveled, however, the rewards are myriad; a trio of soufflés themed in American cookies standing proud, fluffy and perfect for sharing while a Nutella crème brûlée is expectedly rich beneath caramelized nuts and lightly boozed cream, but the "cake within a cake" is undeniably the most interesting of the group with seasonal berries and a delicate ricotta sponge wrapped in a thin wall of New York-style cream cheese.
Still a hidden gem in a world of celebrity chefs, one would be foolish to overlook the confidence of Portofino in putting forth "by Chef Michael LaPlaca" as part of its name. Without the fanfare of Mario Batali, Scott Conant or that guy from "Cake Boss," Portofino is arguably putting out Las Vegas' best Italian fare at a favorable price point while offering equal or better sourcing, service and creativity. The experience is no doubt making due on Zadie's goal to "let guests leave with a story about their Vegas vacation" but also providing an impetus for locals to venture onto The Strip as well.
By Michael Uzmann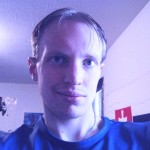 Dr. Michael Uzmann is a native Ohioan currently practicing in Las Vegas. A lifelong Los Angeles Kings fan and frequent visitor to the City of Angels, or wherever has good food with an NHL Arena, Dr. Uzmann is the owner and publisher of endoedibles.com. He can be reached at uhockey@yahoo.com with questions, comments or tips on where to visit next.