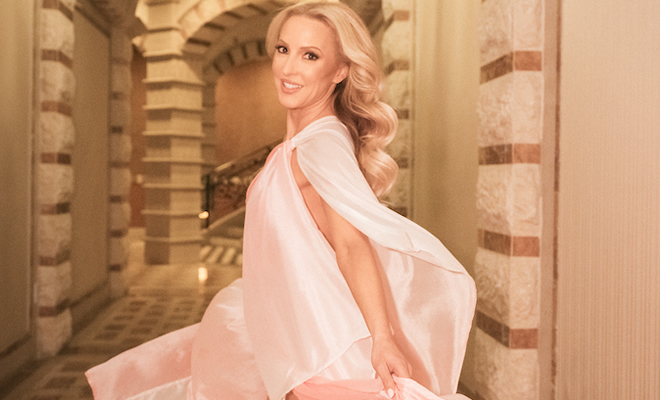 Easy Soft Golden Natural Makeup
|
Getting the dewy fresh look with these quick and easy skin and makeup tips.
Prep Your Skin
Start with a good base, which is pretty much the key to flawless makeup.
Thoroughly cleanse and moisturize skin
Follow with a primer made for your skin type. We're loving Iconic London Prep Set Glow Hydrating Spray in Glow for a golden glowing, lit from within look.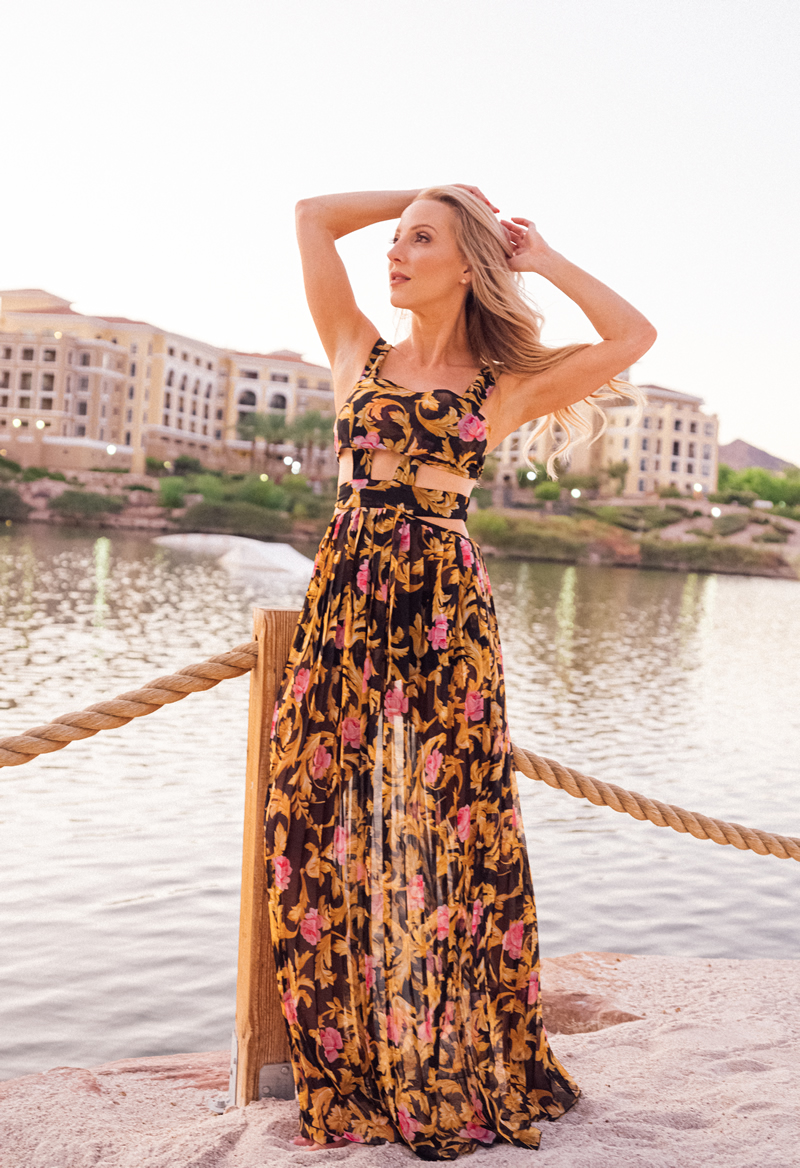 For Dewy Skin
Apply a shimmering CC serum or glow drops either before you apply your foundation, tinted moisturizer or mixed into your foundation. This helps create a dewy base instead of a flat matte finish without looking shiny.
Makeup hero: Cover | FX Custom Enhancing Drops in Moonlight (shimmering beige). They have other great shades like shimmering gold too for more sunkissed and darker skin tones.
Beauty Tip: It also doubles up as a highlighter by using it on its own wherever you want to highlight.
Foundation
Think light, fresh and flawless rather than full coverage for this look. Let some freckles and skin show through for this natural look.
Urban Decay Stay Naked gives really good coverage and staying power for a 'weightless' foundation.
Application: There's no right or wrong when it comes to whether you use a brush or beauty blender to apply. It's all down to personal preference, so you do you.
Start by gently warming the product either in your palm or on the back of your hand while mixing the color and glow drops.
Apply evenly with fingertips and then blend in using a damp Beauty Blender by bouncing and rolling the product into the skin so it's more a part of the skin than sitting on top of it.
Another trick to customize your foundation to your skin color is to use Cover | FX (Vegan & cruelty-free) Custom Cover Drops which are pure liquid pigments that weightlessly blend with your favorite products to adjust your shade, tint a moisturizer or create your perfect foundation.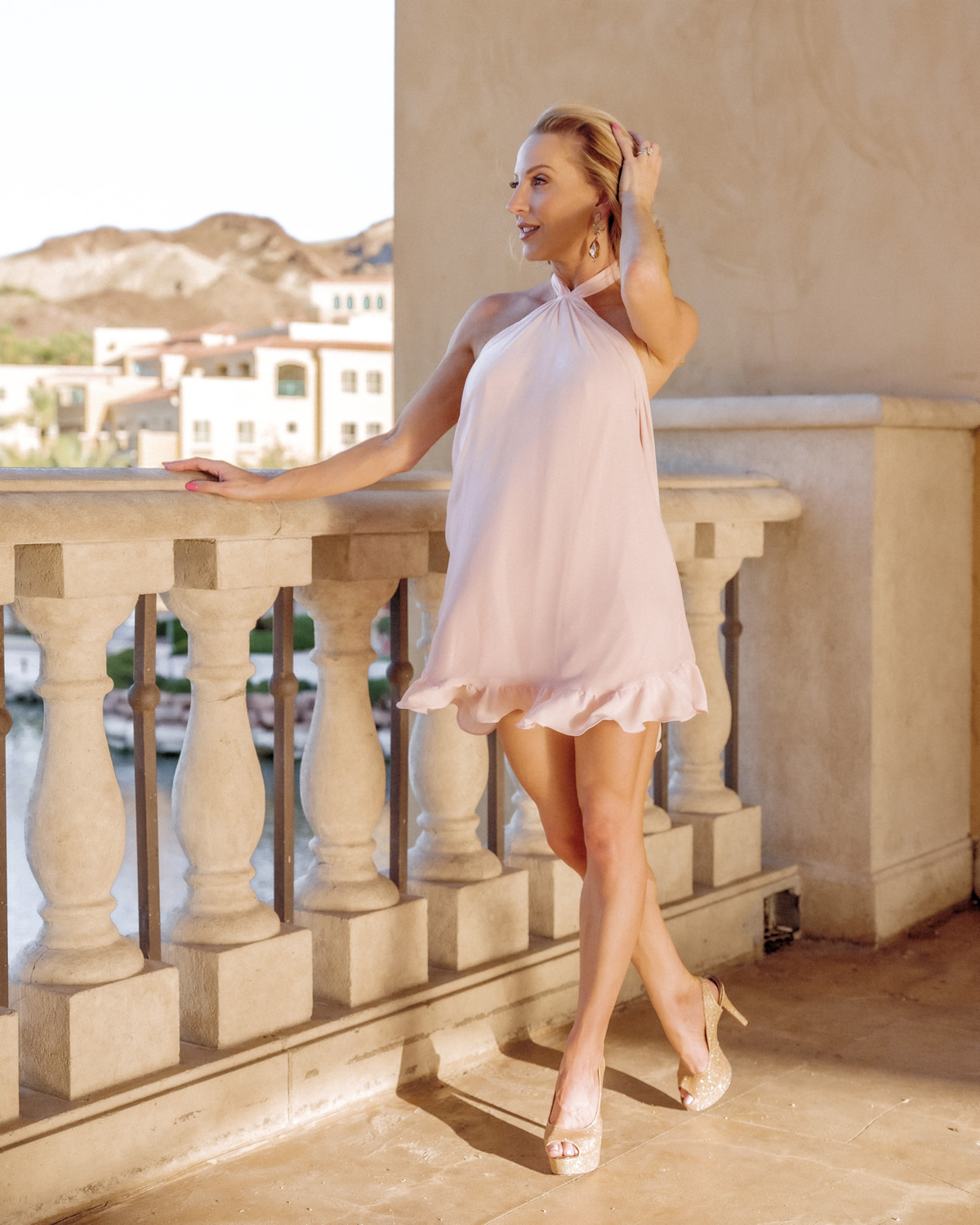 Highlight and Conceal
Concealers are serious multitaskers and can create more highlights for you for a wideawake look.
Wherever you apply it is going to appear further forward so apply strategically, as well as to hide any under eye shadows and blemishes.
Lightly apply and blend under eyes
Consider also using concealer along the bridge of your nose, chin, center of the forehead and cupids bow to look brighter and less flat.
You can also do this with a highlighter but concealer is more subtle or you can do concealer and then highlight over it to take your look from day to night.
For full coverage use Kat Von D's Lock It concealer with Kat Von D setting powder. Go easy on the setting powder as it's pretty intense!
Pro tip: Wait until your concealers dry before baking into place to help prevent creasing.
Contour
For this look, it's all about blending and more subtle than you would for evening glam.
Beauty tip:
For the most flattering look, don't contour too far in on your cheek bones especially if you have more mature skin.
For a sun kissed look, add to the perimeter of your forehead. This also has the added benefit of making your forehead look smaller.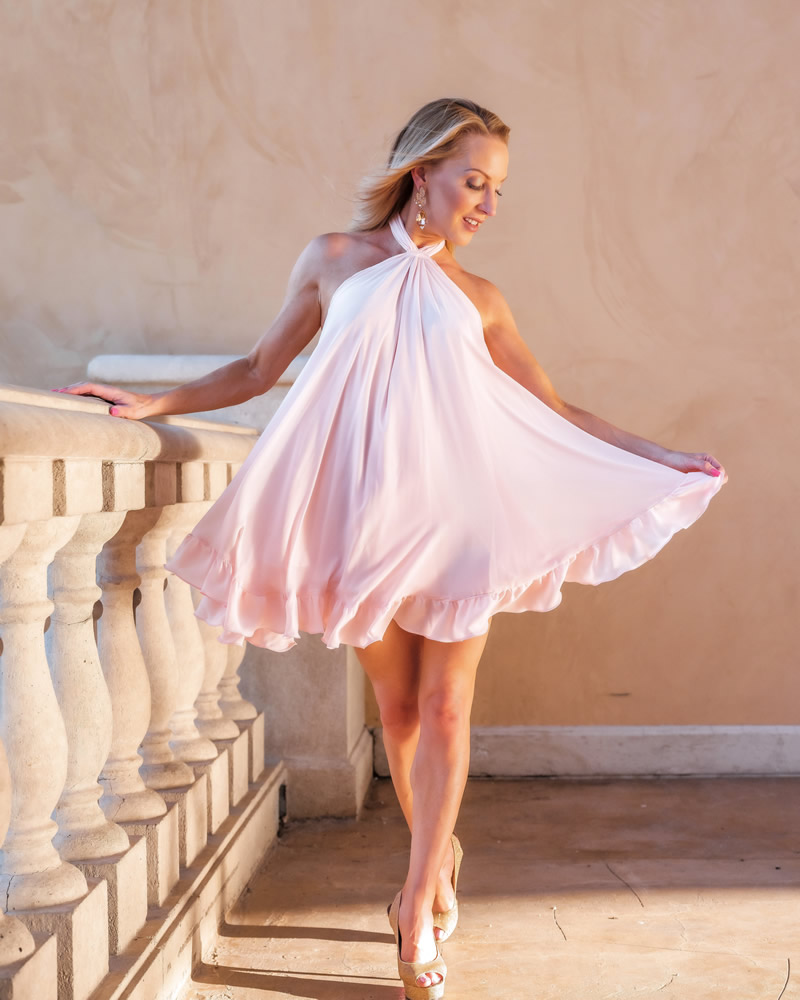 Cheeks
Look for a gentle rose or bronze blush powder, tint or cream. A pretty soft shimmer will compliment the dewy look.
Charlotte Tilbury Cheek To Chic has some beautiful color options. Blend, blend, and then blend some more…
Eyes
Shimmering neutral shades compliment this natural makeup and give a youthful look. Golds and bronzes like Dawes Cosmetics Under the Sun loose metallic eyeshadow which is highly pigmented with minimal fall out look absolutely stunning especially when they catch the sun.
A soft kohl liner or eyeshadow smudged along the lash line work better for this look than hard black lines. Urban 24/7 pencil liners blend well, 'Bourbon' is a beautiful shimmering bronze that works well for this look.
Add a pop of highlighter or shimmering eyeshadow to the inner corner and/or lower lid to make your eyes pop.
Pro tip: Spray your eyeshadow brush with setting spray before dipping into your shimmer eyeshadow or highlighter to make it last longer, make it more pigmented and help prevent fall out.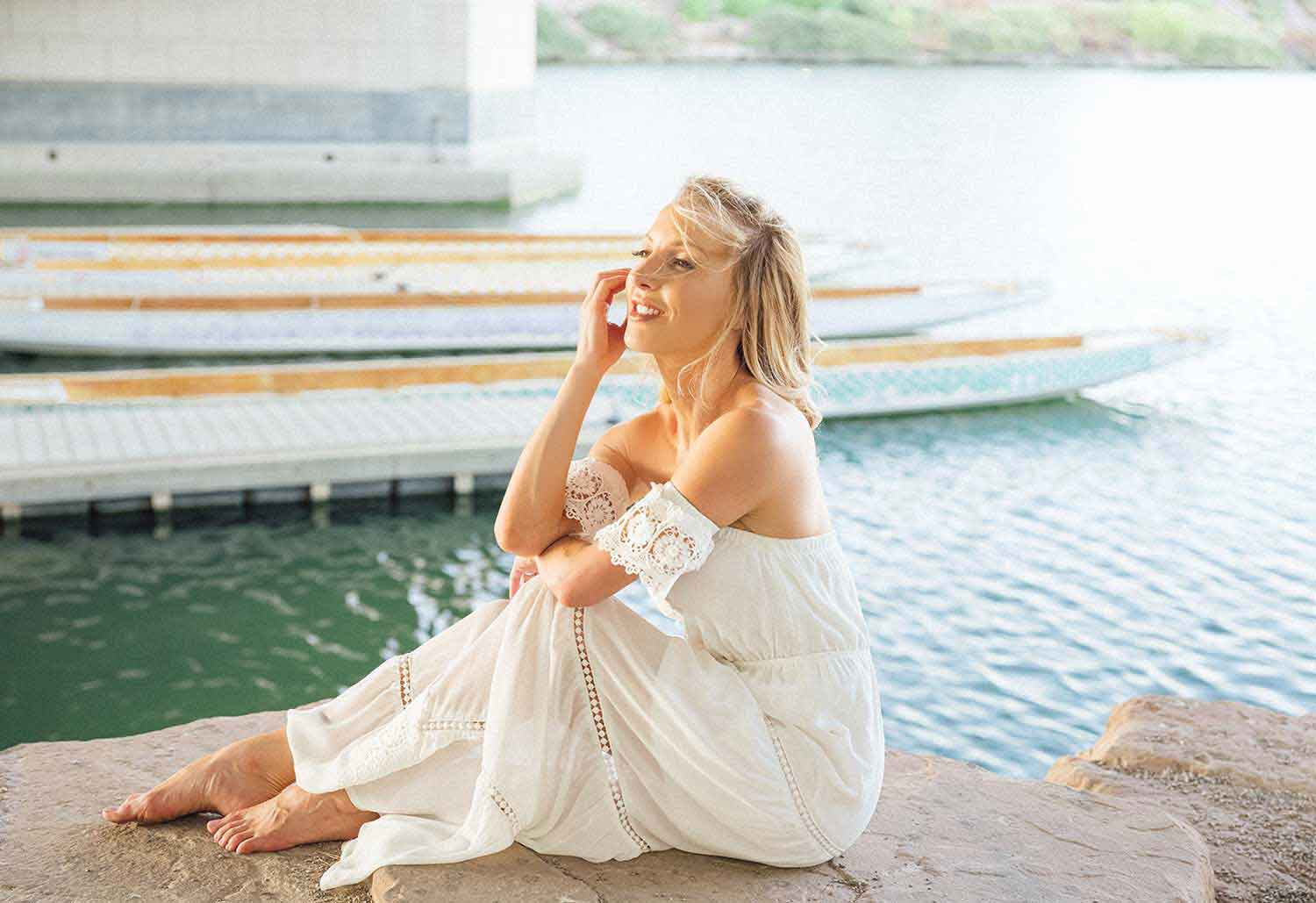 Lips
Line the lips gently to help prevent the lipstick from feathering.
Apply a hydrating, pigment rich lip gloss. We used Dawes Custom Cosmetics vegan lip gloss in Bora Bora for this look which is also available as a lipstick. For ultimate staying power use both together.
If you prefer going without color, apply a hydrating clear gloss for a little shine and to accentuate your lips own natural color. We love Dawes Cosmetics Miracle Hydrating Lip Plumper Clear Gloss as it's vegan, cruelty-free, minty fresh and doesn't burn like some lip plumper's can.
Set and Go
Finish with a loose dusting of translucent setting powder such as Urban Decay All Nighter and a setting spray like the 4-in-1 primer we used to Prime.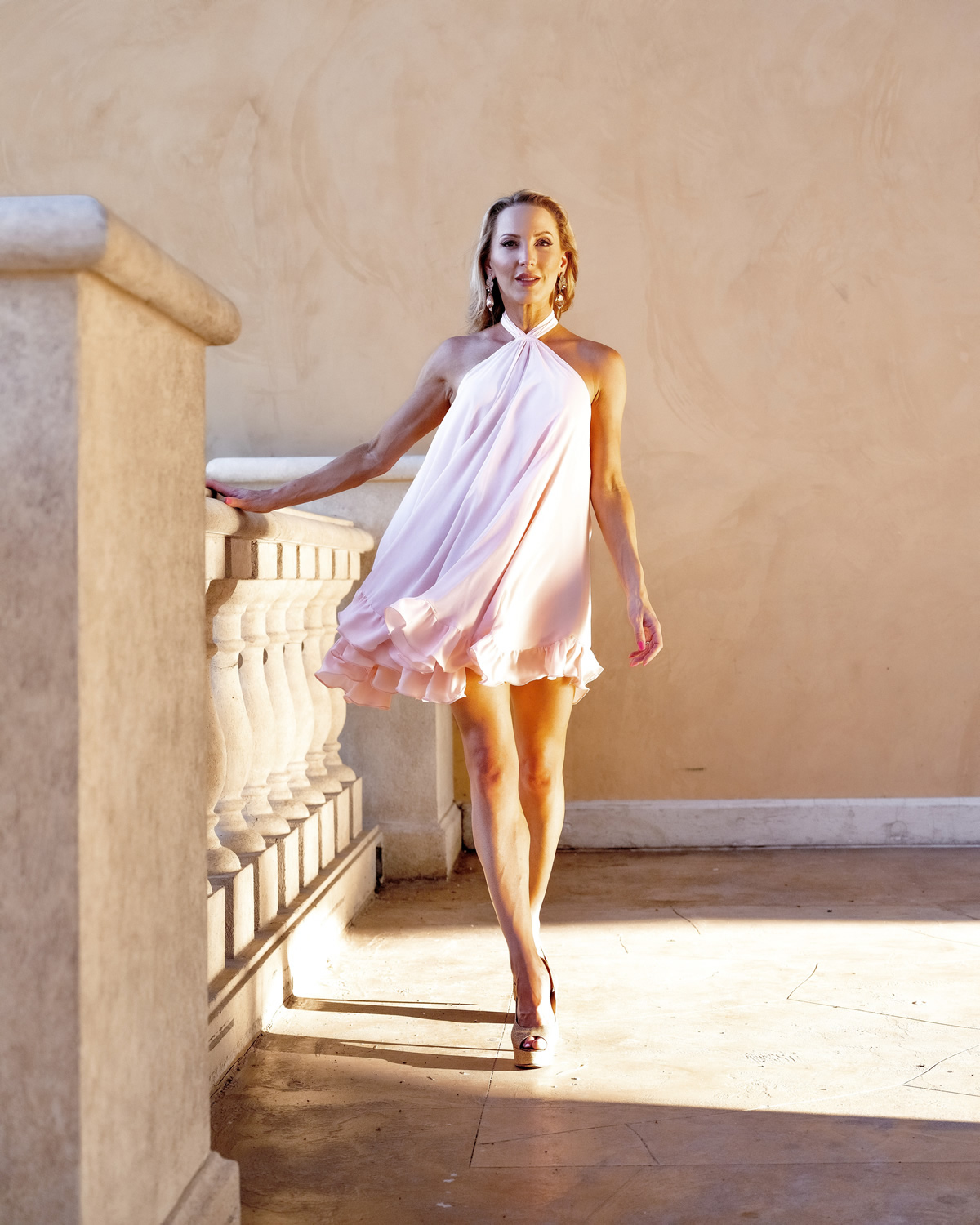 Ready, set, glow.
Author and Model:
Makeup Artist:
Photographer:
Dress: