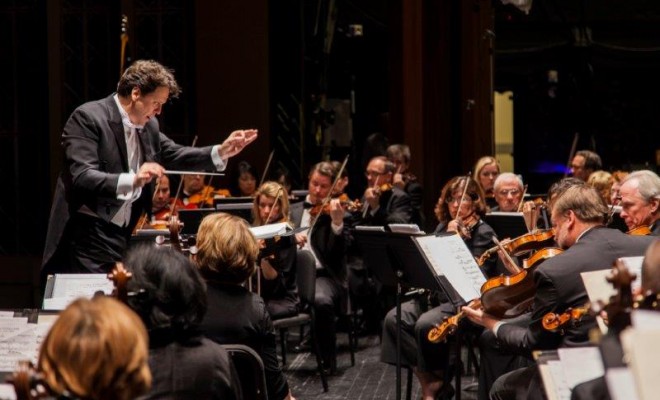 Beautiful Music
|
A new season for the Las Vegas Philharmonic
By Mitchell Wilburn
With another season scheduled at the famous Smith Center downtown, the Las Vegas Philharmonic has been modifying its program to appeal to the tastes and sensibilities of both locals and visitors while earning a reputation for bringing true culture to a place too often referred to as Sin City. Ten major concerts will span from September 2015 to June 2016.
The season opens with a big night of Beethoven and Brahms on September 12, kicking off a string of tributes to classical composers. Conductor Donato Cabrera will put his own flair on Sibelius, Rachmaninoff, Mozart and Tchaikovsky. Each iconic composer gets a concert dedicated to their works, and these make up the Series II part of the 2015-2016 calendar.
Series III is a little more eclectic, starting off with a suite of world music featuring composers from France, Finland, Russia and other countries. The grand finale will be a rousing rendition of Edvard Grieg's "In the Hall of the Mountain King" from the 1876 Norwegian play Peer Gynt.
While the Las Vegas Philharmonic usually provides the music to the annual production of the Nevada Ballet Theatre's The Nutcracker, they will be mixing things up for this year's winter concert performances December 5-6. They will include a performance of The Snowman set to a screening of the animated version of the popular children's book as well as excerpts from the Nutcracker Suite and even a visit from Santa himself.
French jazz fusion band Pink Martini will be in Las Vegas for a special engagement February 6. Truly defying categorization and singing in more than 20 languages, the popular orchestra will be fusing everything from funk to bossa nova in one amazing evening. There's more excitement to come with a tribute to Gershwin and the Jazz Age April 2-3. The season closes out on June 4 with a show by a rising star of the opera world, Alexandra Silber. With soprano roles at the Kennedy Center, Royal Albert Hall, The Savoy and Carnegie Hall, her career has spanned the highest of heights and will make a stop at the Smith Center for what is sure to be a smashing show with the Las Vegas Philharmonic.
By Mitchell Wilburn
Mitchell Wilburn is a lover of all fine things consumable and has been writing on and critiquing the Las Vegas dining scene for the past five years. You can read his thoughts and reviews in Desert Companion magazine, Vegas Chatter and other Las Vegas publications.