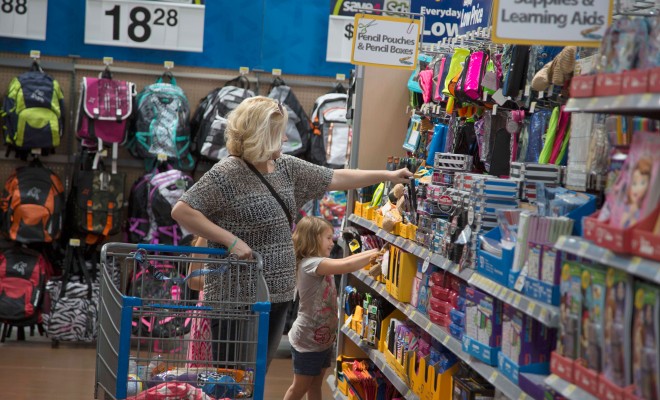 Back-to-School Shopping Stress
|
By Cynthia Newdel
Stress? Over back-to-school shopping? Really??
Whatever happened to wearing some of the clothes you wore last year or getting hand-me-downs from a friend or relative? How about wearing your summer clothes to school? You can get good use out of them until September or October on the West Coast.
Heck, even using last year's pens and pencils (that are sometimes still band new) for the school year are an option.
It's bad enough parents and teens don't always see eye-to-eye, but when it comes to the back-to-school shopping season, both sides say they'd rather go solo or with friends.
A new survey conducted on behalf of Ebates, a leader in online cash back shopping, says a majority of parents (84%) and teens (70%) surveyed find clothes shopping to be the least pleasant task they must undertake together in preparation for a new school year.
A few more interesting stats…
Parents actually stress out more than the kids when asked about shopping together. Most (80%) agreed that clothing was the most stressful, followed by shoes (66%) and backpacks (44%).
Kids aren't that keen on their parents' taste. Whether it's the clothes (70%) or the shoes (46%), teens fear the "horrible fashion" decisions their parents are making on their behalf.
Not being able to afford everything is the biggest stressor (58%) which can often send shoppers online looking for deals.
As a mom or dad, try not to believe all the hype. You can always buy as you go. My son attends private school. I don't ever remembering buying all of his uniforms and binders and the like "on time." We bought as we went. Don't sweat the small stuff.
Keep in mind… If your child sees you stress out, he or she will too.

Cynthia Newdel is the Booker for FOX5 KVVU in Las Vegas. She spent seven years with FOX News Channel in New York where she booked interview segments for Neil Cavuto. Cynthia also freelances as a local media trainer and public speaking advisor.