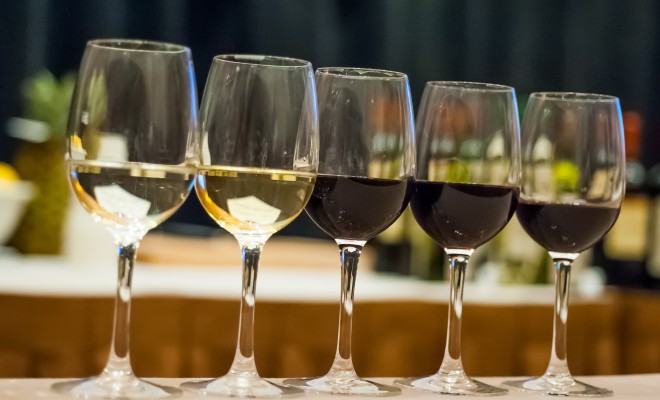 A bottle of red? A bottle of white?
|
A bottle of red? A bottle of white?
Answering common questions about WINE
By Hassett Gravois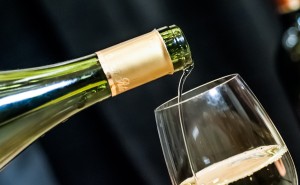 Photo: Tom Donaghue
The wine industry is bigger than ever. The Food & Agriculture Organization of the United Nations says the equivalent 36 billion bottles of wine are produced worldwide each year.
With more vino being sold every day, it seems like there's always someone posting a photo of themselves online enjoying a delicious glass or bottle.
That leaves the door open to plenty of questions.
Am I pairing it properly? What are tannins? Should this wine be chilled?
Don't worry. I've got you covered!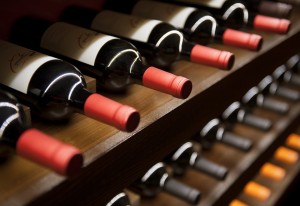 Photo: MGM Resorts International/Yusho
How much is too cold?
Wine, like beer, has certain temperatures to be served at. If it's too hot or too cold, it could potentially rob the wine of its full flavor and aroma.
White wines such as Sauvignon Blanc, Chardonnay and Pinot Grigio should be chilled at 35-38°F then left unrefrigerated for 20 minutes before serving to properly release aromas.
Full bodied white wines should be served slightly warmer and left unrefrigerated 30 minutes prior to serving.
It may surprise you to know that red wines should not be served at room temperature. They are best served at about 50 °F. If kept in a cellar, it can be served immediately. Otherwise, chill for 20 minutes before serving.
Why do we toast?
In ancient Greece, a dinner host would take the first sip of wine to assure guests that it was not poisoned. That's where the phrase "drinking to one's health" came from.
Toasting began in ancient Rome by following the Greek traditions but also dropping pieces of toast into the wine glass to temper undesirable tastes or excessive acidity.
Why does wine get paired with cheese?
The answer is simple. The fat and protein of the cheese is oily and creates a lubricating effect that prevents the tannins from making your mouth feel dry and rough. Eating a properly paired piece of cheese with wine will essentially give you a clean palate every time.
Tannins are a natural substance that is found in the stem, seeds or skin of certain grapes. Tannins are also found in oak bark, tea leaves and oak barrels. (When wine is being aged in an oak barrel, it also absorbs tannins from the barrel which generally gives the wine an additional flavor.) Tannins are crucially important to the complexity of the wine and how well it ages over time. The higher the tannin content, the longer the wine can age to increase flavor.
Wines that are rich in tannins are generally red wines and go well with aged cheeses. However, if tannin rich wines are paired with young cheeses, it could leave you with a chalky sensation and a metallic aftertaste. A sparkling Lambrusco, for example, is a low tannin red and may be served with young cheese.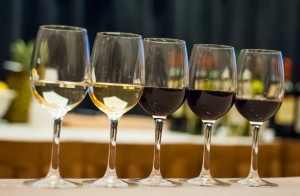 Photo: Tom Donaghue
Here are a few of some of the easiest and most readily available wine and cheese pairings…
Riesling                                           Shiraz/Syrah                       Pinot Noir
Colby                                               Cheddar                               Swiss
Blue                                                 Gouda                                  Gruyere
Brie                                                  Parmesan                             Feta
Gouda
Merlot                                                 Pinot Blanc                         Pinot Gris
Cheddar                                              Brie                                       Muenster
Gouda                                                 Feta                                      Gouda
Brie                                                                                                   Goat
Gorgonzola                                                                                       Asiago
Dessert                                            Chianti                                       Champagne
Mascarpone                                    Mozzarella                                    Cheddar
Blue Cheese                                    Provolone                                     Brie
Parmesan                                   Colby
Zinfandel
Blue
Asiago
Feta
Goat
Gouda
More about wine!
The world's oldest bottle of wine dates back to 325 A.D. It was found near the German town of Spryer inside a Roman sarcophagus and is now on display at the historic "Museum Der Pfalz"
California, New York and Florida are the leaders in in wine consumption. California is also the 4th biggest wine producer in the world after France, Italy and Spain
Noble rot or pourriture noble is a non-harmful fungus that can actually sweeten some types of wine.
One ton of grapes makes about 60 cases of wine or 720 bottles. That's nearly 3lbs of grapes per bottle.
"L'acqua fa malle, il vino fa cantare!" translates to "Water makes you sick, wine makes you sing!"… which in ancient Roman times was true.
Champagne is not a type of wine. It's a region in France. Sparkling wines outside of the Champagne region include Mousseux and Crémant. In Spain, sparkling white wine is called Cava while in Italy, it is Prosecco.
Wine glasses should always be held by the stem of the glass. When held by the bowl, it raises the temperature of the wine.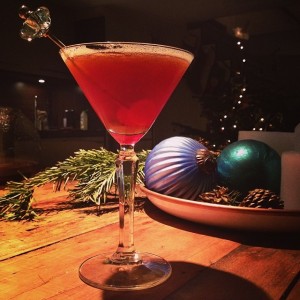 Photo: Thomas Ricker
Holiday Spirits!
Holiday Season means delicious jolly cocktails! Here are a few favorites to make the season especially bright.
Santa's Helper
1 oz. Melon Liqueur
1 oz. White Cranberry Juice
2 oz. Citrus Vodka
Maraschino cherries
Combine in an ice filled shaker. Shake and strain into a cocktail glass and garnish with maraschino cherries.
Hot Toddy
1 oz. Your choice of brandy, whiskey, or rum
1 tbsp. Honey
1 Whole lemon
6 oz. Hot water
Optional tea bag (of your choice)
Mix in a mug and garnish with a cinnamon stick.
B.P.G.
1 1/2 oz. Bourbon
1 oz. Pomegranate juice
1/2 oz. Lemon juice
Ginger Beer
Pour lemon juice, pomegranate juice and bourbon into a shaker. Shake and strain over ice in a rocks glass and top with ginger beer.
Cran-cherry Rock
1oz. Cherry vodka
4oz. Cranberry juice
1oz. Prosecco
Pour vodka and juice in an ice-filled rocks glass. Top with Prosecco and garnish with fresh cherries and cranberries.
Raspini
6 Raspberries
2 oz. Vodka
1 oz. Raspberry liquor
1/2 oz. Sour mix
Combine everything into a shaker with ice. That includes the raspberries, which will be crushed by the ice. Shake vigorously. Strain into a cocktail glass and garnish with a lime wedge.
Pom-Fruit Fizzy
1 oz. Vodka
1 1/2 oz. Grapefruit juice
2 1/2 oz. Tonic
Add the vodka and juice to a rocks glass filled with ice. Stir and top with tonic. Garnish with pomegranate seeds and mint leaves.
Whipped Cosmo
1 oz. Whipped cream vodka
2 oz. Cranberry juice
Splash of lime
Strain into a cocktail glass and garnish with a lime twist. Or for some holiday fun, garnish with a mini candy cane)
Framboise Spritzer
1/2 oz. Framboise
1 oz. Lime juice
Champagne
Pour Framboise and lime juice into a flute glass and top with Champagne. Garnish with raspberries
Frozen
2 oz. Vanilla vodka
2 oz. Coconut rum liqueur
2 oz. Sweetened condensed milk or sweetened coconut cream
1/4 oz. Blue Curacao
Shake well and pour into a martini glass. Rim the glass with honey and shredded coconut.
Apple Picker
2oz. Apple Cider
2oz. Ginger Ale
½ oz. Triple Sec
½ oz. Bourbon
Mix and pour into an ice-filled rocks glass and garnish with a cinnamon stick
Spiced Apple Cider
2 1/2 oz. Apple Cider
1 oz. Amaretto
1 oz. Spiced rum
Rim the glass with sugar and cinnamon by using honey or egg whites.
Combine the apple cider, amaretto, and spiced rum in a shaker with ice. Pour into an ice-filled rocks glass and garnish with an apple wheel and cinnamon stick.