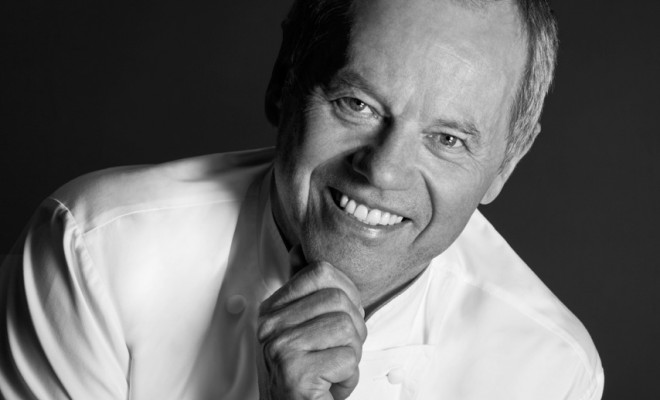 A Tale of Two Cities Where Dining is a Sure Bet
|
By Andrea Lita Rademan
Hollywood was a failing real estate development in the sleepy city of Los Angeles until the motion picture industry took off with the release of The Squaw Man in 1914. Among the entrepreneurs it attracted was German immigrant Carl Laemmle, who sold his nickelodeon and bought a dusty chicken ranch in the San Fernando Valley to produce movies. Today it's Universal Studios, the largest film company in the world. Carl's brother Max founded what is now the last family-owned theater chain in America, the Laemmle, whose third-generation owners recently celebrated its 75th anniversary.
Although Las Vegas was founded in 1905, it didn't get rolling until Nevada legalized gambling in 1931. Ten years later, mobster Bugsy Siegel used illicit funds to build the Flamingo, the first hotel-casino on what is now known as the Strip. Howard Hughes checked into the Desert Inn penthouse in 1966 and rather than check out, he bought it—and $300 million worth of other Vegas properties. Today, Sin City is a conglomeration of glitzy casinos, entertainment spectacles, eye-popping designer shops and 9,000 square foot villas that rent for $25,000 a night where land once sold for $1.25 an acre.
The sky's also the limit for dining which draws chefs from all over the globe, especially Los Angeles. Wolfgang Puck, one of the world's most successful chefs, was a pioneer when he came in 1992. His outlets in LA (Spago, CUT, Wolfgang Puck Bar & Grill, WP24 at The Ritz-Carlton, Chinois on Main and Wolfgang Puck at Hotel Bel-Air) and Las Vegas (CUT; Postrio, Spago; Trattoria del Lupo, Wolfgang Puck Bar & Grill) are part of an empire that includes establishments in Hawaii, Atlantic City, Detroit, Washington, D.C., Colorado, Dallas, Singapore, London and Dubai.
When he arrived from Tokyo, Chef Masayoshi Takayama opened Ginza Sushiko in a bland LA strip mall. He eventually relocated to Rodeo Drive where he earned four stars and lots of money. After turning the location over to his sous-chef, Hiroyuki Urasawa, who named it for himself, Takayama decamped to New York to launch Masa and Bar Masa. When the Aria opened in Las Vegas, he raised the stakes with Shaboo inside another Bar Masa location where a $500 Japanese hot pot was the specialty of the house. It was soon replaced with the more affordable Tetsu Teppan Grill
Just down the Strip, on the third floor of the trendy Cosmopolitan, Comme Ça (French), Scarpetta (Italian), the D.O.C.G. wine bar, STK, Blue Ribbon Sushi, Estiatorio Milos (Greek), and José Andrés' Jaleo (tapas and paella) and China Poblano (Asian-Mexican) restaurants form the ultimate gourmet "food court." Comme Ça's David Myers was chef at the L'Ermitage Hotel in Beverly Hills before opening Sona, Boule Bakery, Pizzeria Ortica and Hinoki & the Bird but he's off to tackle new projects, including one in Singapore where his neighbors will include LA chefs Wolfgang Puck and Nancy Silverton.
People who can't snag a reservation at one of Nobu Matsuhisa's 24 global restaurants increase their chances 180 times by visiting Las Vegas. That's the number of guestrooms at the Nobu Hotel at Caesars Palace. The business partnership between Nobu and actor Robert De Niro started at a humble sushi bar on La Cienega Boulevard in Los Angeles. It's down the street from KOI Restaurant & Lounge where the view is not as spectacular as the one in Las Vegas overlooking the Bellagio fountains.
Giada, the first restaurant by Food Network star Giada De Laurentiis, shares that view. The brand new eatery is an anchor to the new Cromwell boutique hotel from Caesars Entertainment. Giada's Los Angeles roots show in the California spin she gives her recipes and the drinks she named after some of the movies produced by her late grandfather, Dino De Laurentiis – who was a foodie before there was a word for it. The roof of the Cromwell houses Drai's Beach Club and Nightclub, a rooftop pool and deck with an indoor/outdoor club, views of the Strip, DJs from around the globe and VIP bungalows. Before heading to Las Vegas, nightlife maestro Victor Drai had an LA restaurant so it's no surprise that he has brought his pool/bar-restaurant-club concept to Vegas – as well as back to the City of Angeles where he has taken over the top two floors of the W Hotel Hollywood.
Alessandro Stratta, who has two Michelin stars, presided over his namesake restaurant at the Wynn before decamping for Scott Conant's Scarpetta in Beverly Hills, then boomeranging back to take over Elements Kitchen & Martini Bar with plans to open Alex Stratta Italian Steakhouse this fall at the Gramercy.
Although the ruling Las Vegas triumvirate of Michelin starred chefs Guy Savoy, Joel Robuchon and Pierre Gagnier do not have outlets in Los Angeles, the link between restaurants in both cities is so embedded that in many cases they mirror each other. Sushi Roku, whose contemporary sushi incorporates ingredients from Latin America (e.g. jalapeños) and Europe (e.g. olive oil) can be found at the Forum Shops at Caesars as well as Pasadena and Santa Monica. Kabuki serves their Las Vegas roll in both Vegas and LA. Fans of Border Grill can venture to Santa Monica, downtown LA or across the state line to Mandalay Bay as well as another upcoming location inside the Forum Shops at Caesars. Tom Colicchio offers mouth-watering steaks at Craft in Century City and Craftsteak in Vegas at the MGM Grand, not to mention the more recent Heritage at the Mirage. For Italian cuisine, Il Fornaio has several locations in Southern California as well as a spot on the Vegas Strip at New York-New York.
What happens in Las Vegas doesn't always start in Las Vegas.
Andrea Rademan is the former Vice President of the International Food Wine & Travel Writers Association whose articles on food travel, entertainment and lifestyle are published worldwide. She continues to follow her passion for fine dining as editor-at-large for Vegas2LA.
Andrea sends her best wishes to food writer Max Jacobson who was hurt in a hit-and-run crash last December. He is improving and welcomes letters during his recovery from fans and friends. ATTN Patient: Max Jacobson, 6404 N 70th Plz, Omaha, NE 68104.