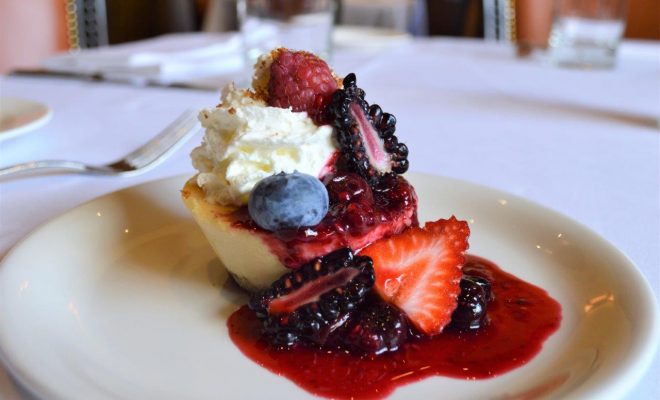 The Sweeter Side of Sin City
|
Call them desserts, puddings or pastry, the fact of the matter is that for many, a little something sweet to end a meal is essential.  From citrus to chocolate or a bowl of ice cream, some served in eye-catching colors or even aflame, these offerings are the restaurant's last chance to leave a lasting impression and as such, every bit as important as the wine list or main course. The recent surge in dining-out as a hobby has placed those skilled in the art of pastry in high demand and in many cases, causing restaurateurs and the industry as a whole to adapt.
Based on precision, organization and science, pastry workspaces are often relegated to a small corner of the kitchen or a space completely excluded from stations for produce, meat or fish.  Pastry has long been considered a job for those not 'quick' or 'tough' enough to cut it on the line. However, in a city where the most popular spots may seat as many as a thousand during a big convention or busy Sunday afternoon, even the corporate pastry kitchens are challenged. Imagine the time it takes to produce five hundred Croissants for Jean-Philippe or Bouchon, let alone a thousand tiramisu cups for the Bacchanal Buffet.
Las Vegas is truly a city of nearly limitless temptations and breakneck pace with slim margins making the restaurant industry even more competitive than that of couture clothing, multi-million dollar clubs or the latest gaming trend. Sure no one ever said being a Chef was easy, the long hours on one's feet, unpredictable customers and closely packed co-workers in almost-constant motion all make the process of cooking great food a challenge no matter how well-trained. The men and women in both Casino kitchens and those Off-Strip are continuously subject to the whims of both the Whale and the Inexperienced.  Las Vegas has gathered a treasure-trove of talented chefs in a Strip of land less than five miles long with expansion just recently to the local neighborhoods. However, those who are truly passionate may not only thrive under such conditions, but even choose to broaden their reach. Both Chef Ashley Costa of Carnevino and B&B Burgers & Beer as well as Chef Tammy Alana of Alize and Andre's Bistro & Bar are pulling double duty in a city where many cooks burn out long before the industry average – here are their stories:
1) When did you first become interested in cooking?
Chef Costa: I first found my love of food through my very Italian family.  No matter what chaos was going on throughout the week, we would always sit together as a family and enjoy each other's company through food.
Chef Alana: When I reflect back to childhood food moments, I do remember my mom being quite the baker and also cooking great meals for us. Many of them still bring back great memories that were prepared from my grandmother's recipe box. I specifically recall wanting to bake a classic lemon meringue pie on my own from scratch and was happy with the results. I believe it sparked something in me. From then, I enjoyed baking cakes and cookies for people. Eventually I learned that there were cooking schools that I could attend to further educate me on what I called at the time, "a hobby."
2) Why pastry as opposed to savories?
Chef Alana:  The decision between pastry and savory for me was an easy one. First, I have such a sweet tooth. Secondly, when I did attend one of the cooking schools, I was shown how to break down a chicken and I knew right then and there that I would be going down the sugar path of the culinary world.
Chef Costa:  Pastry opens up the artistic side of the culinary world whether it's chocolate work, cakes or plating styles.  I love experimenting and challenging myself by making a dish both beautiful and flavorful.  Desserts are good for the soul. If I can make a customer stay after a three course meal at Carnevino and walk away gushing about our desserts; I know I have done my job right.
3) Describe the challenges of a dry climate like Las Vegas.
Chef Costa: Working in a dry climate is both a blessing and a curse.  The dry climate for any sugar garnish or brittle is great because there is no extra moisture in the air to make the sugar piece moist and sticky.  When I am following or coming up with my own recipes, whether it be bread, cakes or cookies, I always cut a cup or two of flour out of the mix. For rolling out dough, I try to use the least amount of flour as possible so dough doesn't become too dry or tough.
Chef Alana:  Since I have moved here to Las Vegas, I have not yet found any challenges of our dry climate. The challenge I have experienced here is when the rain and storms come in, the humidity affects all sugar work and the crispiness of products.  Luckily, this doesn't happen that often here.
4) How does your approach differ from a 'casual' spot like Burgers & Beer or Andre's Bistro & Bar to an upscale room like Carnevino or Alize?
Chef Alana:  The difference for me is that desserts served at a "casual" spot should be sweet offerings of simplicity with a "comfort food" approach.  At Andre's Bistro & Bar this means classics done with precision, they have less components and are pretty straightforward.  When desserts are made for an upscale room like Alize, they should be intricate with more flavor profiles paired together and plated with a balance of artistry and technique.
Chef Costa: The menu for B&B Burger & Beer was so much fun to create.  At a place like B&B Burger & Beer, you can go in any direction.  The menu has some obvious flavors, such as the chocolate Nutella cake or gelato cookie sandwiches, but they are done the way they should be.  I chose desserts I would have picked as a 10-year old kid.  Carnevino's menu is a little more structured, refined and creative, as it changes four to six times per year.
5) Ashley, is it difficult being the dessert 'voice' of a celebrity Chef, where people may come in with an idea of what a "Mario Batali" dish should be?
Chef Costa:  Being the dessert voice for Mario Batali is an honor. Batali & Bastianich Hospitality Group makes it easy for me to come up with the best dishes I can create.  I am blessed to work for a company that is trusting of my ideas and vision. It allows me to obtain the best products locally and from all over the country.  I love the challenge of taking our dessert program to the next level and constantly meeting the prestigious reputation Mario Batali holds.
6) Describe your general approach to a new dessert.
Chef Costa: Like all of Mario Batali's restaurants, everything is seasonal.  I start to get an idea of what is going to be coming in season, fruit or vegetable, then go from there.  Once I come up with the produce I want to utilize, I will construct it into either a traditional or unique dessert such as the bomboloni or Sfogliatella.
Chef Alana:  My general approach to a new dessert changes all the time. And, I guess it would naturally after all of these years.  I think it keeps me engaged and intrigued.  Lately, I've noticed that my thought process starts with what usually would be the finishing components (tuiles, garnishes) and ends up being what inspires me at the beginning for the whole plated dessert – like the Toasted Florentine of Alize's Almond Mocha Fudge Ice Cream Macaroon.  Colors and design, textures – it's almost a backward motion. Before, my approach to a new dessert used to be deciding on the plate first and I would build around it. One thing that has never changed in my general approach is finding the balance. I'm still learning every day.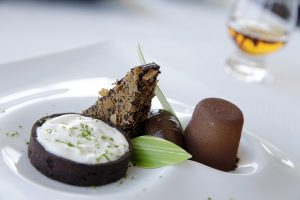 Dr. Michael Uzmann is a native Ohioan currently practicing in Las Vegas. A lifelong Los Angeles Kings fan and frequent visitor to the City of Angels, or wherever has good food with an NHL Arena, Dr. Uzmann is the owner and publisher of endoedibles.com. He can be re