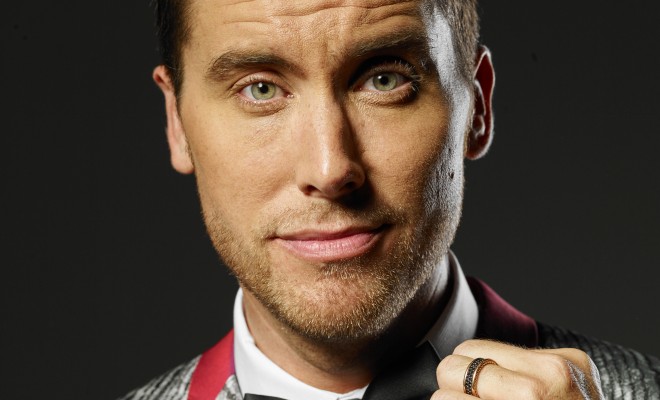 Walking on Air
|
The Vegas2LA Interview with Lance Bass
Lance Bass seems to have moved on from boy band mega-stardom better than most. Since his days singing and dancing in 'NSYNC, he's been a writer, actor, television producer and radio talk show host. Oh… and he also gave being an astronaut a shot. Lance shares some thoughts on his life, including how how he feels about being a gay rights icon, what he has to say about Justin Timberlake and why you won't see him take on another mission to space anytime soon.
V2LA: What's going on in the world of Lance Bass right now?
LB: Good question. There's a lot of moving pieces in the Lance Bass world right now. I've been doing a Sirius XM radio show for the last three years and it's been one of my favorite things I've ever done in my life. It's an afternoon drive-home talk show. (It's) all about pop culture. It's called Dirty Pop. I live and breathe pop culture. It's my favorite thing to talk about.
Now that it's got its footing and it's one of Sirius XM's biggest shows, we're now parlaying that into television now. So we're developing the show into a television format. So hopefully, in 2015, you'll be seeing it on your night-time television… That is being shopped around. We have a couple networks that are interested in it.
I'm really hot and heavy on television production because my company Lance Bass Productions has a few things going right now. I'm writing a show for E!. It will be their second scripted show. It's called The Machine. I'm doing that with Lionsgate. It's basically the pop version of… if Nashville and Entourage had a baby, it would be that. It's all the stories I witnessed on the road the last 20 years. It just put them all together in a fun fantasy world.
V2LA: I got a chance to hear your new track "Walking on Air" [by Anise K featuring Bella Blue and Lance Bass] which to me, sounds like a hit.
LB: I've definitely been removed from music for the past few years. It's such a hard business to be in, especially with everything changing. I needed a creative break with music and that's when I went into TV and film and I've been there for the past ten years but with this song it was easy for me to decide to do it because they approached me to do a duet with this girl Bella Blue and I just loved the song. I loved it the first time I heard it. In fact, I thought it was a Rihanna track and thought… oh my God, this is amazing. So yeah, I put my vocals on it and they released it this summer.
V2LA: It's now been a little more than a year since the 'NSYNC reunion at the MTV Awards. Looking back now, can you believe it's been that long and how tricky was it to put that together?
LB: Time definitely flies and what a fun day that was. When we put that together, we knew it would be hard to keep it a secret. So of course it started leaking out that we might possibly be there. So it was a lot of fun because we were (back then) pre-social media. So this was the first time we ever had something fun like social media to play with during the process in making this performance happen. The 'NSYNC Twitter account was born from that weekend and it was fun to see the direct reaction from the fans (and) what they were seeing in real time. We've never been able to see that before in the history of 'NSYNC. So it was fun to see that go down.
Getting back with the guys… it was like no days had passed. We went right into the rehearsal. We went right back to the old stupid jokes that we would make and it was a great reunion, like a family reunion after ten years of not being together but it was something that was totally special… We ended so abruptly with our career that I don't think the fans were satisfied with us not doing a last show.
V2LA: Did you guys know that it was the end at the time when making the final album and doing the final tour? Did you know this was beginning to wrap up?
LB: No. Not at all. In fact, we were all writing for the new album. We spent a couple years writing for a new album so there's tons of songs that were written that we never did get to record. We didn't know that last (tour) date in Orlando was going to be our last date at all. Justin has always wanted to do a solo album for years and we were very supportive of that and we were pretty excited for him to do it and none of us knew how huge his solo career would go and no one knew that he would get so big that he would never be able to come back and do another 'NSYNC album.
V2LA: On the last 'NSYNC album that you did (2001's Celebrity).. Justin is right there on the cover front and center. You made out okay but it looks like some of the other guys barely had their heads popping up in the background. Do you remember your reaction the first time you saw that album? Did it create tension among band members?
LB: Not at all. Since day one we all knew the marketing behind 'NSYNC. The record label was very adamant about Justin being front and center and being known as the lead singer… Back then, the formula was if you have a group, there has to be that one focal person. Those album covers, we chose that. The record label doesn't choose that picture. We decide on what makes it. We were all gung ho about making sure it looked like that.
V2LA: You've got a wedding coming up and word has it that all your old bandmates have been invited. Is there another 'NSYNC reunion in the works?
LB: When you say "an 'NSYNC reunion" it sounds like we're all going to be singing and that will not be the case at all… Yes, the guys are invited and if you want to call that an 'NSYNC reunion then sure yeah, it will be an 'NSYNC reunion because we will all be in the same room together. But no, there won't be any kind of performances or anything like that. That day is going to be a very special day for me and my fiance. It's going to be all about us two and we won't be overshadowing it with an 'NSYNC performance.
V2LA: Let me ask you this one… will there be a live band or a DJ at the reception?
LB: Good question. We're picking out all those details right now.
V2LA: Any chance of having a Vegas wedding now that same-sex marriage has been legalized in Nevada?
LB: I love me some Vegas! I would be very happy with that but I don't know if my fiance would be happy with doing a Vegas chapel wedding. (laughs)… We're doing it in California because we want to honor all the hard work that our friends have done to fight Proposition 8.
V2LA: Is it frustrating to see a progressive state like California fall behind some other states in passing laws to allow same-sex marriage?
LB: It's disappointing all around in this country but if you look at it though, it's way more positive than negative… Many states are now approving gay marriage and people are just wising up. It's all about education and sometimes it just takes longer to educate people.
V2LA: Do you consider yourself a gay rights icon? You came out – appearing on People magazine – in a time where it wasn't as easy to come out as it might be today.
LB: It was definitely difficult. When I came out, I came out 24 hours after deciding that I wanted to. Some magazines were saying "We're going to write this story with or without you" so I had to decide – do I want to be included in this or not? So I decided yeah, I want my story to come out. There's no reason to hide anymore.
I was very impressed with how the media handled it – especially the straight media. The Jay Lenos and David Lettermans of the world just made it seem so normal. It really started changing people's minds (by) the way they started handling the situation.
Throughout the years, I've made myself known. I've become an advocate… I hope that I've helped in some kind of way (by) just being visible.
V2LA: What kind of reaction did you get from the female 'NSYNC fan base? You've got screaming teenage girls – just like the Beatles before you – chasing after you and wanting you to be their boyfriend… What was their reaction in general
LB: I think it was split down the middle. Half of my fans – which are primarily female, I'd say 90 percent – half of them were so supportive and loved it… maybe because they knew no other girl could get me… The other half, they left me for sure. A lot of them, especially that many years ago, have strong opinions if it deals with their faith or whatever beliefs they have. Yeah, I got a lot of 'NSYNC fans who definitely turned their back on me.
Things are changing. I think if I was in a band today and came out, it would be celebrated.
V2LA: Let's switch gears. You got a lot of attention for your attempt to fly into space onboard a Russian capsule. How intense was your training? I don't think a lot of people realize what you went through to get ready for that and think it was some kind of celebrity stunt.
LB: Basically I got asked to be the youngest person to be sent to space. It was going to be part of a documentary and a show for a major network – a game show that I would be hosting and that's how it all started out. And they knew I'd take it serious because I wanted to be an astronaut. A lot of people didn't understand that math and science is my background so I went to Russia and trained while I was over there. I didn't have any communication outside my military base (so) I didn't know the craziness that was happening on CNN and in the papers… saying this is a publicity stunt.
If people only understood what I had to go through. I was doing rocket science for six months and I had to learn a whole program that takes years to learn and I had to do it in a condensed six month time. So they worked me to death. And everything was in Russian. So not only did you have to learn all this chemistry and physics but it was all in Russian. So I immersed myself into this crazy cosmonaut world and it completely changed my life.
V2LA: So what was the real reason for the flight not happening?
LB: Basically I went over there for one reason (and) halfway through the training that all changed… it got really political. Not even just the entertainment industry but through governments fighting over this. So going over there to do a show about space ended up just becoming a documentary about the youngest person going to space and… ultimately no insurance company would cover the mission and because no insurance company would cover the mission, no sponsors could put money into the mission. So the week before my flight, it all got cancelled over insurance.
V2LA: We're in a different time now. We're shifting towards private space travel. Does that provide a different opportunity for you? Have you talked to anyone from SpaceX or Virgin about doing something.
LB: No. That's completely different. With Virgin Galactic and all that, it's like going to Six Flags and riding a roller coaster. It would be fun for sure. (But) I would never pay a quarter-million dollars to do it. I love that we're going to the private sector. It's the only way we're going to be able to continue exploring in space… But what I'm more interested in… is to bring my projects that I want to work on to the International Space Station, live up there for ten days and work on my experiment and do something that actually helps the world. And using my training to do that instead of having a nice joyride.
By Rob Kachelriess