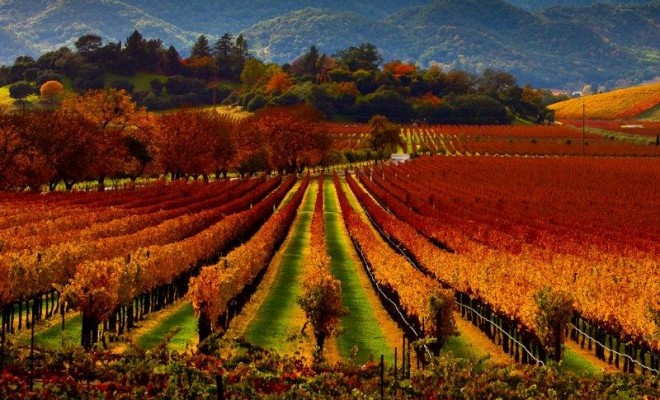 The Central Coast… Sip by Sip
|
The Central Coast… Sip by Sip
There is no question about the synergy between the southern regions of California and Nevada. People with big dreams will often travel across the Mohave Desert to seek their fortune in Las Vegas or the beautiful beaches near Los Angeles or San Diego. However, there's a part of California – the Central Coast – that is often overlooked. Fortunately, we discovered this area almost ten years ago and simply can't get enough of it.
Several times a year we bring our readers along for an epic road trip while exploring wineries, resorts, boutique hotels and little towns that serve up a plethora of gastronomic artistry and libations of all kinds, not to mention great views of oceans and landscapes.
Leaving Las Vegas on Interstate 15 is a great start to the trip. You can cruise through the beautiful Mohave Desert and let your mind wonder on what experiences the early settlers encountered as they crossed in covered wagons on a journey that may have taken months or years. Now with only a six hour drive spanning many miles, we cross into California and keep on going until we reach Paso Robles. Our usual home is the La Quinta Inn and Suites, which offer daily wine tastings by the vineyards themselves. Within a few miles we make our way to the Robert Hall and Eberle wineries. Both have a long history in building this fast growing AVA (American Viticultural Area). To satisfy our palates, a meal at La Cosecha or Buona Tavola is always a must for great food, local wines and cocktails. This was just the beginning of our week's journey and the next morning, we were on the road again.
Just after sunrise, we begin our journey down the famed Highway 101. Today's destination is Carmel Valley and the 400-plus acre Holman Ranch. The abundant warm sunshine beams down as we make our way down a dirt road surrounded by vineyards and rolling pastures. In a few miles we come to a gate, punch in the special code and drive by a pristine lake and horse stables. One more turn and we find our home for the night, one of six cabins located at the end of the hillside. Our host gives us a glass of Holman Ranch Sauvignon Blanc to sip on as we take a stroll through the historic buildings and breathtaking views of the Carmel Valley. Dinner is at the renowned Wills Fargo steakhouse, serving up local produce and protein since 1959. Retuning to our cabin we sit in our rocking chairs under a starlit sky while planning the next stop on our journey.
We awake early and decide to spend some time in beautiful Monterey. The smell of the ocean, as well as the sounds of seagulls and sea lions, signals to all of our senses that we have arrived. A walk along the bay followed by a visit to the historic Fisherman's Wharf is always a mandatory stop. Lunch consists of fresh seafood and local craft beer while watching the sea otters dine on abalone. After a day looking through the touristy gift shops, we head to Tarpy's Roadhouse, a true locals' favorite. This palace of locally sourced ingredients has been serving up a wide array of steaks and seafood for many years. We were delighted to sit among the Monterey crowd and try some of the best scallops in town. Stop by and say hello to Chef Todd Fisher on your next visit. For us, it is time for the short drive to Carmel-by-the-Sea.
Our home away from home in this area is the legendary Hofsas House. This lovely quaint family-owned hotel provides individualized service and ocean views. Before long, you will feel like a member of the family as Carrie Theis and her team makes sure you feel comfortable and pampered. Speaking of family, your four legged friends are very welcome here and all over the community. Carmel-by-the Sea is known as one of the most pet-friendly cities, where doggies are welcome at many of the local restaurants and those who are well-behaved can roam free on the beach. When in Carmel, we have a ritual that we follow almost every time we are in town. Starting our morning off with a light breakfast at the Hofsas House, we then take a stroll to the country's most breathtaking beach, just a short walk down Ocean Avenue. Another stop is The Cheese Shop to engage in a lively conversation with old friend, proprietor and local cheese celebrity Kent Torrey. For lunch, La Bicyclette provides a casual venue to relax after our enjoyable walk. Local wines in this area are some of the region's best. We recommend taking a tour of Carmel's many tasting rooms including Galante, Dawn's Dream, Tudor and Otter Cove. Purchase a "Wine Walk by-the-Sea" passport at the Carmel Chamber of Commerce Visitor Center on San Carlos Street and try a number of tasting rooms at your leisure.
Mid-afternoon means happy hour and Carmel has many interesting places to enjoy a drink. Doris Day's Cypress Inn provides classic cocktails and a pet-friendly bar. For happy hour or a late night visit (we have done both!) Clint Eastwood's Hogs Breath is a nice spot for a cocktail and to mingle with the local residents. You never know… Clint himself might even make your day. Dinner in Carmel by-the-Sea is always interesting. On this visit we found two exceptional venues; one that is new to the area and one that has been a locals' favorite for some time. Affina is making big waves providing a great selection of wine and cuisine in a casual atmosphere. Take a seat at the bar and ask for proprietor Richard Oh for superb service and local knowledge. You won't be disappointed. For a fine dining experience, step into Andre's Bouchee. We were brought there by two winemakers to celebrate Bastille Day and will be back every time we are in town to sample Chef Jacques Zagouri's classic French cuisine.
With days ticking away and still on our sojourn, we turn south on Highway 101 and focus on our next stop, the quaint Avila Beach and the small boutique hotel Avila La Fonda.
General Manager Christopher King welcomes us with the daily midday chips, salsa and Corona reception. Our room is reminiscent of a lovely California hacienda but with all the modern conveniences, including a modest patio with an ocean view, a snack basket, champagne and a huge sunken tub. We spend some time relaxing after our drive and then head out to explore. Friend and winemaker Mike Sinor just opened his Sinor-LaValle tasting room one block from the ocean. There is no chance we're going to skip this. His renowned wines live up to their name as we explore the entire line of his current releases. Mr. Rick's is right on the ocean and the best place to wind down with cocktails and craft beer as local bands play into the evening. After a day of tasting wine, walking on the pier and strolling along the beach, it is time to return to La Fonda for the nightly feast of locally baked pies served along with gourmet coffee and tea. With our hearts and stomachs full of good memories we return to our lovely room. Taking a few moments to sit on our patio while listening to the tranquil sound of waves lapping at the shore, we will miss this idyllic spot but we are excited to head further south on the 101 to the area that inspired the start of our career more than 10 years ago.
Over the years we have enjoyed spending a good deal of time writing, sipping, and dining in Santa Maria, Lompoc, Buellton, Solvang and Santa Ynez. Our career began in these five cities a decade ago and they are still very close in our hearts and minds. After checking into our hotel we drive over to the renowned Lompoc Wine Ghetto, where in our opinion, you can taste the nation's best Pinot Noir and Syrah. If you are in the area, make sure to come by the tasting rooms of Ampelos, Jamala, Palmina, Zotovich and the famed Fiddlesticks (which is by appointment only). Another world class winery is Hilliard Bruce, located on the 246 just outside of Lompoc. This state of the art facility produces some of the highest rated wines in the Sta. Rita Hills. It is also by appointment only.
Buellton is our next destination on State Route 246. Ken Brown is a legendary winemaker and one of the founders of the Sta. Rita Hills AVA. His tasting room is not to be missed. Nearby, local favorite dining spot and winemaker hangout is the relatively new restaurant, Industrial Eats. This place will satisfy any carnivore craving with a wide variety of meats, cheeses and even butchery classes. If old school is what you are after, the famous Hitching Post II is a gastronomic experience that should not be overlooked. Famed winemakers Bruno D'Alfonso and Kris Curran have been making wine for decades and are true legends and founders in the area. A visit to their D'Alfonso-Curran winery is by appointment only and should be on your itinerary. Spend some time sipping and learning from this extraordinarily talented husband and wife team.
The Small town of Santa Ynez was the next leg on our journey. Having heard we were in the area, the organizers of the annual Bacon & Barrels festival invited us to attend the event and enjoy a VIP dinner. This was an offer we could not refuse. As the sun began to set over the Santa Ynez valley, we arrived at the Buttonwood Farm Winery and Vineyard. This was the perfect setting for a lovely dinner hosted by Ballard Inn Executive Chef Budi Kazali and longtime friend and winemaker Karen Steinwachs who provided the special Buttonwood wines and world class cuisine to their VIP guests under a starlit sky. There are many events held throughout the year in this area so check the local entertainment calendar before arriving in town.
Our last morning in this magical valley is always a sad one as we leave friends we have known for over a decade behind and head back on the road for our return to Las Vegas. With the Pacific Ocean over our right shoulder we smile at each other while reminiscing, but already planning our next trip back to this incredible part of California.
Elaine and Scott Harris are based out of Las Vegas and cover food and wine events for their two online publications, Vino Las Vegas and Cuisineist. Together they serve as Las Vegas City Editor for The Daily Meal. Both have been certified as Sommeliers through the Court of Master Sommeliers.
Twitter: @vinolasvegas
Email: vinolasvegas@aol.com