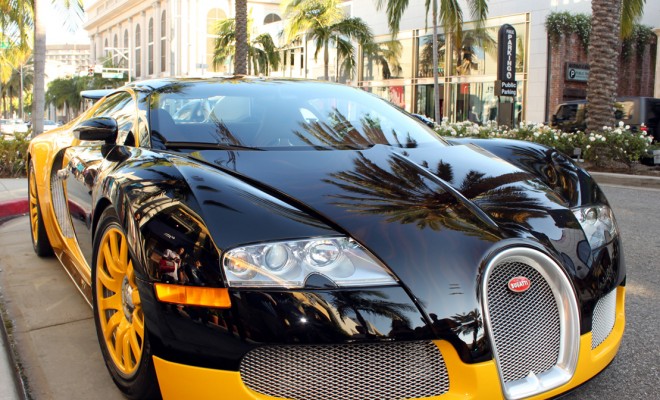 Rolling like a celebrity: Life in Beverly Hills
|
By Kristi Dietz
Beverly Hills has historically been known for fancy cars, movie stars, palatial estates, expensive shopping and an overall wealthy style of living. It is one of many cities located within the perimeters of Los Angeles County. Beverly Hills borders the LA cities of West Hollywood, Brentwood, Los Angeles proper and Santa Monica. The area is nearly six square miles and its population a mere 34,290. Beverly Hills has earned several nick names including the Garden Spot of the World, B.H and Bev Hills. It's also frequently referred to by its zip code ("90210") after the famous television show from the 1990s.
Beverly Hills was incorporated into its own city in 1914 and still remains independent from the city of Los Angeles. It is equipped with its own fire department and police stations – which are known for having a one minute response time!
Beverly Hills was originally a Spanish ranch that farmed lima beans before it was sold to a group of wealthy businessmen in 1906 who formed the Amalgamated Oil Company. They explored for oil but could not find enough to prosper. They reformed as the Rodeo Land and Water Company and renamed the land Beverly Hills, after the rolling hills of Beverly Farms in Massachusetts. Lots were sold and the first home was built in 1907. The pink-stucco, mission-style Beverly Hills Hotel was developed in 1911 as the area's first substantial building project. Stars such as Marilyn Monroe, Charlie Chaplin and Marlene Detrich stayed there while filming their Hollywood pictures. It remains a famous landmark and spot for celebrity sightings today.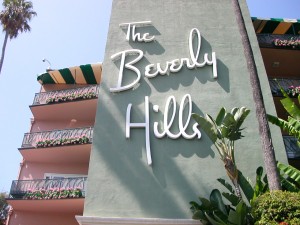 Famous movie stars Douglas Fairbanks and Mark Pickford built the glamorous Pickfair estate in 1919, causing many other stars to flock to Beverly Hills. A bond was developed for the new UCLA (University of California, Los Angeles) campus in 1925 and three years later, the Beverly Wilshire Apartment Hotel (Beverly Wilshire Hotel) opened. The electric fountain on the corner of Santa Monica and Wilshire was erected, followed by the opening of Beverly Hills City Hall in 1931. It still consists of a five member city council, a mayor and vice-mayor.
The famous Rodeo Drive was sold first in parcels after 1907 and became a business street with hardware stores, gas stations, bookstores and beauty shops. In 1958, developer Marvin Kratter bought 48,000 square feet at Rodeo and Wilshire but it was not made famous until 1967 when Fred Hayman, "the father of Rodeo Drive," opened Giorgio Beverly Hills.
Beverly Hills is the home of the most expensive store in the world: the $12 million House of Bijan on Rodeo Drive. Wealthy, elite and famous clients such as President Barack Obama, Jay Leno and Michael Jordan can be found engraved in the window. Rodeo Drive also boasts Armani, Gucci, Coco Chanel, Cartier, Tiffany and Harry Winston. The shopping area is only three blocks long even though it spans from Sunset to Wilshire. Los Angles has the largest homeless population in the world and the beggars along Rodeo Drive are rumored to make far more than your average wage earner. The shopping district that surrounds the stretch is known as the Golden Triangle and is strictly for the ultra-wealthy.
Beverly Hills offers beautiful weather while being rich with culture and history. It remains a popular destination for film and television productions but the real estate is extremely pricey. Homes can range anywhere from one to fifty million dollars, depending on size and location. For those who reside in Beverly Hills, they are only steps away from star studded events, exclusive parties, high end restaurants and hotels filled with celebrities.