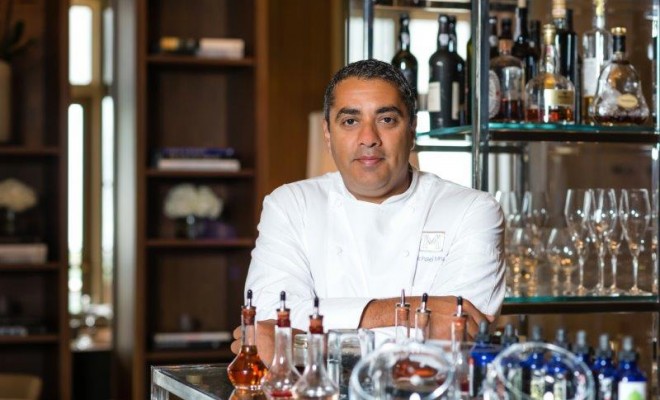 Michael Mina
|
A taste of culinary excellence
Michael Mina has more than just food on his plate in 2015. The celebrity chef is overseeing an empire of restaurants throughout the country, including the acclaimed Stonehill Tavern at the St. Regis Monarch Beach Resort in Southern California. The restaurant will be in the spotlight, with Mina as special guest, during the Food, Wine and Jazz festival. It takes place at the resort August 27-30 and features a VIP reception, two-night grand tasting and champagne jazz brunch.
It's a busy time for Mina. Earlier this year, he opened his latest restaurant across the state line at the Aria resort in Las Vegas. He says Bardot Brasserie has lived up to expectations.
"I think we're heading in the right direction. There's always that period of time where you get butterflies in your stomach opening up (a new restaurant) in Las Vegas because you want to make sure the concept is well received and is going to stick."
Bardot replaces another one of Mina's restaurants, American Fish, which had served out its five-year contract. Despite being a success, Vegas is always looking for something new, and Mina says it was time to bring a new energy to the space.
"We wanted to stay away from doing a fine dining French restaurant. We wanted something that had the level of quality that needs to be there with Aria but had some accessibility to it. It really felt like a brasserie was the right thing."
Mina now has four different restaurants in Las Vegas with dramatically different concepts. In addition to Bardot, there's Mina's namesake fine dining restaurant at the Bellagio, Stripsteak at Mandalay Bay and for casual diners, Pub 1842 at the MGM Grand.
"That was a very conscious decision. I think in one city, it's good to do that".
Is there room for a fifth concept in Vegas? Mina says it's all about partnering up with the right casino and seeing where the need lies.
"I would love to do Pabu in Las Vegas and do my Japanese concept but I'm partnered with (MGM Resorts International) and their casinos and they've got great Japanese restaurants in all of them."
The Egyptian-born chef has come a long way since his career got underway in Washington state shortly after high school.
Mina says one of his early jobs, working inside a restaurant at the Space Needle in Seattle, helped prepare him for tourist-driven areas like San Francisco and Las Vegas.
"You're doing volume. So I learned how to cook volume. It wasn't like cooking food anywhere at the level of what we are cooking now. You learn about volume and you learn about having a lot of tickets in front of you and how to get food to people. It's important to learn the foundations of physically feeding people and then you can hone your skills after that."
Food, Wine & Jazz won't be the first culinary festival for Mina this year. He was a big part of the Uncork'd culinary event in Las Vegas, which takes place every Spring and draws big names from all over the world.
"It's a chefs' reception," he says with a laugh. "It's become this event where you see everyone once a year and we're all so busy, it's often the only time you see them."
For the latest version of the event, Mina squared off with fellow celebrity chef Emeril Lagasse in the Chase Sapphire Preferred Grill Challenge by the pool at the MGM Grand. The two each mentored a culinary student who was given 30 minutes to create a dish with a $20,000 scholarship at stake.
"Emeril and I basically act as sous chefs. It's fun and it's always nice to pick up a knife and do the prep work. It's like cooking at home with my wife," he says with a chuckle.
Although Lagasse's student earned the victory, Mina says he is grateful to be a part of the competition.
"Anything that's done for students to continue their culinary education and keep more people aware and engaged (in learning)… to us it's the backbone of moving this county in the right direction."
The rest of the year will be relatively quiet for Mina. There are no other new restaurants on the horizon in the near future, but he recently opened a test kitchen in San Francisco. It is where new dishes for all his restaurants are being developed. Sneak previews of some of them are offered at pop-up dinners and other events in the Bay area.
"This year the menu changes are more intense," he says. "We have a test kitchen now… and we're really focusing on the menu changes and we just do them all with the season."
To meet up with Mina in Orange County and to enjoy food and wine from more than 50 chefs and wineries from around the region, tickets can be purchased for Food, Wine & Jazz at St. Regis Monarch Beach at www.stregisfoodandwine.com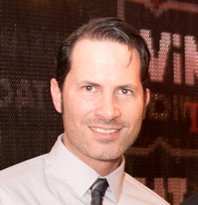 Rob Kachelriess is the Managing Editor of Vegas2LA magazine. He's also a News Producer for KVVU Fox5 Las Vegas and the Las Vegas writer for Thrillist.
Twitter: @rkachelriess
Email: robertkachelriess@yahoo.com