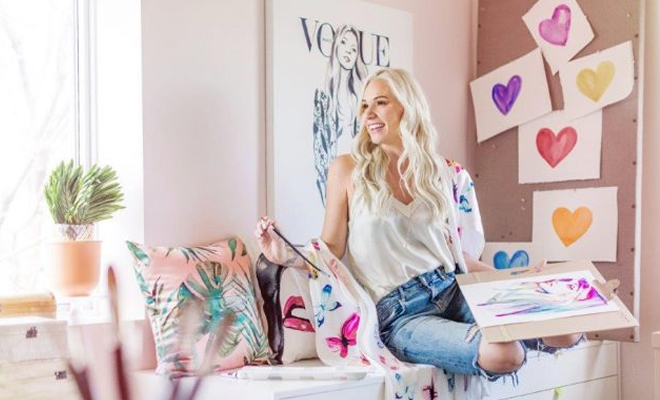 Art of Marina By Marina Billinghurst
|
If you know Marina, you're familiar with her watercolor art. Her signature drippy foliage and bold botanicals, as well as fashion-esque watercolor portraits, are the soul of her artwork
A lifetime of creating that original artwork has lead to Marina creating her own distinct aesthetic of dreamy watercolors paired with luscious materials for a 'feel good-look good' on any body type luxury collection that's both statement and wardrobe staple alike.
As an experiment one day, Billinghurst merged her love for fashion and painting together. She tested some of her work on long, silk scarves, then folded the scarf in half leaving room for her arms to pull through, and she stitched down the side. When she put her kimono cape on for the first time, something magical happened.
"When I look back, it feels like that was the moment I found my purpose. I found joy. I had made something I wanted to wear every day for the rest of my life."
Billinghurst turned her fine art talents into wearable art pieces with a mission. Her vision is simple: wear art, not fast fashion.
She paints on the most luxurious, sustainable silk she can source, along with other natural organic flowy fabrics like modal and cashmere. Her lush and drippy watercolor paintings turning the fabrics into luxurious Kimonos — capes, shawls; whatever you want to call them.
"I paint all the time, and I want to wear what I paint! This world is SO full of inspiration; from plants to animal prints, to pretty flowers…"
And that is exactly what Billinghurst does!
A Vancouver native, Billinghurst started her journey in fashion at a young age and attended Parsons School of Design. She went on to turn her Vancouver Fashion Week's upcoming designer of the year award in 2003 for her first collection. Billinghurst dropped out of Parsons when 9/11 happened.
"I did go back eventually and graduate to get my Bachelors Degree in Fashion Design. After some tough first falls and a taste of failure…" She eventually landed in Toronto when she started working for Joe Fresh.
Her artistic journey spans over 15 years as an artist, designer, and creative director in the fashion industry. Complimenting her West Coast roots is plenty of East Coast experience. After Joe Fresh, she went on to work with such global brands as Ben Sherman, HBC and Joe Boxer, among others.
Billinghurst continues to grow her lifestyle brand from her studio in the heart of Toronto, Ontario, where her art and kimonos have captured the heart of everyone who tries them on. She also teaches watercolor painting through meaningful workshops focused on creativity, wellness and self-growth… as well as collaborating on design with other Boss Babes. 
Her motto is simple: Lets' make less, and love more. Let's do better and be the best we can.
To each other, ourselves and for the world we live in. Let's feel beautiful in our skin and the fabric we choose to drape ourselves in.