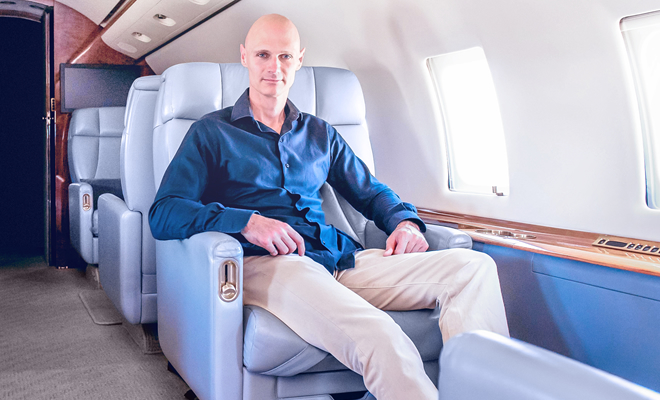 Greg Woods
|
Leading a New Era of Luxury Travel with Cirrus Aviation
By Rob Kachelriess

For most of us, traveling by air isn't always a pleasant experience. Long waits, layovers, unexpected luggage fees and intrusive TSA security checks tend to mar the comfort that comes with stuffing yourself into a tiny seat inside a crowded fuselage with dozens of strangers. Most of them probably just as tired and grumpy as you are.

Greg Woods believes air travel should be an altogether different experience. As the president of Cirrus Aviation Services, Woods oversees the premier private jet management and charter company in Las Vegas. His passengers enjoy flying on their own terms, based on comfort, luxury and efficiency. Clients include celebrities, entertainers, politicians, business executives and families who desire excellence in every element of a long-distance journey. Repeat business is the key to his success — and business is good.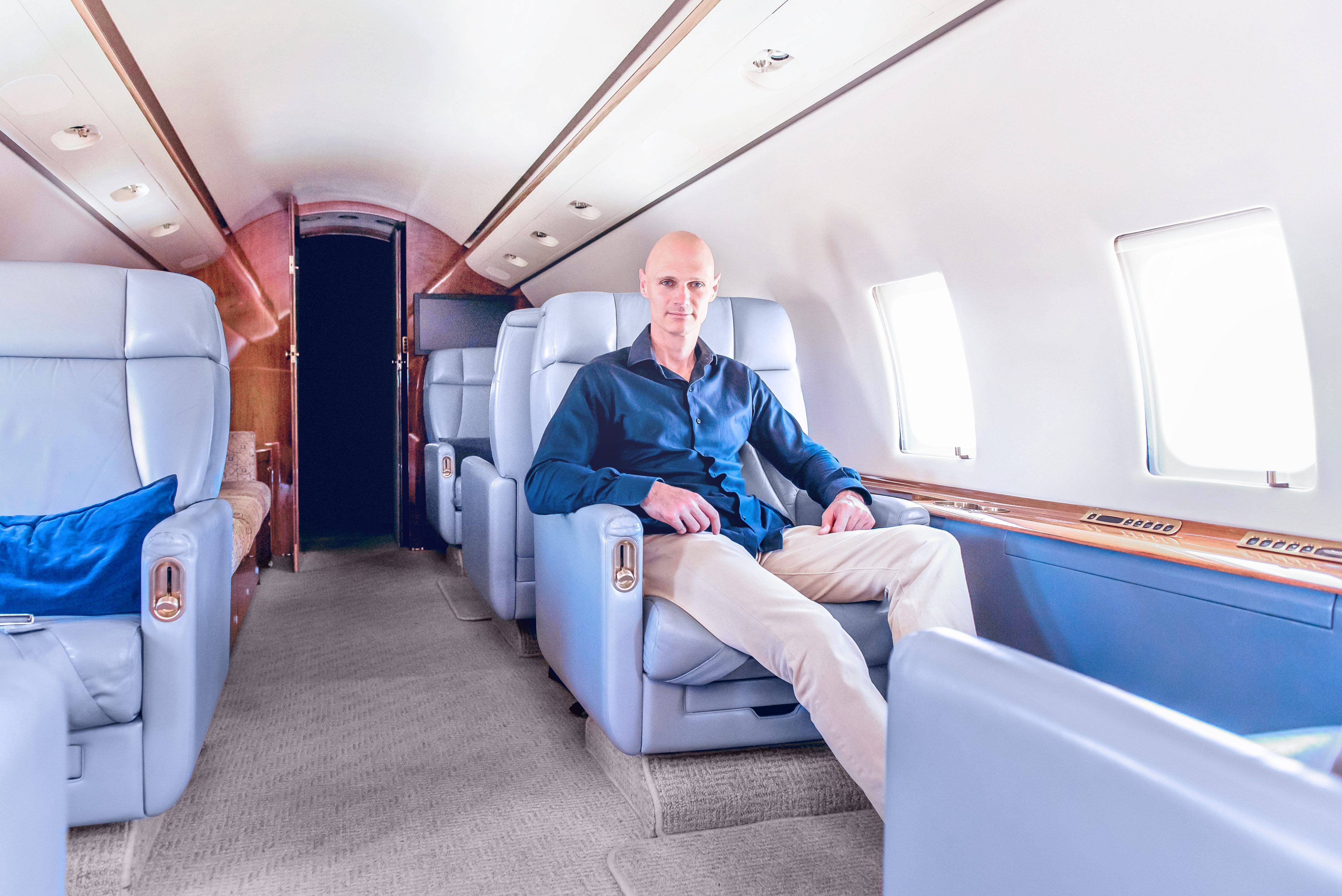 "Our growth is impressive by any standard," says Woods. "It wouldn't be possible if our customers didn't receive the same level of quality service with every single flight."

Cirrus Aviation is celebrating a recent expansion of its scope and services. The acquisition of two Challenger 604 jets now allows the company to travel roughly 4,000 nautical miles without refueling. Direct flights to Hawaii were introduced in 2017 and thanks to expansive air space clearances, virtually any international airport is in reach for both business and leisure travelers.

As an operator — not a broker — Cirrus Aviation owns and maintains its own fleet while having access to thousands of additional aircraft from a global network of trusted partners. The team also provides management and maintenance services to third-party aircraft owners. Jets are kept in white-glove condition with the option of being leased through Cirrus Aviation when not in use by the owner.

"It's an incredible opportunity for private owners to generate passive income," says Woods. "Everybody wins."

Cirrus Aviation is a family-owned business backed by more than 35 years of aviation experience. Woods was a computer engineer and hardware designer before taking charge of the company and relishes the role of being a problem solver in everyday lives.

"By leasing a private jet, a business team can travel from one city to another for a meeting — and be back home in time for dinner," says Woods. "That's invaluable in an economic climate where more than ever, time is money."

While on board, passengers can enjoy a spacious cabin, comfortable seating, Wi-Fi entertainment systems and gourmet custom catering. "We can personalize the trip on any level," says Woods. "From a rare bottle of Champagne to a meal personally prepared by a celebrity chef, no perk is out of reach."

Security and safety are always the top priorities on any flight. Cirrus Aviation was awarded a platinum rating by ARGUS International, the recognized authority in safety standards for private aircraft. The company also earned an elusive Sentient certification, which is limited to the top 25 percent of operators and based on a strict auditing and inspection process. Passengers can sit back, relax and feel assured knowing their flight is in the hands of the industry's top experts.

Private jet travel is often defined by an image of luxury and exclusivity, but Woods believes in making flights accessible to a growing pool of customers. Cirrus Aviation offers competitive rates and an Empty Legs program in which flights are booked at discount prices for those with flexible schedules.

Cirrus Aviation operates out of the Atlantic Aviation Executive Terminal near the Las Vegas Strip. Passengers can reserve a flight and often be "wheels up" in 90 minutes or less. The company's sister concierge service, VegasGiant, is on standby to arrange resort accommodations, dinner reservations, tickets to sold-out shows or anything else to make a trip complete. Greg Woods and the Cirrus Aviation team are driving a new era for luxury air travel and ready to welcome you on board. Visit cirrusav.com or call 702-472-9714 to learn more.