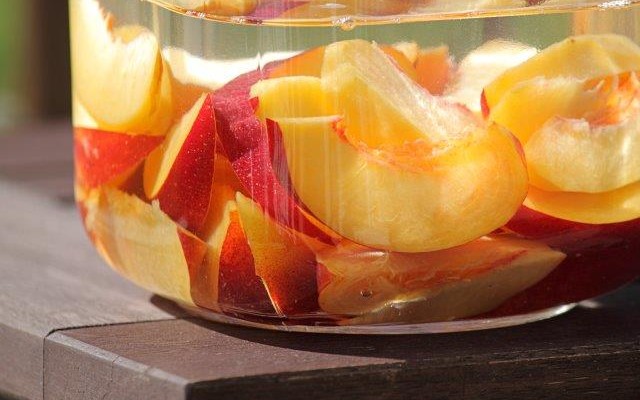 Flavored Vodka
|
Flavored vodkas date back longer than you may think. Possibly even centuries!
Back then, they weren't glossy marketed products like they are today. They were simple infusions made at home or in taverns in Russia, Poland or other counties were vodka was popular.
They were actually made the same way as they often are now, with a flavoring agent added to a container of vodka which is then sealed up and left to steep for a period of time that can range from hours to months. Sometimes people still use these methods to create a specific flavor or to avoid chemical additives. The agent can actually be left inside the vodka when it's ready or removed and filtered to take out any particles.
Traditional flavoring agents include fruits, roots, flowers, herbs and spices with pepper, ginger, cinnamon, unsweetened chocolate, vanilla, bison grass, black currant, cherry, apple and lemon among the most popular.
Although flavored vodkas are made in a more industrial manner today, there are different methods of getting the job done, depending on the distiller. Some crush whole fruits like Meyer lemons or blood oranges to extract the flavors that are then blended into the vodka. On other occasions, flavoring agents such as orange blossoms are steeped in high proof vodka (usually about 190-proof or 95% alcohol by volume) until the distiller thinks it tastes and smells right. The vodka is then redistilled, filtered, diluted and bottled.
However, some flavored vodkas don't get their flavors from actual food or spices. Labs create flavors and fragrances which are then sold to distillers and added to vodka during the production process.
If the added flavors were originally derived from natural ingredients, they can be labeled
"naturally flavored" while those that are created with synthesized chemicals must be labeled as "artificially flavored" and although both "natural" and "artificial" flavors may be chemically similar, it's very possible that a real lemon was never actually anywhere near the creation of the "lemon" vodka.
Winter Cocktails
If you're looking to celebrate and party during the cold winter months, I've come up with a few super easy cocktails (include a few made with flavored vodkas) to help you look like a prop behind the bar.
As always, drink responsibly and enjoy!
Salted Caramel Martini
 2 oz. salted caramel vodka
2 oz. Bailey's caramel liquor
1 oz. chocolate vodka
1 oz. dark creme de cocoa.
5 oz. half and half
1 oz. salted caramel syrup
Line interior of glass with chocolate and caramel syrup and freeze.
Rim glass with Bailey's caramel liquor and kosher salt.
Shake remaining ingredients in cocktail shaker and serve.
Garnish with shaved dark chocolate.
Island Santa
4 oz. cranberry juice
2 oz. coconut rum
1 oz. vanilla vodka.
5 oz. coconut syrup
Rim glass with powdered sugar, coconut syrup paste and grated coconut.
Shake all ingredients in cocktail glass and serve.
Garnish with a candy cane.
Winter Sangria
1 oz. peppermint schnapps
5 oz. hot chocolate
Pour into glass or mug.
Stir in glass or mug.
Garnish drink with toasted marshmallows.
Winter Sangria
1/3 cup triple sec
12 oz. Sprite
1 bottle dry white wine
2 chopped apples
1 cup fresh cranberries
1 small box red raspberries
Simple syrup to taste
Mix all ingredients except Sprite in pitcher.
Refrigerate mixture.
Add Sprite to pitcher before serving.
Garnish each glass with rosemary sprig.
Hot Buttered Rum
2 oz. dark rum
1 tsp brown sugar
1 cinnamon stick
2 pats of butter
2-3 oz. hot water
Place butter, sugar and cinnamon in a mug or coffee glass. Muddle and then pour in rum and hot water. Stir. Top with another pat of butter.
Salted Caramel Apple Pie
1 oz. spiced rum
1/2 oz. butterscotch schnapps
1 oz. Sparkling Apple cider
Dash sea salt
Combine in a 2 oz. shot glass and top with a dash of sea salt.
Appletini Punch
1 cup vodka
1 cup apple brandy
1 bottle sparkling cider
Mix and garnish with sliced red apple.
Mistletoe
1/2 oz. triple sec
3 oz. cranberry juice
Stir well, pour into a highball glass over ice and then fill to the brim with champagne.
Icy Blue
1 1/2 oz tequila
1 oz. cream
1/2 oz blue curaçao
1 oz. chocolate liqueur
1/2 oz. crème de menthe
Shake and strain into an ice-filled glass.
Hassett Gravois is the famous Mixology Connoisseur and author.  She is also Vegas 2 LA Magazines Beverage Director and Resident Mixologist