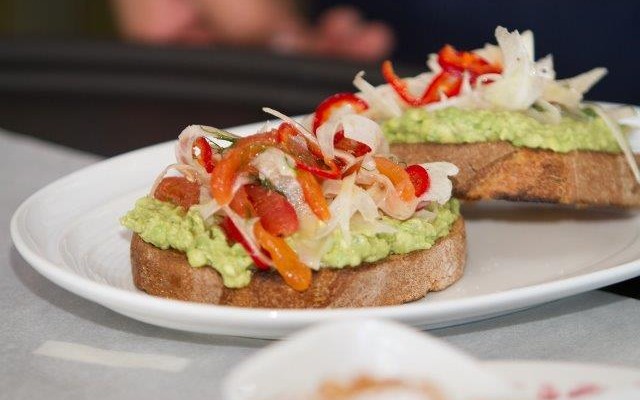 Andiron Steak & Sea
|
Downtown Summerlin's New Brunch to Impress
Andiron exploded onto the Las Vegas dining scene in a big way in early 2015. It quickly became the place to be for dinner before launching a very popular "Overtime" happy hour. In our opinion, Andiron is the best restaurant to grace the city of gastronomic delight both on and off the Strip in a long time. The team behind the concept, led by owners Elizabeth Blau and Chef Kim Canteenwalla, excel at providing creative mouthwatering delights and their recently launched brunch is no exception.
"We're looking to create something that echoes the setting of Andiron, but is also fun and sociable," says Blau. "It's Sunday morning, when we're at home we like to relax and work our way through some pastries, make some coffee and put together a couple of dishes to share with friends. We're looking to create a similar experience here."
Never shy about bringing in the best, Blau and Canteenwalla have welcomed Chicago transplant Chef Jeffery Mauro to the culinary team. The all-star chef is also the owner of the nationally recognized breakfast and lunch restaurant Jam, which was recently awarded its 4th consecutive Michelin Bib Gourmand.
Our brunch got underway with a sweet start. Each guest begins the meal with a nice plate of freshly made donuts. Moving forward, we were highly impressed with an a la carte menu of favorites from the regular menu as well as new breakfast and lunch dishes.
We highly recommend getting started with a libation to please any mood. The "Bottomless Bubbles" section features all-you-can-drink sparkling champagne cocktails that include the Classic Mimosa, White Peach Bellini and Grapefruit & Sage Fizz for $19, as well as unlimited Camp Viejo Cava for $29 and a $49 option of bottomless Perrier-Jouet Grand Brut. The Bloody Mary Bar features an impressive array of ingredients that are sure to impress any budding mixologist. Walk up to the build-your-own Bloody Mary or Maria area with unlimited trips to the bar for only $22 and a variety of toppings, garnishes, add-ins and sauces. Even the Andiron signature cocktails, the 50 Shades of Earl Grey, Pineapple Bump and Stubborn as a Mule are also available for your indulgence.
The Cheese & Charcuterie plate with house pickles, candied walnuts and grilled bread for $22 is a great way to kick things off. You can't go wrong with Smoked Salmon with hot and cold smoked slices, capers, shaved onions, tomatoes and crème cheese on an "everything" bagel for $18. For the traditionalists, try the Andiron Hash Skillet cooked in cast iron over a wood burning grill with braised short rib, fingerling potatoes, crispy Brussel sprouts, cippolini onions and a perfectly poached egg that is well worth $24.
A favorite that must find a place on your plate is the Grilled Cheese. This creamy decadent sandwich with French brie, cranberry jam, and green apple on whole wheat bread with salt and vinegar chips is simply a delight at $15. For a perfect ending, don't forget to stop by the candy table as you walk out to explore Downtown Summerlin.
Brunch is every Sunday from 10 a.m. until 2 p.m. Reservations are not required, but are recommended by calling (702) 685-8002. See you there.
Elaine and Scott Harris are based out of Las Vegas and cover food and wine events for their two online publications, Vino Las Vegas and Cuisineist. Together they serve as Las Vegas City Editor for The Daily Meal. Both have been certified as Sommeliers through the Court of Master Sommeliers.
Twitter: @vinolasvegas
Email: vinolasvegas@aol.com