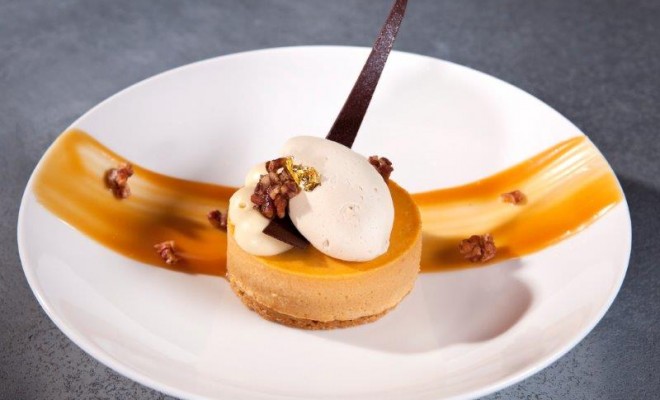 Every awesome pumpkin dish and drink in Las Vegas
|
From Starbucks to Trader Joes, it seems like there's no limit to what kind of cuisine can be labeled as a "pumpkin". But why stop there? Check out some of these awesome pumpkin dishes and drinks – including burgers, martinis and fried pumpkin bites – that you can (pretty much) only find in Las Vegas.
Spiced Pumpkin Cheesecake
Lucille's Smokehouse Bar-B Que
Red Rock Resort
Lucille's Smokehouse Bar-B Que has a creamy spiced pumpkin cheesecake baked into a graham cracker crust and topped with a pecan crunch. It's the perfect thing to round out the night after a giant plate of ribs.
Pumpkin Flatbread
La Cave
Wynn
Just when you think there wasn't something left that you could load on a pizza, La Cave comes with up with a pumpkin flatbread. It's topped with a honey brown sugar pumpkin puree, candied pumpkin seeds, cloves and marshmallows.
Pumpkin Tres Leches
Botero
Wynn Encore
The Pumpkin Tres Leches at Botero comes drizzled with a liquid cheesecake sauce, topped with citrus-infused cranberries and served alongside house made maple cinnamon ice cream. It's the best – and sweetest – Latin inspired dish you'll find all season.
Spiced Pumpkin Gelato
TREVI Italian Restaurant
Forum Shops at Caesars
TREVI Italian Restaurant has more than pizza and pasta for your carb fix. It also has one of the best gelato selections in Las Vegas – and is offering a new flavor made with sweet spiced pumpkin, cheesecake and graham crackers.
Pumpkin Pie Martini
MRKT Sea + Land
Aliante Casino + Hotel
For those who want to drink their dessert, MRKT Sea + Land is serving up a Pumpkin Pie Martini. It's made with RumChata cream liqueur, Absolut Vanilla, Pumpkin Spice liqueur and topped with a dollop of whipped cream and a piece of candy corn for good measure.
Pumpkin Spice Cheesecake
CRUSH
MGM Grand
CRUSH at MGM Grand is serving a Pumpkin Spice Cheesecake – made with pecan sable breton, maple cremeux, caramelized pecans and caramel. In other words… expect something extra sticky sweet.
Pumpkin Spiced Sangria
Echo & Rig
Tivoli Village
The Pumpkin Spiced Sangria could be the perfect drink to go along with a delicious steak at Echo & Rig. It's made from Chablis, mango puree, fresh orange juice with a maple syrup and pumpkin spice rim. If that's not enough, it's garnished with a cinnamon stick.
Pumpkin Flan
Tacos & Tequila
The Luxor
What goes best with a shot of tequila during the fall season? A pumpkin flan – being served up by Tacos & Tequila at the Luxor. It could be the perfect thing to take the edge off those spicy tacos.
Jack 'O' Lantern Burger
BLT Burger
The Mirage
BLT Burger at the Mirage has a Jack 'O' Lantern Burger with pumpkin-apple chutney, sweet n' spicy yogurt sauce and frisee topped on an Angus burger with a pumpkin bun. Bonus: Skip the fries on this one… and go with the Fried Pumpkin Bites and yogurt dipping sauce on the side.
Pumpkin Soup
Restaurant Guy Savoy
Caesars Palace
The Pumpkin Soup from Restaurant Guy Savoy is one of the best you'll find in Las Vegas. It's made with poached eggs and white truffles.
Pie in the Sky
Terrace Point Cafe
The Wynn
The Pie in the Sky cocktail combines brown butter fat washed Bacardi 8 Year Rum, Hennessey V.S.O.P. cognac, St. Elizabeth All Spice dram and pumpkin pie puree. It offers a nutty flavor – topped with marshmallow foam.
Pumpkin Cendrillon
Payard Patisserie & Bistro
Caesars Palace
Payard Patisserie & Bistro at Caesars Palace is serving up a cendrillon. So what is it? It's a pumpkin cakes with pumpkin mousse and cranberry gelee.
Kabocha Honey Nuts
Kabuki
Tivoli Village
You can even find a pumpkin dish at a sushi joint. Kabuki at Tivoli Village has a sweet little concoction called Kabocha Honey Nuts. It is cinnamon sugar and honey drizzled over roasted Japanese pumpkin with almonds, walnuts and vanilla ice cream.
Pumpkin Spice Latte
Sambalatte
Monte Carlo
Sambalatte is offering up its own take on the Pumpkin Spice Latte. It's all natural, gluten-free and made with real pumpkin. Buy your date a Chai Apple Latte to stay in the seasonal spirit.
"Tis The Season" Pancakes
The Griddle Cafe
SLS Las Vegas
While you're checking out the new SLS Las Vegas, stop by The Griddle Cafe. Their "Tis The Season" pancakes are created with a house made pumpkin filling that's topped with vanilla whip cream and powdered sugar. These things are so huge, you'll be cutting them into triangular slices – like a birthday cake.
Pumpkin Cheesecake
Bratalian Neopolitan Cantina
Henderson
The Pumpkin Cheesecake at Bratalian Neopolitan Cantina comes with a holiday-worthy crunch that you'll crave through the New Year… with a gingersnap crust that's perfect with a side of cinnamon gelato.
Rob Kachelriess is the Managing Editor of Vegas2LA magazine. He's also a News Producer for KVVU Fox5 Las Vegas and the Las Vegas writer for Thrillist.
Twitter: @rkachelriess
Email: robertkachelriess@yahoo.com