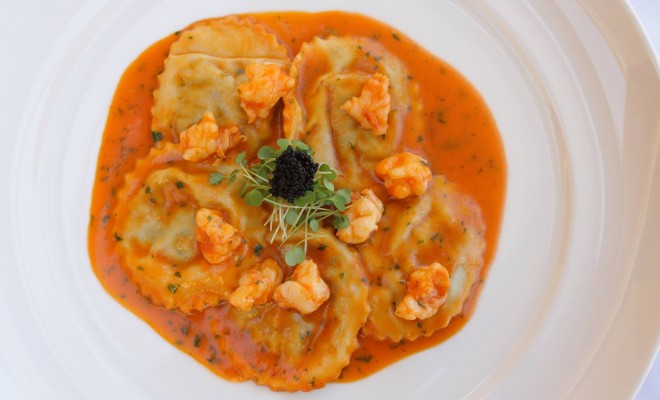 Making a mark for culinary excellence in California
|
Paso Robles & San Luis Obispo
Making a mark for culinary excellence in California
A visit to California demands a stop in two Central Coast cities… with two delicious dining destinations.
After an afternoon visiting several wineries, we were fortunate enough to be guests at one of the finest Italian restaurants in Paso Robles. Il Cortile Ristorante has a reputation for gathering the best local and sustainable ingredients into a feast for the eyes and a delight for the senses.
Chef and owner Santos MacDonal and his lovely wife Carole greeted us while offering some background on the restaurant and discussing their passion to create a space that embraces all aspects of the Italian courtyard experience. The idea is to engage each person with the land and while offering a communal environment to relax, eat and enjoy each other's company. We were made to feel right at home and ready to experience some of the best local cuisine that Paso Robles has to offer.
MacDonal began his career under the mentorship of Giorgio Baldi at the chef's highly acclaimed namesake restaurant in Malibu. MacDonal has also worked at some of the best restaurants in Los Angeles such as Via Veneto and Koi, in addition to serving as executive chef at Bridge Restaurant and L'Angolo Cafe.
Santos' philosophy is simple. He strives to use the freshest ingredients that are locally sourced whenever possible to create interesting and delicious dishes based on what is available at any given time of the year.
We got started with antipasti of grilled octopus and local razor clams, which in lesser hands can be difficult to cook and often chewy, but the chef gave us the version that keeps the locals and visitors asking for seconds.
MacDonal was right on track when he brought out a savory beef short rib and his house specialty of homemade ravioli. We enjoyed even more bounty from the sea with perfectly prepared scallops delivered with precision by our ever attentive server.
We've dined in many restaurants in many cities over the years and are often hesitant to follow the herd. Instead, we seek out for ourselves and readers what a particular dining venue is all about. In this case, Paso Robles has a very special restaurant downtown that has raised the culinary bar higher than ever before.
Santos and Carole have also recently opened La Cosecha Bar + Restaurant. It's a hip mixology spot just a few blocks away that is also well worth a visit. Spend an evening visiting both venues when in downtown Paso Robles. You won't be disappointed!
San Luis Obispo is really picking up its dining game and the Foremost Wine Company is living up to its name as one of the most visited new restaurants on the Central Coast. It can be found at the Creamery, a location that was once a dairy production site but has now been converted into a spot for quaint shops and small diners in this upbeat college town.
Julie Simon is the chef behind it all. The Paris native received her tutelage from Central Coast chefs Pandee Pearson and Meagan Loring, giving her the skills to move to the helm of Thomas Hill Organics where she created a large following through her ability to bring culinary magic to the area's amazing bevy of fresh ingredients.
With open seating and an organic flow of greenery and wooden staves, you may feel as though you are sitting in a large wine barrel, but the vino will be poured into a lovely glass by the capable hands of sommelier and Wine Director Robin Puricelli. The selection is extensive and eclectic while featuring a good mixture of Old World, New World and local. The menu also suggests pairings that will enhance your dining experience.
We spent some time enjoying a glass of sparkling Roederer Estate at the large wine bar that also features bottles for sale, from French Burgundy to local choices from Clairborne and Churchill. Puricelli has done her homework in showcasing the best California wine producers. She suggested a Kenneth Volk Malbec to pair with the many intriguing menu items that we sampled on our visit.
Chef Simon believes in letting the ingredients shine through a menu that is developed using seasonal produce to ensure that the food is vibrant in taste, texture and flavor. The restaurant uses vegetables, fruit and eggs grown at See Canyon Fruit Ranch and lamb sourced from Adelaida Springs Ranch in Paso Robles. Chef Simon combines the best ingredients with artisanal flair for a healthy and pleasurable experience.
Be sure to try the See Canyon Ranch Egg – poached and served over a parsnip puree and topped with a brown butter sauce. The eggs are sourced from a local ranch that brings in fresh eggs daily from their Rhode Island Red hens. Chef then sous vides the eggs at 62 degrees for 2 hours for a perfect poach that when cut open, oozes perfect yellow yolk over the creamy parsnip puree that when melded with the brown butter sauce is palate provoking.
Another top choice is the Cauliflower Fritti – battered in curry tempura and served with lemon yogurt and fresh mint. The perfectly browned and battered cauliflower with a touch of curry brings out a bit of heat and acid from the crispy organic Meyer lemons. It's a great way to start the meal and your taste buds will start dancing with the freshest of flavors.
Chef Simon's constant thinking outside the box can also be seen in the chocolate rough cut pasta with an orange brown butter sauce. It sports a mole flavor with just hints of cocoa.
Proprietor and owner Rob Murray is also at the helm of three Central Coast vineyards: Mossfire Ranch in San Miguel, Murmur Vineyards in Santa Maria and Tolliver Ranch Vineyard in Paso Robles. He also produces his own labels, Tooth and Nail and Force of Nature. Murray has expanded his vision by creating a restaurant that brings together the best in wine, local sustainable ingredients and unusually innovated dishes. An evening at Foremost Wine Company is a true gastronomic delight that will please your palate and your wallet. Stop in the next time you are in town
By Elaine & Scott Harris