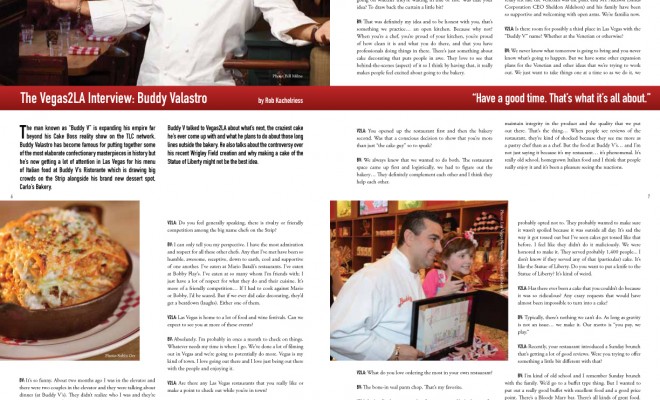 Buddy V
|
The man known as "Buddy V" is expanding his empire far beyond his Cake Boss reality show on the TLC network. Buddy Valastro has become famous for putting together some of the most elaborate confectionary masterpieces in history but he's now getting a lot of attention in Las Vegas for his menu of Italian food at Buddy V's Ristorante which is drawing big crowds on the Strip alongside his brand new dessert spot, Carlo's Bakery.
Buddy V talked to Vegas2LA about what's next, the craziest cake he's ever come up with and what he plans to do about those long lines outside the bakery. He also talks about the controversy over his recent Wrigley Field creation and why making a cake of the Statue of Liberty might not be the best idea.
 *   *   *
 Between the restaurant and the bakery, you have two big dining destinations in Las Vegas. Do you feel like you're now officially a part of the Las Vegas culinary community?
 I do. I do. And you know what? I couldn't be more excited about it. We got a tremendous response for the bakery and dinner restaurant. We've been welcomed with open arms and I couldn't be happier.
There are some pretty long lines at the bakery.
 It's definitely gotten back to me and it's pretty awesome. I want everybody to know that we're trying to figure out logistically what's the best way to facilitate people in and out of the store… We want to find the key to the chain to make it better. Lines are great but you don't want them to be too long. If you have to wait a minute or two, it's not a big deal. We don't want people to have to wait for hours like they sometimes have to do at the bakery. So it's just a matter of making sure everything is running smooth… The first week we were there, one of the compressors in the showcases broke and the oven was out for a little bit so (we're) getting all the hiccups out… but I promise people within a month or so it's going to be better and smoother and we're going to be a well-oiled machine. I just hope they appreciate it and love the products we're putting out there.
Something that seems to be getting a good reaction are the big open windows at the bakery that lets everybody see what's going on whether they're waiting in line or not. Was that your idea? To draw back the curtain a little bit?
 That was definitely my idea and to be honest with you, that's something we practice… an open kitchen. Because why not? When you're a chef, you're proud of your kitchen, you're proud of how clean it is and what you do there, and that you have professionals doing things in there. There's just something about cake decorating that puts people in awe. They love to see that behind-the-scenes (aspect) of it so I think by having that, it really makes people feel excited about going to the bakery.
 You opened up the restaurant first and then the bakery second. Was that a conscious decision to show that you're more than just "the cake guy" so to speak?
We always knew that we wanted to do both. The restaurant space came up first and logistically, we had to figure out the bakery… They definitely complement each other and I think they help each other.
Both of those are at the Grand Canal Shoppes at the Venetian & Palazzo. I'm sure you've been courted by some of the other resorts on the Las Vegas Strip. Why did you go with the Venetian and Palazzo (under the Las Vegas Sands Corporation)?
 The Venetian and the Palazzo…We have a great working relationship and we have a great friendship with them. When I went to Vegas, before we had a partnership with them, I stayed in the Venetian. It was like when you feel like you're at home. So for me to do anything anywhere else, just didn't really make sense. We really felt like the Venetian was the place and Mr. Adelson (Sands Corporation CEO Sheldon Aldelson) and his family have been so supportive and welcoming with open arms. We're familia now.
Is there room for possibly a third place in Las Vegas with the "Buddy V" name? Whether at the Venetian or otherwise?
 We never know what tomorrow is going to bring and you never know what's going to happen. But we have some other expansion plans for the Venetian and other ideas that we're trying to work out. We just want to take things one at a time so as we do it, we maintain integrity in the product and the quality that we put out there. That's the thing… When people see reviews of the restaurant, they're kind of shocked because they see me more as a pastry chef than as a chef. But the food at Buddy V's… and I'm not just saying it because it's my restaurant… it's phenomenal. It's really old school, homeg
rown Italian food and I think that people really enjoy it and it's been a pleasure seeing the reactions.
It's so funny. About two months ago I was in the elevator and there were two couples in the elevator and they were talking about dinner (at Buddy V's). They didn't realize who I was and they're like "Oh man, the food was so great last night and the service was great and it was reasonable…" So I turned around and said what did you guys eat? And they looked at me and were like "Oh, Buddy V!" and they laughed because they didn't recognize me.
So if you do expand… would it involve another dessert concept or would it be something else?
 Honestly, I don't know. I haven't made any definitive plans yet. I have some ideas but it's too premature to talk about.
Tell us about your involvement with Vegas Uncork'd. (A four-day culinary festival in early May that brought together the world's most famous chefs to showcase their Las Vegas restaurants in a series of wine and food events on the Strip.)
Just being asked to be a part of that is an honor. To be there with all those culinary giants… it's a little intimidating from a culinary standpoint for me. Not from a baking standpoint because when it comes to baking, that's more my thing… but it's such an honor to be standing there with such great chefs.
Do you feel generally speaking, there is rivalry or friendly competition among the big name chefs on the Strip?
 I can only tell you my perspective. I have the most admiration and respect for all these other chefs. Any that I've met have been so humble, awesome, receptive, down to earth, cool and supportive of one another. I've eaten at Mario Batali's restaurants. I've eaten at Bobby Flay's. I've eaten at so many whom I'm friends with; I just have a lot of respect for what they do and their cuisine. It's more of a friendly competition… If I had to cook against Mario or Bobby, I'd be scared. But if we ever did cake decorating, they'd get a beatdown (laughs). Either one of them.
Las Vegas is home to a lot of food and wine festivals. Can we expect to see you at more of these events?
 Absolutely. I'm probably in once a month to check on things. Whatever needs my time is where I go. We've done a lot of filming out in Vegas and we're going to potentially do more. Vegas is my kind of town. I love going out there and I love just being out there with the people and enjoying it.
Are there any Las Vegas restaurants that you really like or make a point to check out while you're in town?
 I've eaten at a lot of them but typically now when I go, I usually eat in mine (laughs) for quality control… But I've been to basically every restaurant in the Venetian and they're all amazing from B&B Ristorante to Wolfgang Puck's Cut and everywhere. Each one is an extraordinary meal.
What do you love ordering the most in your own restaurant?
 The bone-in veal parm chop. That's my favorite.
Let's talk about your cakes for a moment. You're known for your elaborate designs. What's the craziest cake you've ever done?
 Probably the giant Transformer cake. That was pretty wild. (A 2,000 pound cake in the shape of a Chevrolet Camaro morphing into a robot that was created to promote the 2011 film Transformers: Dark Side of the Moon.)
You got some attention recently for your 400 pound cake of Wrigley Field. How challenging was it to put that on
e together?
 That one was pretty challenging. It wasn't too bad. It was very detailed. What an honor and privilege to make such a historic baseball field (to celebrate the Chicago landmark's 100th anniversary). It was just really awesome to be a part of that.
There was a photo of the cake being tossed out uneaten in a dumpster after the event. That photo made the rounds online quite a bit. What were your thoughts when you saw it?
With a cake like that, it's on display all day. People touch it. People are all over it. Sometimes they don't serve that cake. They have (other) cakes for backups. You could have eaten it but they probably opted not to. They probably wanted to make sure it wasn't spoiled because it was outside all day. It's sad the way it got tossed out but I've seen cakes get tossed like that before. I feel like they didn't do it maliciously. We were honored to make it. They served probably 1,400 people… I don't know if they served any of that (particular) cake. It's like the Statue of Liberty. Do you want to put a knife to the Statue of Liberty? It's kind of weird.
Has there ever been a cake that you couldn't do because it was so ridiculous? Any crazy requests that would have almost been impossible to turn into a cake?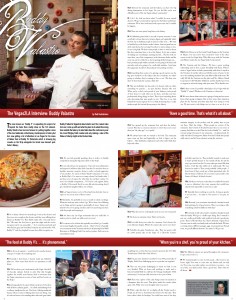 Typically, there's nothing we can't do. As long as gravity is not an issue… we make it. Our motto is "you pay, we play."
Recently, your restaurant introduced a Sunday brunch that's getting a lot of good reviews. Were you trying to offer something a little bit different with that?
 I'm kind of old school and I remember Sunday brunch with the family. We'd go to a buffet type thing. But I wanted to put out a really good buffet with excellent food and a good price point. There's a Bloody Mary bar. There's all kinds of great food. You can come in with your family and not break the bank. We have a carving station, different sausages, eggs, we got panettone French toast, we got all different desserts. You name it. We got 'em.
The different stations are spread throughout the restaurant. It's got a nice look to it.
 We wanted people to come in, feel casual… like you're in my house, right? You want to come into my kitchen and eat with me? You come, you make a plate, you sit down, you enjoy… you eat a little, you drink a little. Have a good time. That's what it's all about.
Rob Kachelriess is the Managing Editor of Vegas2LA magazine. He's also a News Producer for KVVU Fox5 Las Vegas and the Las Vegas writer for Thrillist.
Twitter: @rkachelriess
Email: robertkachelriess@yahoo.com