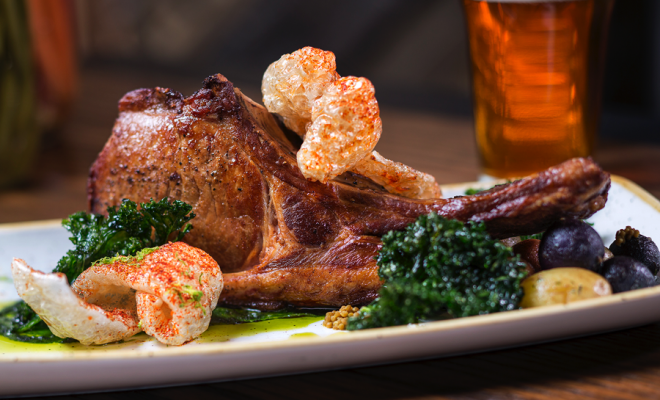 Yardbird
Yardbird Takes Flight in Las Vegas
|
By Michael Uzmann, M.D.
Photos: Yardbird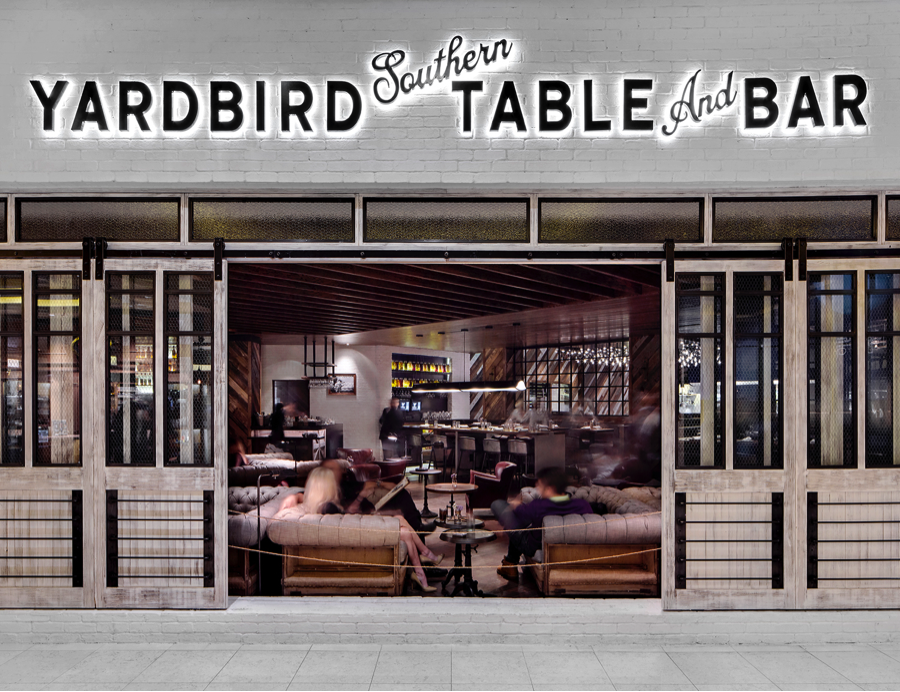 Yardbird has built a well-deserved reputation and earned a James Beard Award nomination for its classic Southern cuisine made with farm fresh ingredients in Miami. It now has a new location in Las Vegas at the Venetian. Under the direction of Chef Todd Harrington, the restaurant is already drawing new fans for its "down home" dining and courteous service since opening in early January.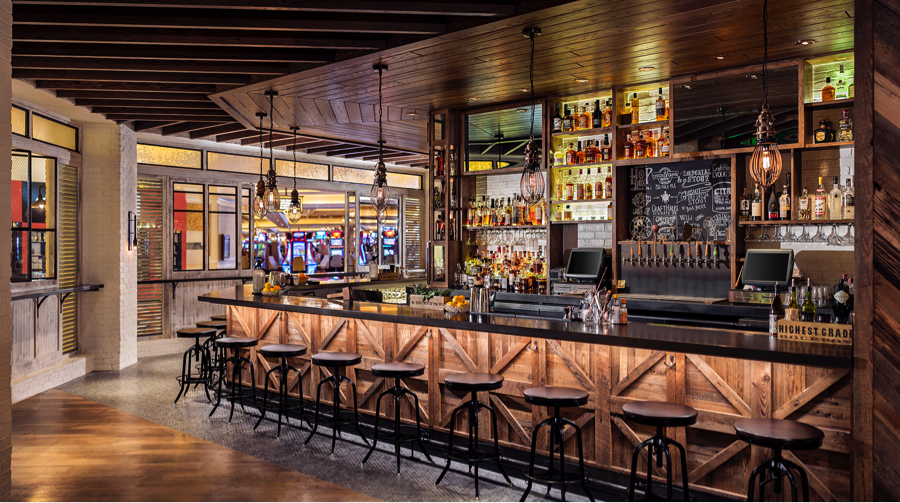 Large in size and aggressive in scope with a menu covering lunch, dinner and weekend brunch, Yardbird is the first Southwest expansion for the 50 Eggs Inc. restaurant group. With a kitchen far exceeding the capacity of the original alongside a dining room tinged in upscale rustic décor, the restaurant feels a thousand miles away from the slot machines outside the front door and far closer to the sand of South Beach where the home venue can be found.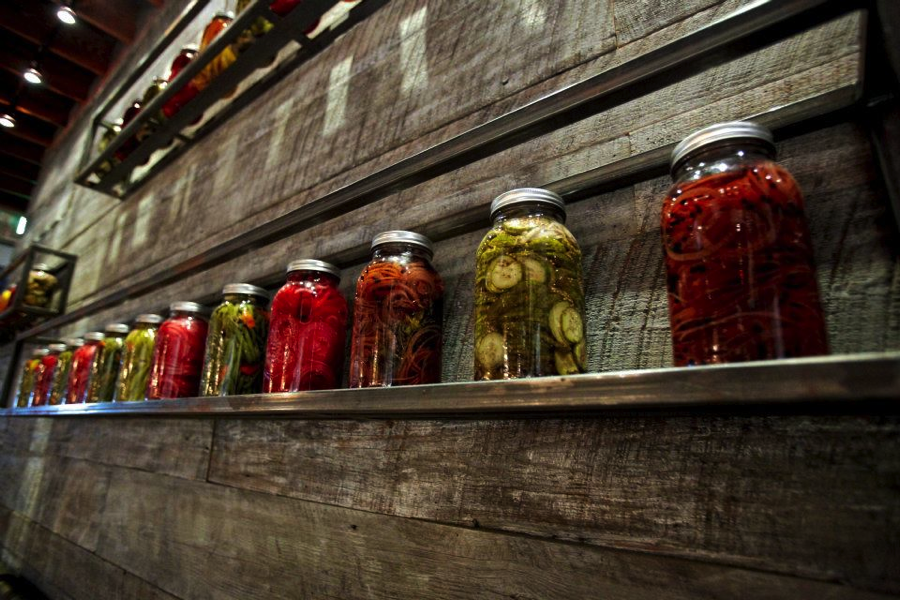 The spot carries over much of the original bill of fare but ups the ante with immersion circulators, extensive brining and an in-house pickling program that currently stands at 24 varieties with "more to be added each week, especially soon as spring is here" according to Chef Harrington.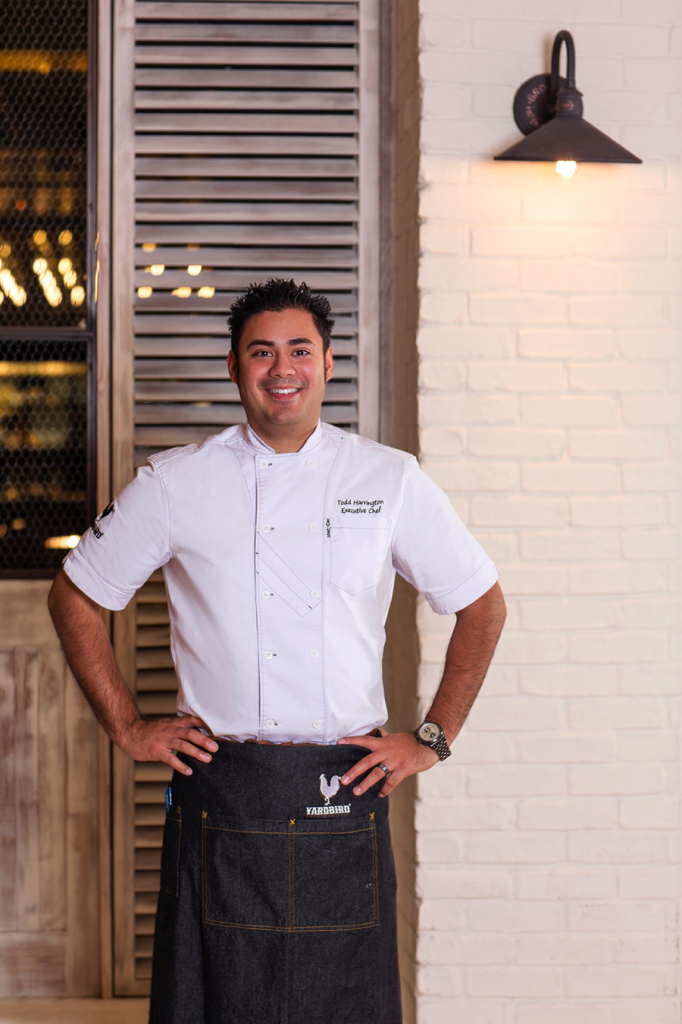 Southern tradition is on full display in the menu. Whether one chooses the Pickle Jar, Country Pork Terrine with turmeric cauliflower or silky Chicken Liver Toast with cucumber and pepper relish, the results of time, salt and spice are sure to be appreciated – not to mention the kitchen's willingness to go the extra yard in order to do things right.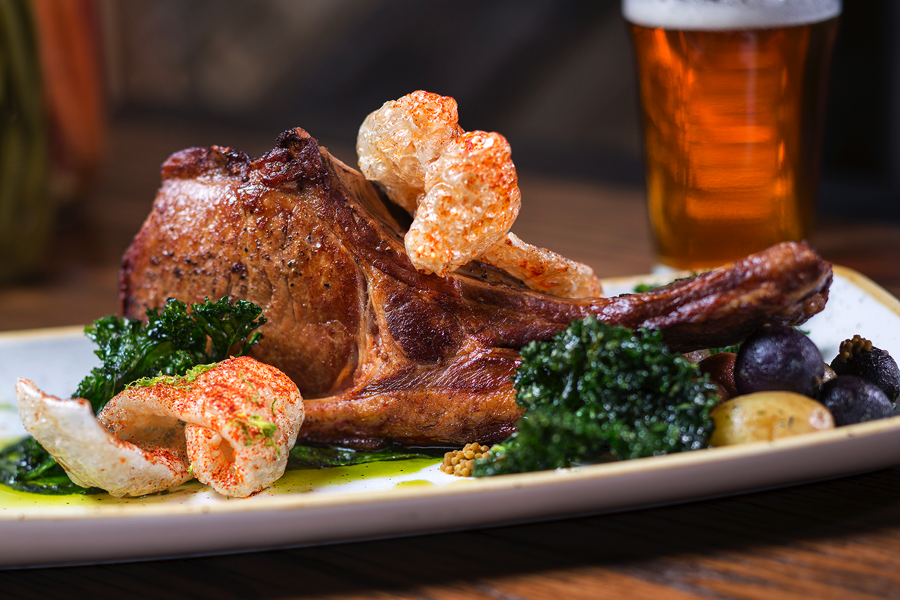 An in-house smoker installed precisely to the chef's specifications is used prominently in several of the restaurant's most well regarded dishes. Whether one chooses the Roasted Bone Marrow or Backyard BBQ Chicken, the results are bound to impress. Those looking for something less heavy are encouraged to order Chef Harrington's Low & Slow Smoked Chicken Salad, a dish that's more than deserving of its signature status. With smoked chicken in creamy yogurt paired with avocado atop warm cornbread, it's so well balanced and downright delicious, the young chef notes that many guests have ordered a second helping "to go on their way out the door."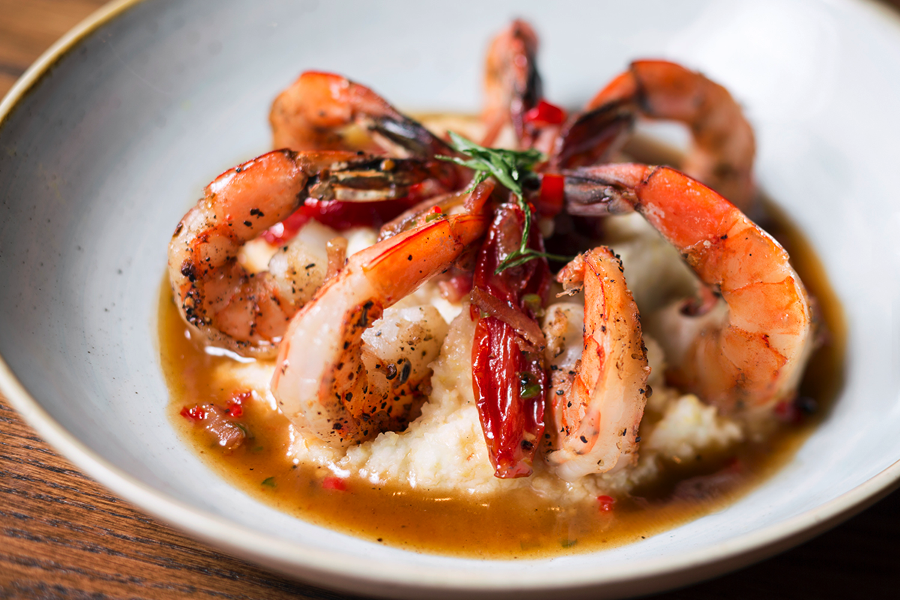 Most of the main courses will satisfy a group of two-to-four, including the 18 oz. Tomahawk Pork Chop, Shrimp N' Grits and Pan-Fried North Carolina Trout. However, for those looking to experience Yardbird's signature item, one need not look any further than Lewellyn's Fine Fried Chicken served alongside watermelon and waffles. This 2.5 pound plate features half of a Mary's Free Range Chicken (a "non-GMO, natural pasture raised bird fed no DNA altering foods") that arrives crispy, golden and juicy thanks to a 27-hour brining process. It is only improved with the addition of a "full Swiss and cheddar savory waffle with homemade chowchow, honey hot sauce, bourbon maple syrup and chilled, spiced watermelon."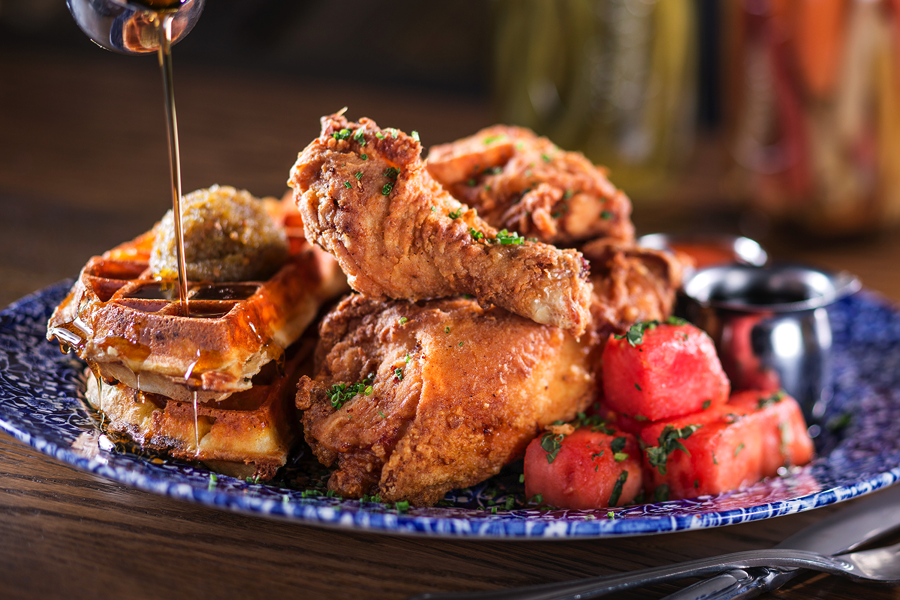 Easily the sort of place where one could happily fill up on sides, as both the Buttermilk Biscuits and Skillet Cornbread are reference standard dishes that many southern grandmothers would love to call their own, one would remiss to overlook the stick-a-spoon-up-straight grits or heirloom tomato salad with housemade peanut hummus. The brunch-only Fresh Fruit & Maple Pecan Granola is another surprisingly excellent dish that warrants a look from those opting to dine during the weekend daytime service. It excels as a light starter or side to accompany the sizable Smoked Brisket Sandwich.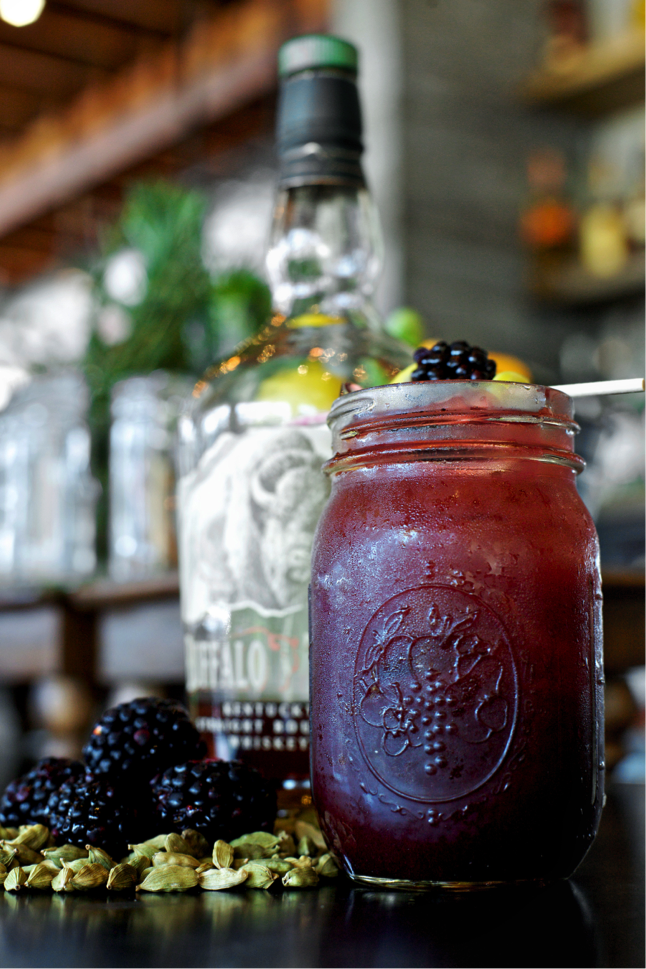 Heavy on bourbon and whisky, but no slouch when it comes to beer and wine, it should go without saying that in a town of 24/7 drinking, the team at Yardbird spared no expense when putting the bar together. The bitters is made in-house while the ice is hand-carved to order. The Blackberry Bourbon Lemonade laced with cardamom, the sweet and sour Buffalo Trace, watermelon spiked Gin and Tonic, Bourbon Milk Punch and Smoky Bloody Mary are all equally well crafted – the later available with all sorts of accoutrements to suit any taste.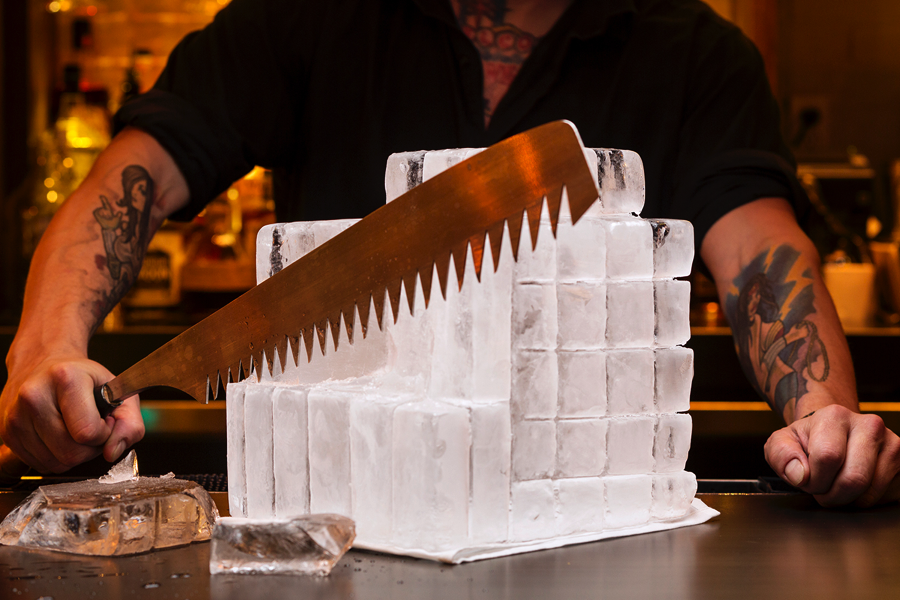 Undoubtedly a gluttonous option, but more than worthwhile for those who make room, the Yardbird dessert program is helmed by Pastry Chef Vivian Chang. Although several seasonal specials are planned, an early look at the menu shows a consistent theme: Southern inspired creative excellence. The Red Velvet Trifle atop Fresh Berries, airy Banana Cream Pie and Key Lime Pie Donuts alongside mango panna cotta are all surprisingly light. The rich chocolate "Crunch 'n Munch" Bread Pudding and substantially thick-sliced Bacon-Butterscotch Cake are each a "dish best shared" at the end of a meal. Nearly every single plate will leave the diner satisfied, smiling and most likely stuffed… yet still contemplating just one more bite.