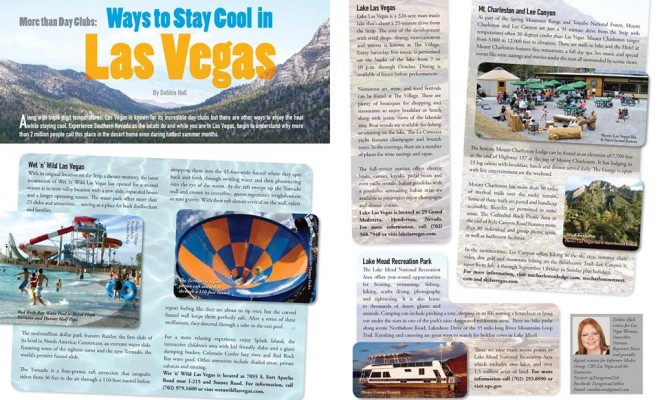 Ways to Stay Cool in Vegas
|
More than Day Clubs: Ways to Stay Cool in Las Vegas
By Debbie Hall
Along with triple digit temperatures, Las Vegas is known for its incredible day clubs but there are other ways to enjoy the heat while staying cool. Experience Southern Nevada as the locals do and while you are in Las Vegas, begin to understand why more than 2 million people call this place in the desert home even during hottest summer months.
Wet 'n' Wild Las Vegas
With its original location on the Strip a distant memory, the latest incarnation of Wet 'n' Wild Las Vegas has opened for a second season at its west valley location with a new slide, expanded hours and a longer operating season. The water park offers more than 25 slides and attractions… serving as a place for both thrillseekers and families.
Caption: Red Rock Bay Wave Pool w-Royal Flush Extreme and Hoover Half Pipe.
Photo: Village Roadshow Theme Parks.
The multimillion dollar park features Rattler, the first slide of its kind in North America; Constrictor, an extreme water slide featuring some of the tightest turns and the new Tornado, the world's premier funnel slide.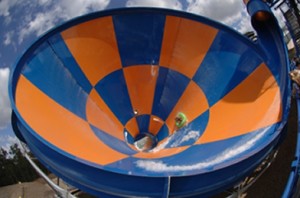 The Tornado
Caption: The Tornado
is a four-person raft attraction through a 110-foot tunnel.
Photo: Village Roadshow Theme Parks.
The Tornado is a four-person raft attraction that catapults riders from 36 feet in the air through a 110-foot tunnel before dropping them into the 45-foot-wide funnel where they spin back and forth through swirling water and then plummeting into the eye of the storm. As the raft sweeps up the Tornado wall and crosses its centerline, guests experience weightlessness or zero gravity. With their raft almost vertical on the wall, riders report feeling like they are about to tip over, but the curved funnel wall keeps them perfectly safe. After a series of these oscillations, they descend through a tube to the exit pool.
For a more relaxing experience enjoy Splash Island, the interactive children's area with kid friendly slides and a giant dumping bucket; Colorado Cooler lazy river and Red Rock Bay wave pool. Other amenities include shaded areas, private cabanas and misting.
Wet 'n' Wild Las Vegas is located at 7055 S. Fort Apache Road near I-215 and Sunset Road. For information, call (702) 979.1600 or visit wetnwildlasvegas.com.
Lake Las Vegas
Lake Las Vegas is a 320-acre man-made lake that's about a 25-minute drive from the Strip. The core of the development with retail shops, dining, entertainment and resorts is known as The Village. Every Saturday, live music is performed on the banks of the lake from 7 to 10 p.m. through October. Dining is available al fresco before performances.
Numerous art, wine, and food festivals can be found at The Village. There are plenty of boutiques for shopping and restaurants to enjoy breakfast or lunch along with scenic views of the lakeside area. Boat rentals are available for fishing or cruising on the lake. The La Contessa yacht features champagne and brunch tours. In the evenings, there are a number of places for wine tastings and tapas.
The full-service marina offers electric boats, canoes, kayaks, pedal boats and even yacht rentals. Italian gondolas with a gondolier serenading Italian arias are available as passengers enjoy champagne and dinner cruises.
Lake Las Vegas is located at 29 Grand Mediterra, Henderson, Nevada. For more information, call (702) 568.7948 or visit www.lakelasvegas.com.
Lake Mead Recreation Park
The Lake Mead National Recreation Area offers year-round opportunities for boating, swimming, fishing, hiking, scuba diving, photography and sightseeing. It is also home to thousands of desert plants and animals. Camping can include pitching a tent, sleeping in an RV, renting a houseboat or lying out under the stars in one of the park's nine designated wilderness areas. There are bike paths along scenic Northshore Road, Lakeshore Drive or the 35 mile-long River Mountains Loop Trail. Kayaking and canoeing are great ways to search for hidden coves in Lake Mead.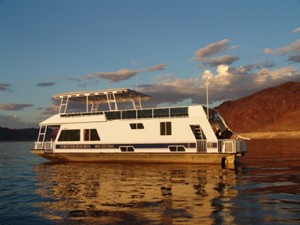 House boat on Lake Mead
Caption: House boat on Lake Mead.
Credit: Forever Resorts
There are nine main access points to Lake Mead National Recreation Area which includes two lakes and over 1.5 million acres of land.
For more information call (702) 293.8990 or visit nps.gov.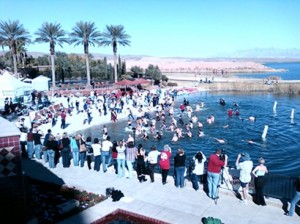 Photo: Debbie Hall
Mt. Charleston and Lee Canyon
As part of the Spring Mountain Range and Toiyabe National Forest, Mount Charleston and Lee Canyon are just a 35 minute drive from the Strip with temperatures often 30 degrees cooler than Las Vegas. Mount Charleston ranges from 3,000 to 12,000 feet in elevation. There are trails to hike and the Hotel at Mount Charleston features fine restaurants, a full day spa, live music and special events like wine tastings and movies under the stars all surrounded by scenic views.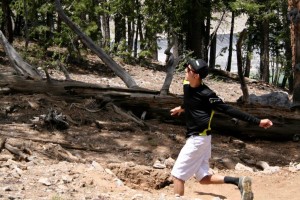 Credit: Las Vegas Ski & Snowboard Resort
The historic Mount Charleston Lodge can be found at an elevation of 7,700 feet at the end of Highway 157 at the top of Mount Charleston. It has lodging in 23 log cabins with breakfast, lunch and dinner served daily. The lounge is open with live entertainment on the weekend.
Mount Charleston has more than 50 miles of marked trails over the rocky terrain. Some of these trails are paved and handicap accessible. Bicycles are permitted in some areas. The Cathedral Rock Picnic Area at the end of Kyle Canyon Road features more than 80 individual and group picnic spots as well as bathroom facilities.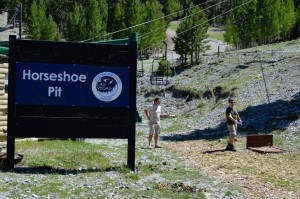 Credit: Las Vegas Ski & Snowboard Resort
In the summertime, Lee Canyon offers hiking in the ski area, summer chair rides, disc golf and mountain biking on the Bristlecone Trail. Lee Canyon is open from July 4 through September 1 Friday to Sunday plus holidays.
For more information, visit mtcharlestonlodge.com, mtcharlestonresort.com and skilasvegas.com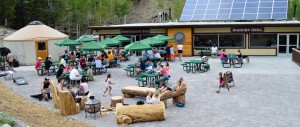 Credit: Las Vegas Ski & Snowboard Resort
 ­­­­Debbie Hall has lived in Las Vegas for more than 35 years and is an expert on food, the arts, shopping, attractions and entertainment in Southern Nevada. She writes for Las Vegas Woman, Sunseeker, Veterans Reporters News and provides digital content for Informer Media Group, CBS Las Vegas and the Examiner.
Twitter: @DangerousDeb
Facebook: DangerousDebbie
Email: cmediacom@gmail.com