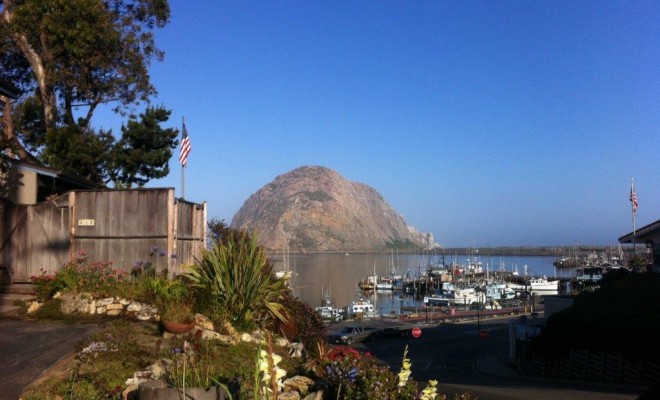 A Journey Back Home for a Sense of Place
|
A Journey Back Home for a Sense of Place
By Elaine and Scott Harris
It is said that one of the most defining aspects of a grape varietal is its sense of place. It has a signature that many times makes it unique and unmistakable. Even journalists that share their experiences with their ever eager readers have a sense of place. A place that brings memories screaming to the forefront of the consciousness. A place where it all began for them.
We recently returned to the familiar smells, wine, food and people that gave us our own signature and unique sense of place. The lovely Santa Rita Hills and the Santa Ynez Valley in California's Santa Barbara County is where it all began for us and led to an incredible journey and new career.
The quaint coastal town of Morro Bay was the trailhead of our journey back to our roots. As the familiar morning fog revealed the Historic Morro Rock, we headed out with a few stops planned as we journeyed down the Highway 101. We turned east toward Templeton away from the coast for a stop at the Pomar Junction Vineyard and Winery. The very scenic 30 minute drive took us through fertile farmland and vineyards as the warmth of the Sun broke through to start a cloudless day.
Turning on El Pomar Road, the Vineyards of Pomar Junction came into view. Its historic railroad boxcars signaled the entrance to their tasting room as we arrived for our first stop. Having heard we were in the area, owner Dana Merrill and winemaker Jim Shumate met us is the tasting room to show us around. And show us around they did!
After sampling their wonderful sustainable wines, Dana took us for a tour of his vineyard and then the winery where Jim Shumate gave a preview of upcoming vintages with a barrel tasting. We returned to the tasting room for lunch and a lovely bottle of Pomar Junction Syrah Rose 2011 on the patio overlooking the vineyard. It was the perfect way to start the afternoon.
Back on Highway 101, we made our way south with the Pacific Ocean over our right shoulder and rolling farmland to our right. For our next stop, we met up with fellow journalists for some lunch and bubbles at the Laetitia Winery. Arriving at the tasting room, we met up with our colleagues, enjoyed some very elegant sustainable wines and then had lunch under the trees. We shared stories and enjoyed Laetitia Brut de Blanc, Brut Rose and Brut Cuvee sparkling wines. After saying our goodbyes, it was now time for us to continue south on Highway 101 and on to our next stop… our sense of place!
A short drive brought us to Lompoc and Highway 246.  It has been almost two years and now we were home! The Santa Rita Hills is where it all started and we could feel the goose in an area where the vineyard owners and winemakers are still considered farmers. They walk the vineyards and often still hand sort the Syrah, Pinot Noir and Chardonnay varietals. They have opened their homes to us for many years.
Photo: Scott Harris
On this visit, John Hilliard and Christine Bruce, owners of Hilliard Bruce Vineyards, graciously opened their 100 acre estate to us as a "base of operations" during the next few days. Driving into their estate was like driving into a movie… like we were entering the Emerald City itself. After being introduced to their Arabian Horses we took a stroll through the garden, pastures and vineyards as we sipped on Hilliard Bruce Sun Pinot Noir Sta Rita Hills 2010.
The Lompoc Wine Ghetto is an industrial park that is relatively new and home to many of the area's finest wineries all in one place. On this occasion we had to stop in for a visit with Kathy Joseph at her Fiddlehead Cellars tasting room right in the middle of the action.  Kathy is one of our mentors who influenced us greatly and educated us on the art of winemaking. We sampled her lovely wines, including her very special Lollapalooza Pinot Noir that is a legend in itself.  Of course, we had to take a bottle of the Fiddlehead Cellars Sauvignon Blanc to enjoy latter on!
Heading south on 246, memories rush back into our minds like a freight train as we pass the La Purisma Mission and then the vineyards of Clos Pepe, Babcock , Foley , Melville and then onto the tasting rooms of Buellton and of course, the legendary Hitching Post Restaurant .  The next town is the Danish inspired town of Solvang which is always worth a stop, but on this visit we had a lunch date to keep.
We made a turn onto Alamo Pinto Rd and dropped in for lunch under the buttonwood trees at Buttonwood Farm and Winery with winemaker Karen Steinwachs. With the warm sun of the Santa Ynez valley breaking through the Buttonwood trees, Karen started us out with her lovely Sauvignon Blanc 2010 and of course the very famous Zingy 2011 and even a Grenache Blanc. Then it was on to her Syrah Rose, Merlot, Cabernet Sauvignon, Trevin 2007, Syrah and Grenache as the lunch progressed.
We returned to the lovely Hilliard Bruce Estate for a night of rest and relaxation. Feeling rejuvenated and refueled by a breakfast made with fresh eggs straight from the estate, we prepared to embark on our last full day at "home". Highway 246 beckoned us once again to continue the exploration of our roots but this time we turned on Santa Rosa Road, a route that travels through some of the oldest and most renowned vineyards in the area.
Photo: Scott Harris
Surrounded by the hills we descended into a valley dotted with orchards, vineyards and wineries.  The vineyards of Sanford, Lafond, Fiddlehead, Alma Rosa and more are all located on this unique section of the appellation. On this day we joined old friends and mentors Bruno D'Alfonso and Kris Curran who have a combined 50 years of experience making unarguably some of the best wines in the region.
We were greeted by "the pack" as we got out of the car at the D'Alfonso-Curran winery. In addition to their love for making wines, these two legends have an immense love for their German Shepherds that are always at their side.
Kris and Bruno took us though an amazing array of what they produce starting with Curran Grenache Blanc then a very nice Curran Grenache Rosé that is perfect for the summer months. Of course the Badge Pinot Noir was a must , then it was on to their Curran Sangiovese, Curran Tempranillo and Syrah just to name a few.
Kris gave us a preview of upcoming vintages straight from the tanks that were quite simply, works of art. It would be very easy for winemakers like Kris and Bruno to rest on their laurels but because they are constantly innovating, they remain on the cutting edge of the industry with many new projects in the works. Just to be around winemakers of this caliber, who are also considered friends, is truly an honor. Saying goodbye is always hard but we still had another stop to make on this cloudless day in the Sta Rita Hills.
Many successful people can point to one period in time where a person or persons left an inspirational impression… creating a foundation for one's path in life. For us there is no question on where we got our inspiration and foundation. Our gratitude is ongoing for winemakers Peter and Rebecca Work of Ampelos Cellars in Lompoc.
It was with the Works that we first walked the vineyards while sipping their signature Viognier.  This was the place that we first touched the terroir that produces some of the world's best Pinot Noir. It was with these two amazing people that we engaged in helping with the harvest, crush and physical labor of cap punch downs. We were side by side with them as we measured temperature and sugar levels in the fermentation bins.  It was from them that we took our first steps into the world of wine and a career that we could never have imagined.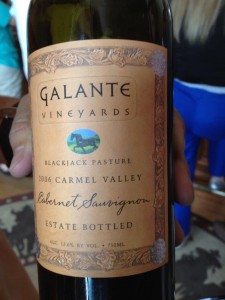 We were met at our car by Peter and then Rebecca.  It was so great to see our friends and mentors after two years. Peter began the tasting with their very lovely Rose of Syrah and then moved on to Pinot Noir and Syrah. We discussed their success and some new projects the pair are now working on. Ampelos wines are very unique as they are not only sustainable and organic but also biodynamic.
Barrel tasting is always a must when we visit and this time was no exception. We roamed up and down the rows of barrels while stopping for samples of Syrah, Pinot Noir and Grenache.  As we said our goodbyes, we planned another visit in just a few months to spend more time with our friends.
We left the winery with mixed emotions as we took 246 back to the 101. We sped along the highway, heading home, but once again with a sense of place in our heart for the wines, vineyards, and friends of this very special part of California.
 Elaine and Scott Harris are based out of Las Vegas and cover food and wine events for their two online publications, Vino Las Vegas and Cuisineist. Together they serve as Las Vegas City Editor for The Daily Meal. Both have been certified as Sommeliers through the Court of Master Sommeliers.
Twitter: @vinolasvegas
Email: vinolasvegas@aol.com