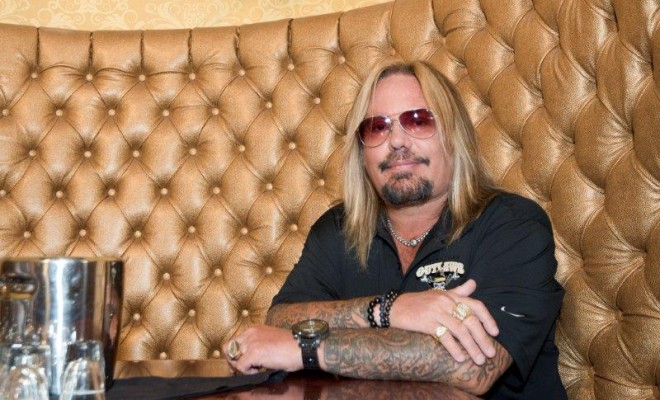 Vince Neil
|
A Rock n' Roll Outlaw Brings Football Back to Las Vegas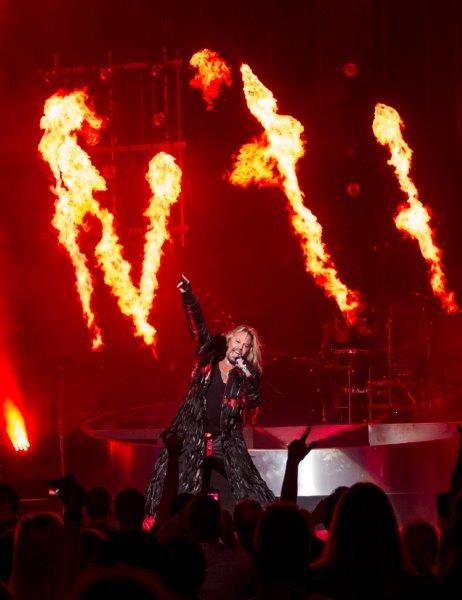 When someone mentions Motley Crue, it's hard not to think of Los Angeles where the girls, girls, girls are dancing down on the Sunset Strip. The band got its start in sleazy L.A. back when you could actually find a parking spot near classic clubs like the Whiskey a Go Go and The Roxy Theatre.
But Vince Neil doesn't live in a Beverly Hills mansion or by the ocean in Malibu. He lives in Las Vegas. The longtime frontman for the Crue has been an official Sin City resident for about 20 years.
"It's just fun. Everything's here," says Neil as he walks through his Tatuado restaurant inside the Circus Circus resort. "The best shopping in the world, the best clubs in the world, the best restaurants in the world. Why not go where everything is the best?"
These days, Neil has another venture on his mind. He's bringing football back to town.
 Neil has teamed up with Bob Hewko as co-owners of the Las Vegas Outlaws, a franchise for the Arena Football League that is enjoying its first season at the Thomas & Mack Center.
"Vince and I have been friends for about 22 years now," says Hewko. "One year he got me to be his tour manager which was a riot. I had no experience in that and we did 51 cities with Motley and Aerosmith. So we've been buddies in different ventures for 21 years."
Hewko was a quarterback at the University of Florida with the Gators and in the NFL with the Tampa Bay Buccaneers and Dallas Cowboys. Years later, he and Neil joined forces in the Sunshine State and shared a partnership in the Jacksonville arena football team.
"I've always loved arena football and I wanted to get a team together. But I didn't want to just grab a team and try to bring a team to Las Vegas," says Neil. "(We) got a minority share of the Jacksonville Sharks and kind of learned the ins and outs of an AFL team. And then I asked the league if they wanted to do a team in Las Vegas and they took a vote. Everybody said yeah. So here I am with a Las Vegas franchise."
 Hewko says Neil's love for football is the real deal.
"We had a suite at all the Dolphins games. The only time I've ever seen him in awe of anybody was when I got him passes after the game to go see (Hall of Fame quarterback) Dan Marino… That's the only time I've seen Vince speechless."
The Outlaws officially announced their formation in September of last year as part of the AFL National Conference West Division. Since then, the team has been building its roster and securing business sponsors like Dollar Loan Center. The games are being broadcast on television and online for ESPN and CBS Sports.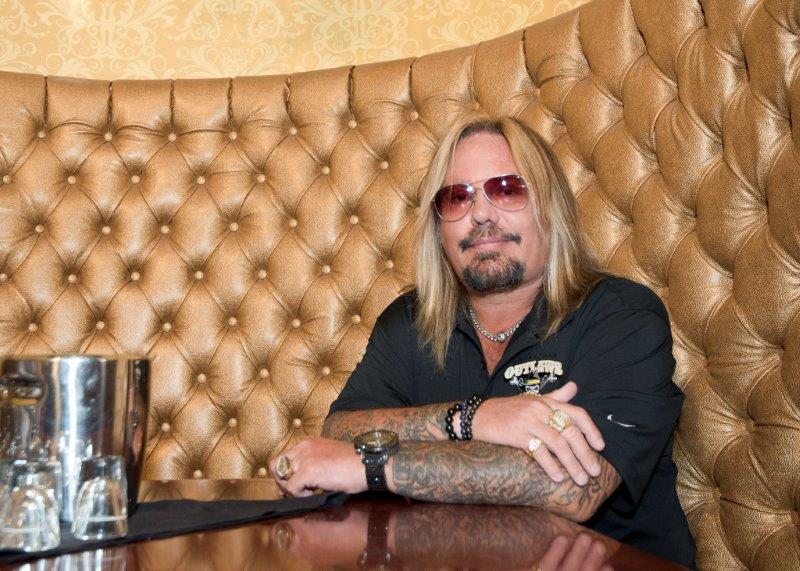 "Arena football is just a great sport. It's fast. The audience is right there," says Neil. "Sometimes a player will go for a catch and end up on your lap. It's right-in-your-face football."
2015 is shaping up to be a big year for Neil. In addition to the Outlaws, Neil is also in the home stretch of what promises to be the final tour ever for Motley Crue. It all wraps up on New Year's Eve at the Staples Center in L.A.
"We wanted to go out on top. We wanted to do it our way. We don't want to be the band where all (the original) members aren't in the band anymore. So people can say this was the only Motley Crue. It wasn't just some rendition of it.
"35 years later we can still sell out arenas and the big outdoor places. Our fans are not just the ones who grew up with us. It's their kids and their grandkids. There are 12-year-old kids with 'Shout at the Devil' shirts on just screaming their heads off and dads with five-year-olds on their shoulders. We've been multigenerational and that's what's kept us alive."
However, Neil insists that Motley Crue isn't breaking up and will continue to exist as a band and as a business while not on the road. The group may even record songs here and there for commercials or movies.
"I doubt if we'll ever do another album together (because) then you have to tour it," he says with a laugh. "There will be occasional songs now and then."
Neil is even closing the door to doing another short-term residency at The Joint inside the Hard Rock Hotel & Casino. The Crue has already done two of them in recent years. The first one in 2012 set the template for how to play a string of 9 to 12 dates at the mid-size Las Vegas venue. Acts like Def Leppard, Guns n' Roses, KISS and even Rascal Flatts followed suit.
"There will never be another residency. The last one was it. The door isn't really open. The only time we would play again would be if we got in the Rock and Roll Hall of Fame and played together.
As for future plans, Neil is happy to stick around in Vegas. He has been a visible part of Sin City over the years and says it's a place that encourages economic development and business. His name has been attached to more than a few ventures over the years, including a strip club, several bars and a tattoo parlor. Tatuado has been open for more than a year now. It features Neil's Motley Crue memorabilia on the walls and is proving to be a hit with both locals and hotel guests.
"If you notice, there's no lounge at Circus Circus. This is kind of the lounge. We have entertainment on weekends and late night stuff. It's the place to come. It's fun and the food's good."
Neil says having a long history of businesses that come and go is actually a sign of success in Vegas, where it's rare to see a place like a bar or restaurant stay in the same spot forever.
"If you're part of a casino or someplace on the Strip, you know that eventually it's not going to be there for that long. It could be a ten year run. That's a long time. But they're always tearing down casinos, tearing down parts of things, remodeling and going for the next new thing and I've had some good runs. I'm always going to be building something else new."
Rob Kachelriess is the Managing Editor of Vegas2LA magazine. He's also a News Producer for KVVU Fox5 Las Vegas and the Las Vegas writer for Thrillist.
Twitter: @rkachelriess
Email: robertkachelriess@yahoo.com