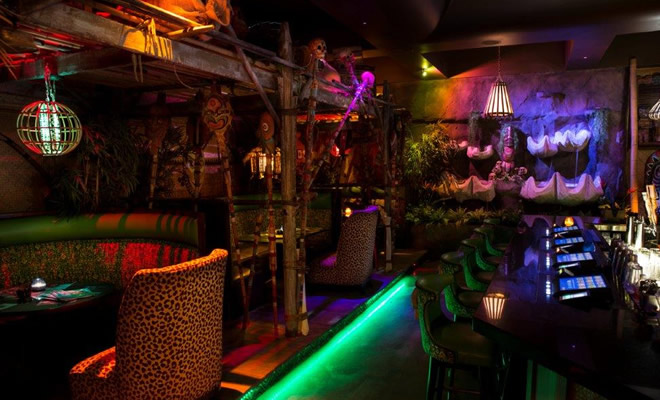 A True Tiki Dream
|
Imagine if Walt Disney and John Taffer of Bar Rescue had a baby. The result would likely be The Golden Tiki, an ambitious watering hole in the Chinatown district of Las Vegas that careens into the territory of art exhibit. The brainchild of rave and nightlife veteran Branden Powers defies all restraint or limitations.
Sly puns, island references, and carefully crafted kitsch exist at all levels of observation, from the gently flickering sign out front to the machine behind the counter pumping out Dole Whip, a frozen pineapple treat originally only sold at Disneyland. The most historic artifact may actually be the seemingly innocuous hunting knife buried in the pine of the back bar. It once belonged to Hunter S. Thompson and was donated by his goddaughter to christen the new venture. The drinks have a similar range of motion, with a few dipping into the territory of 1970s vinyl-covered nostalgia. Scorpion Bowls, Painkillers and other classics share the menu with incredibly creative new concoctions, including the Bamboozle'd with agricole rum, aloe liquor, a creole shrub and Thai basil.
The happy hour will put an after-work smile on anyone's face. Dollar-off all drinks, $5 Mai Tais and a simple buffet of Hawaiian or Chinese food is certainly nothing to scoff at. A good hallmark of a quality Tiki spot is for many Vegas visitors, a nice souvenir. For an extra $18, you can get your drink served in a ceramic mug from Tiki Farm, designed by influential artists from the Tiki/Lowbrow/Retro Lounge movement.
Jazz bands and DJs perform under cargo nets and brass portholes, but don't expect your average litany of interchangeable EDM and Top 40 tracks from behind the turntables. No lazy man-buns and weak beard game here, but rather a curated gang of obsessive vinyl-heads, pulling deep cuts from the era of surf rock.
But one obvious question remains… Is it better than Frankie's Tiki Room, the locals' favorite that's been around for years just west of the Strip?
Fortunately, the two hold great strengths that don't step on each other's toes. Want super goofy, over-the-top, ridiculous fun Tiki stuff? Painstakingly crafted, balanced cocktails? DOLE WHIP?? Go to The Golden Tiki. Want a true Old Vegas, relaxed, slightly more self-aware Tiki experience? A really outstanding (and cheap!) fine rum list? Stag films and homemade horror movies on the tube? Find yourself at Frankie's Tiki Room.
The Golden Tiki has one more great thing going for it: It's just a few doors down from Bank Atcharawan's new street food concept, Chada Street! Nothing settles a stomach full of Mai Tai better than an entire fried pork belly marinated with fish sauce or a bowl of crab fat fried rice.
The Golden Tiki
3939 Spring Mountain Rd. Las Vegas, Nevada 89102
Open 24 Hours
(702) 222-3196
By Mitchell Wilburn