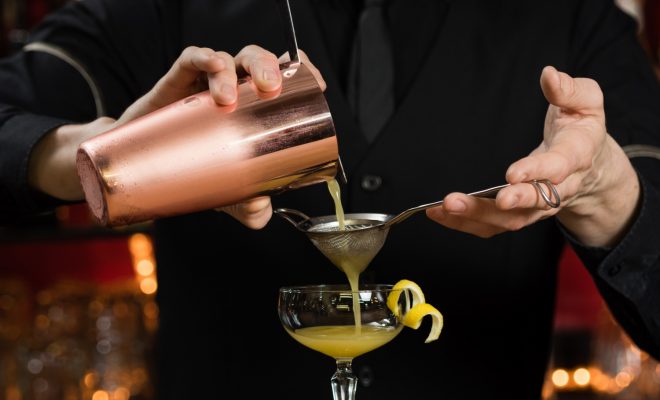 The Nightcap
|
The Nightcap
By Hassett Gravois
The adult lullaby, a nightcap is the final drink of the night (usually right before bed) exuding coziness, sometimes warm and slowly sipped. It's used to calm the nerves and relax the body, melt away the stress of the day.
The term nightcap dates back to the 1700s,  when people use to actually wear nightcaps (which were used to help keep them warm) and since alcohol makes the blood vessels dilate and moves them a bit closer to the skin giving off that sedation and warm feeling.
Going to sleep drunk doesn't produce the right kind of sleep, the more we drink the less REM sleep we get, which means less dreaming and less of the deep sleep phases, and that can ultimately cause an unrestorative night.
Some sleep experts recommend any alcohol should be consumed at least an hour before bedtime.
Manhattan
2 oz Rye Whiskey
1 oz Sweet vermouth
Splash Angostura Bitters
Add everything into a mixing glass with ice, stir and strain into a chilled cocktail glass. Cherry garnish.
Scotch and Soda
2 oz Scotch
Club soda
Pour into a rocks glass with ice and stir.
New York Sour
2 oz Bourbon
1 oz Simple syrup
1 oz Lemon juice
1 Egg white
1⁄2 oz Red wine
Add all the ingredients except the wine to a shaker and fill with ice. Shake well and strain into a rocks glass filled with ice. float the wine
French Connection
2 oz Cognac
1 oz Amaretto
Pour into a rocks glass with ice and stir.
Hot Toddy
4 oz Hot Tea (Decaffeinated Green)
1 tbsp Honey
1 oz Lemon Juice
Pinch Cinnamon
Pinch Nutmeg
1 tsp Agave Nectar
2 oz Whisky
Stir in all of the ingredients except the whisky while steeping the tea. Stir until the honey has dissolved. Add whisky and stir again.
Brandy Alexander
 2 oz cognac
1 oz dark creme de cacao
1oz heavy cream
Add ingredients to shaker filled with ice. Shake and strain into chilled coupe glass.Grated nutmeg garnish.
Saratoga Cocktail
1 oz Rye Whiskey
1 oz Sweet Vermouth
1 oz Cognac
2 dashes Angostura Bitters
Add all ingredients into a mixing glass, add ice and stir. Strain into a chilled coupe. Lemon twist garnish.