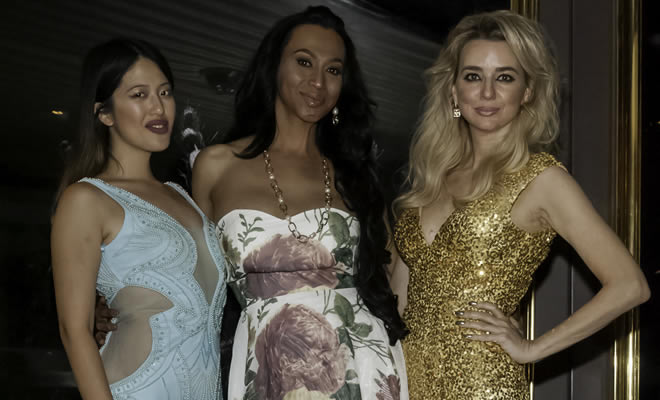 RUMI FASHION SHOW
|
"Let the beauty of what you love be what you do."
-Rumi
Each year Las Vegas is growing with exponential force, it's becoming an important place for culture and fashion! Beauty is everywhere! From upscale hotels, European-like promenades on the streets, uniquely designed boutiques and restaurants, the best architects in the world left their names in the walls of Las Vegas hotels.
The Fashion & Nowruz Celebration took place at Caesar's Palace inside of Fizz Lounge. Talented Fashion Designers shared their work with the world and a world Class Fashion Show by Rumi Awards was broadcasted live from the center of world's entertainment, Las Vegas.
One of my favorites was Designer Ellie Mei. She had a love for fashion that developed at a very early age. She became a model first, but her passion kept moving her forward. Like every girl she dreamed of wearing princess gowns and now her dream is a reality. She established Ellie Mei Design several years ago. Her vision for evening gowns, bridal, red carpet, pageant, and resort wear manifested in high quality unique designs. Each dress is a masterpiece. It takes several months from a drawing to become alive in the form of dress. Ellie Mei gets her inspiration from all the beauty that surrounds us.
William Carr Gallery at the Palazzo hosted the second day of Rumi Awards, thanks to Abe Nassar, the Ambassador for Rumi Awards. He brought three gifted designers and Ellie Mei was one of them. Her gowns make you feel like a princess or a Tsarina, yet they are modern, fashionable and comfortable! I got to wear a couple of her gowns so I speak from personal experience!
Ellie Mei's dream is to have her designer gowns on the Red Carpet and other important Award events. She would love to see more recognition for her unique style and vision. Here, you'll find a dress for any occasion and chances are that there's only few of those styles. You'll always be unique if you get your dress from Ellie Mei Design.
"Beauty surrounds us, but usually we need to be walking in a garden to know it." Rumi
Good luck Ellie Mei! Love your vision, love your style, love your garden of beauty!
Yelena Brezhneva
Author, Mother of three, Philanthropist, Las Vegas Personality & Realtor with Sotheby's