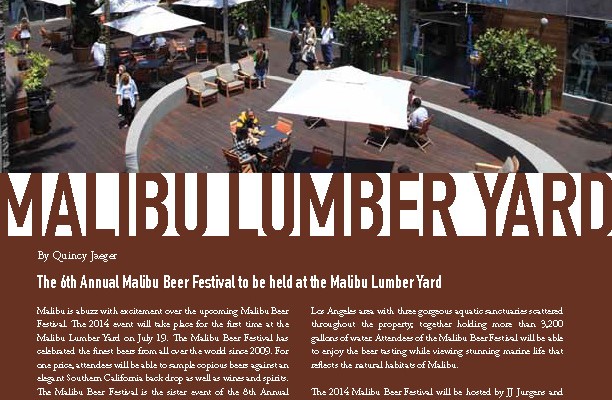 Malibu Lumber Yard Hosting Charity Event
|
6th Annual Malibu Beer Festival to be held at the Malibu Lumber Yard
By Quincy Jaeger
Malibu is abuzz with excitement over the upcoming Malibu Beer Festival. The 2014 event will take place for the first time at the Malibu Lumber Yard on June 7. The Malibu Beer Festival has celebrated the finest beers from all over the world since 2009. For one price, attendees will be able to sample copious beers against an elegant Southern California back drop as well as wines and spirits. The Malibu Beer Festival is the sister event of the 8th Annual Calabasas Malibu Food and Wine Festival which will be held June 20-21 in Calabasas at the Calabasas Country Club.
Located in the heart of Malibu and about one hour from downtown Los Angeles, the Malibu Lumber Yard is a premier outdoor retail and dining center with an upscale mix of shops and restaurants surrounding outdoor seating areas and lush landscaping.  A chic collection of boutiques and a contemporary design make for the perfect venue to host the laid-back springtime event. With elegant wooden decks and intoxicating ocean air, the Malibu Lumber Yard conveys a care-free spirit, inspired by its beachfront environment. It also hosts the largest outdoor freestanding aquariums in the Los Angeles area with three gorgeous aquatic sanctuaries scattered throughout the property; together holding more than 3,200 gallons of water. Attendees of the Malibu Beer Festival will be able to enjoy the beer tasting while viewing stunning marine life that reflects the natural habitats of Malibu.
The 2014 Malibu Beer Festival will be hosted by JJ Jurgens and feature the DJ talents of Caroline D'Amore. Because this is a beer tasting event, all festival areas will be accessible for guests 21 and over. However, guests of all ages are welcome to enjoy the shopping areas of the Malibu Lumber Yard.
The Malibu Lumber Yard is located at 3939 Cross Creek Road Malibu, CA 90265. The event will be held June 7, 2014 from 1 p.m. to 5 p.m. Pre-sale tickets are available for $25.00 at www.malibubeerfestival.com, they will also be available at entry on the day of the event. Proceeds will benefit Rock Against Trafficking. More information on the Malibu Lumber Yard can be found on their website at www.themalibulumberyard.com