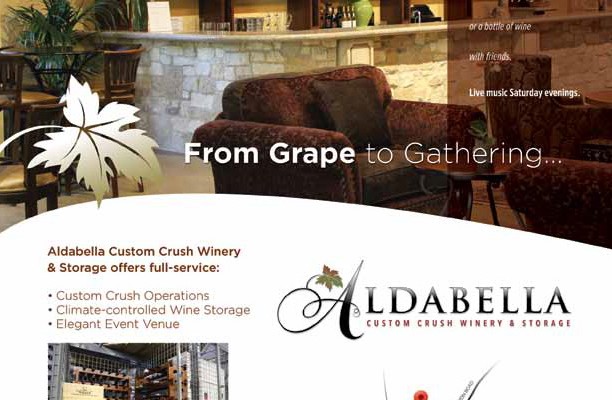 From Grape to Gathering
|
When we dreamed of building Aldabella, we envisioned a destination where friend
s and family could come together and store their private collections and enjoy fine wine and wonderful meals catered by Conejo valley's best restaurants in a setting reminiscent of Tuscany.
Coupled with our state of the art wine making equipment, Aldabella offers climate controlled storage for private collections or pallet goods ready for distribution.
Whether you're a wine collector, a novice wine maker interested in producing a small volume for you or your friends and family's enjoyment or a producer processing several tons of grapes looking to further distribution, Aldabella can cater to your every need.
Our tasting room provides the opportunity for customers to sample the variety of wines made at Aldabella and it's also a place where we can introduce your wines to distributors and restaurants.
Elegant and Relaxed Luxury:
We also provide an elegant, relaxed environment in which a gathering of friends and family or a corporate dinner party will feel at ease and welcome. You can choose from a wide array of caterers and purveyors who will serve food for any event from a Santa Maria style barbecue to an elegant white linen five-course meal.
Wine Storage
If your wines need storage, we can provide climate controlled multiple case storage as well as shipment and delivery of your wines to the destination of your choice. Need a case for an event at your home? No problem, we'll make sure you get it on time and at the right temperature. Need a larger venue where you can host clients, colleagues, friends or family? We can provide you with both indoor and outdoor venues at our beautiful facility and arrange for shuttles to provide safe transportation for you and your guests.
Aldabella's state of the art wine making facility is at your disposal with our crushing, fermentation, barrel storage, bottling, labeling and case storage options. From grape to gathering, we'll see to it that your wine experience is the best it can be, personally and professionally.