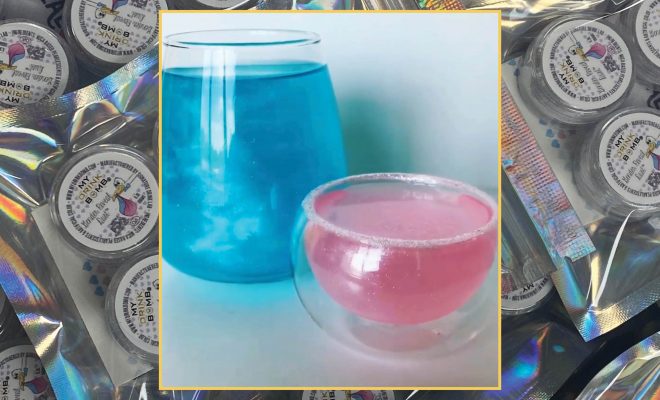 Gender Reveal Party Ideas
|
Gender Reveal is the biggest hit for the party scene this year and we've got the best way to get your party started.
There's an insanely new way to do a gender reveal, and it involves something everyone loves: MyDrinkBomb! What a concept, drop in a noncolored drink bomb, have the guests pour their favorite clear alcoholic drink or water, watch everyone scream, cry tears of joy, and high-five the dad. But, of course, the added incentive is seeing your family and friends have an entirely fun and new way of finding out the gender of your baby.
The concept of these gender reveals drink bombs came to Chloe Di Leo when she saw the new way MyDrinkBomb's are being served at bars on their own. The idea came to her in an AHA moment, and she ran with it!
These drink bombs come in single-serving, individually labeled mini jars of 0.3 grams of gender reveal glitter for single use. Each package can make up to 16-ounce drinks. They are FDA Approved, Kosher, Responsibility Sourced, zero calories, and odorless.
Di Leo is the creator, owner, and artistic talent behind MYDrinkBombs. She created these fantastic drink bombs for her kids that soon spun off into being everywhere from bars to parties, cocktail soirees, weddings, and now they're a social media sensation.
With the social distancing guidelines, these are a fantastic idea to send to family and friends and watch them all pour liquid at the same time and see your gender reveal in real-time with everyone. Just another bonus of Zoom parties!
With family and friends who don't live close by and unable to travel, these little bags of six individual drink bombs are the perfect added addition to surprising everyone, even the kids! The drink bombs are kid-friendly and tasty enough to make them drink more water because of how delicious they taste.