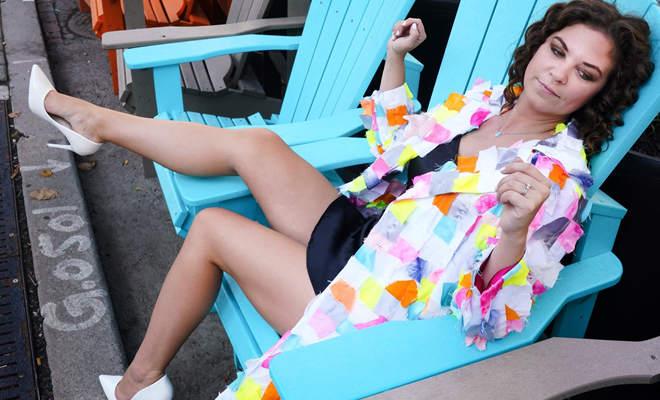 CONFETTI
|
Dee Silkie is an emerging fashion designer located in Toronto Canada. With a background in textiles and surface design, Dee recently created a sustainable fashion collection called "Confetti" which is largely made up out of left over scraps from previous projects.
As a formally trained surface designer, Dee takes pride in using ancient Chinese methods such as dip dying and shibori to dye her own textiles in-house. When creating clothing in the past, Dee never wanted to throw away any of the remaining fabric scraps because they were just too precious to her. Hours of love and labour went into designing and dying the fabric so Dee held onto as many scraps as she could. Dee says, "designing textiles is as important to me as designing the shape and style of a garment."

After accumulating a large collection of scraps that were too small to turn into anything on their own, Dee finally found a project for them. Dee created her custom confetti fabric which she used to make clothing from after cutting her leftover scraps into even smaller pieces. She would then both machine and sew hundreds of tiny squares together making a larger piece of fabric. Dee used this fabric to create multiple coats, cocktail dresses and is currently working on a gown.
Dee says that anytime she wears one of her pieces on the streets of Toronto people stop her and ask her where she purchased it and who designed it. Dee recalls that the first time she wore the confetti trench coat on the subway, the conductor stuck his head out the window and refused to operate the train until she explained to him more about the coat. "He was totally fascinated" Dee says. "He said it reminded him of post-it notes."
Photos: @hoggerandco
Follow her adventures on instgram @deesilkie