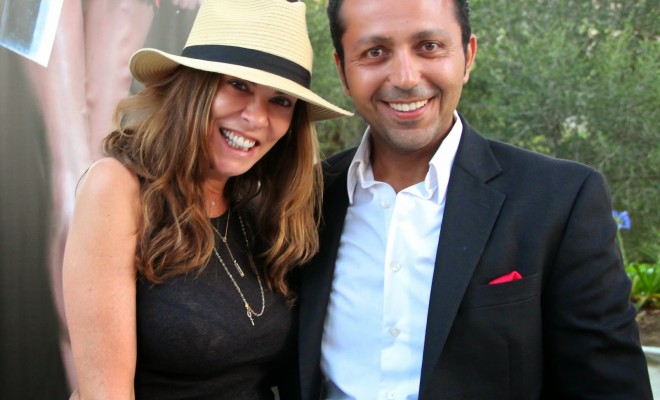 Calabasas + Malibu + Wine + Food = FUN!
|
Article and Photography by Gary Coon
The Calabasas Malibu Wine & Food Festival has become an annual tradition and this year, it took place under the stars in June at the Calabasas Country Club.

WONDERFUL WINE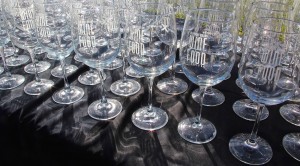 My journey began at Ahnfeldt Wines. Their 2012 Chardonnay, Sonoma Valley was a winner. The nearby Sterling Vineyards 2012 Chardonnay, Napa Valley was good as well.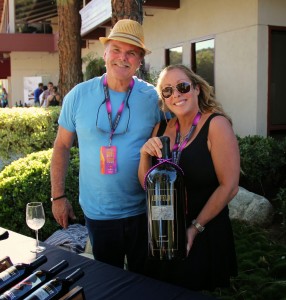 I switched to sparkling wine poured at the outdoor VIP Lounge sponsored by the Malibu Lumber Yard. No, they're not a real lumber yard, but a retail and dining destination in the Cross Creek area. They were also the host of the Malibu Beer Festival in July. The lounge was pouring generous amounts of Veuve Clicquot Brut – one of my favorites!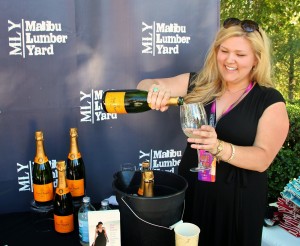 Continuing with Champagne, I tasted the Domaine Chandon étoile Brut and it was also very good. The server made a special effort to pour the Champagne properly. She placed her right hand at the base of the bottle with her thumb placed into the depression on the bottom (the punt) and balanced the front of the neck on the side of the glass, supported by her left hand. Practice this technique at home with a few bottles. Even if you don't get it right, you'll have fun drinking the bubbly for practice!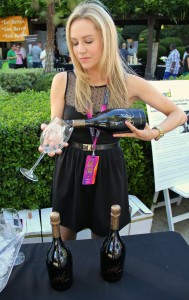 Moreno Beverly Hills-Las Vegas poured their Fine California Sparkling Wine. It sparkles on the outside of the bottle as well.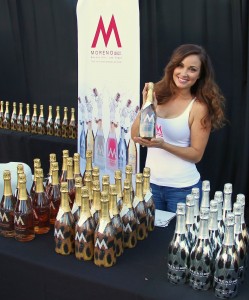 J. Hamilton Wines poured their Un-Deux-Trois Brut Sparkling Wine, 2013 Chenin Blanc, 2010 Sangiovese, 2013 Merlot and 2013 Cabernet Sauvignon. Jon Hamilton is always blending something interesting!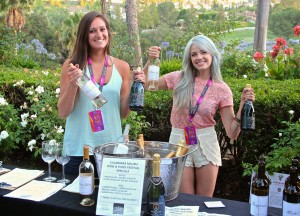 There were wines from the state of Washington as well. The Canoe Ridge Vineyard and Waterbrook Winery poured a selection of red and white wines, including the delicious Waterbrook Winery 2013 Sauvignon Blanc, Columbia Valley.
I particularly enjoyed the tastings of Vino Vargas Wine and talking with the owners, winemaker Pedro Vargas and Vicky Vargas who is a Sommelier. They are located north of Paso Robles in San Miguel. They poured wines from the Central Coast, Russian River Valley, and a new location I wasn't familiar with—the Clements Hills AVA. It's in the southeast part of the larger Lodi AVA in San Joaquin County.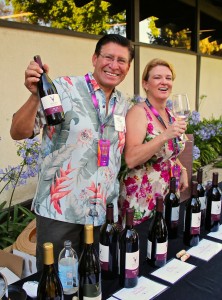 These wines were all outstanding:
2013 Del Sol Roussanne, Central Coast
2013 ¡Olé! Chardonnay, Central Coast
2012 Toro Tinto Tempranillo, Clements Hill
2012 Rio Ruso Pinot Noir, Russian River Valley
2011 El Taxi, Cabernet Sauvignon, Clements Hill
I ordered some of the 2013 Del Sol Roussanne and am still enjoying it.
Harmata Family Wines poured locally grown vintages – 2012 Memory Maker Rose Cabernet Sauvignon and 2012 Memory Maker Reserve Cabernet Sauvignon. The Cabernet Sauvignon is excellent! Owner and award-winning vintner Tommy Booth also operates Southern California Vineyards, an organic grapevine installation company for homeowners. I've known Tommy for about three years now and he always pours great red wines at the festival. He knows what he's doing both in the vineyard and the winery. He recently installed a very small vineyard at my place and my grapevines are looking good.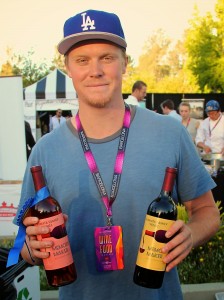 Marc Spellman, owner of Bridle Trail Wines in Hidden Hills, poured his 2011 Cab In Cabernet Sauvignon blend. The blend is 75% Cabernet Sauvignon, 9% Merlot, 6% Petit Verdot, 6% Cabernet Franc, and 4% Malbec and it was a crowd-pleaser! Marc is another local grower and winemaker that consistently makes great red blends.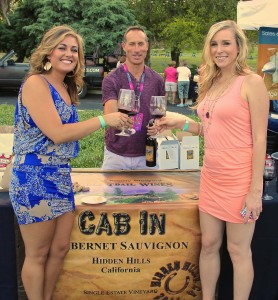 SUPER SPIRITS
I try not to mix too many types of alcohol at festivals but I arrived a little early and the Nolet's Silver Dry Gin was too good to pass up. There was some time to readjust my palette for wine tasting later… so what the heck! I sampled a small shot of the 95.2 Proof gin – straight – and it had a nice floral peach flavor. The gin was also used to make some peach and berry flavored drinks that were very tasty.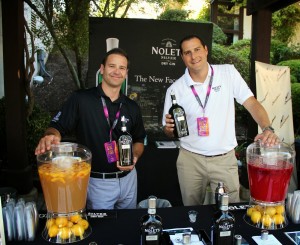 I wasn't the only one who thought it was okay to sample BOTH wine and gin!
The other spirits included Peligroso Silver Tequila (100% Agave), Dirty Tequila that comes with a mix of pineapple juice and cinnamon as well as some Tennessee moonshine from Short Mountain Distillery who poured their small-batch Shine and Apple Pie Moonshine.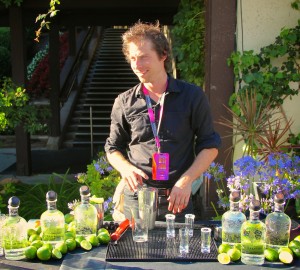 Even Williams-Sonoma was making Margaritas with their easy-to-use Margaritaville maker and Skinny Key Lime Margarita mix. Now that sounds fun, easy, and potentially dangerous!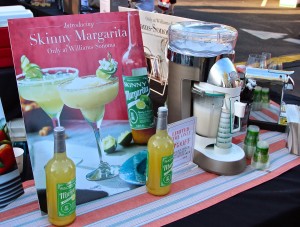 FANTASTIC FOOD
This festival always has plenty of amazing food and this year was no exception.
Marco Paolo Chocolates had their premium artisan truffles—great flavors!
Chef Hidefumi Tsujimoto, a private event chef and fine dining caterer made a cucumber roll that was a great way to start sampling food.
Mastro's Steakhouse served a Chilean Sea Bass that was yummy!
Roy's Hawaiin Fusion Cuisine served excellent seafood made by Chef June De Mesa. My favorite was the Ahi Tuna in paper cones. They also had a dessert of chocolate hazelnut souffle balls—wow!
Fleming's Prime Steakhouse & Wine Bar served Filet Mignon in au jus that was slow roasted for 13 hours. Each sample was served individually with a descriptive intro from a pan in the back of the booth. Great one-to-one marketing!
STK steakhouse & lounge served Tartare Two Ways: Ahi Tuna, Taro Chips and Soy Emulsion or Filet Mignon, Taro Chips and Charred Green Onion. The mini surf & turf was very good!
Mr. Chow in the Malibu Country Mart served a Shanghai Spare Rib and Five Spice Tofu Sauce.
Fresh Brothers Pizza served a great classic pepperoni pizza!
Maggiano's Little Italy Woodland Hills served some very large and tasty meatballs.
9021Pho served Vietnamese food with a French and Californian twist.
Q Kabab made some very tasty kabobs.
Leonardo e Roberto's Gourmet Blends had fine balsamic vinegars, fruit and herb infused olive oils and gourmet dipping oils.
Niroj Levant Cuisine, a Mediterranean and Middle Eastern Restaurant in Agoura Hills, had Kurdish, Levantine dishes and delicious desserts.
Heavenly Sinful Treats had gourmet truffles and specialty candies available.
Bagatelle Los Angeles served something sweet: Chocolate Mousse Tartlets with Caramel and Chocolate Dipped Macaroons. I managed to limit myself to only one of each but I could have eaten many more!
It was another great wine and food festival for a worthy cause – Rock Against Trafficking. Every event produced by Barcelona Enterprises is a class act.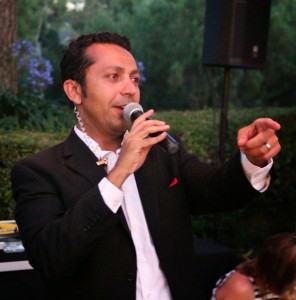 Alan Semsar (left), Chief Executive Officer at Barcelona Enterprises.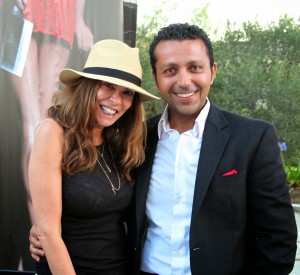 Peter White (right), Co-founder Rock Against Trafficking.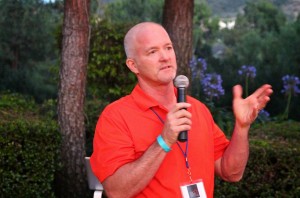 Gary Coon has written about wine for Calabasas Style magazine and covers wine & food events on his Taste N Trip blog (taste-n-trip.blogspot.com). Although he focuses on California wines and events, he's also tasted his way through Southern France, Eastern Australia and central New Zealand. Twitter: @tastentrip Email: tastentrip@gmail.com