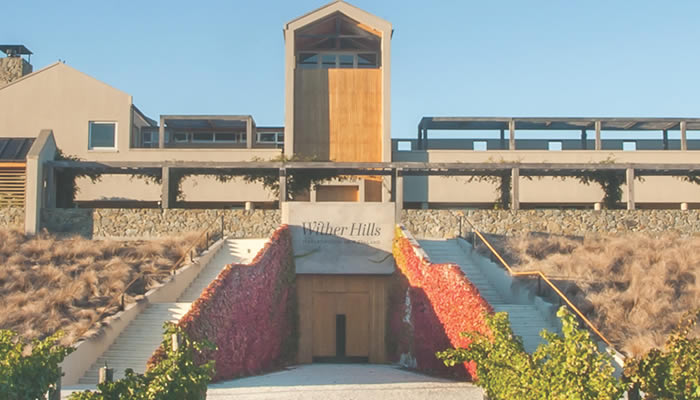 Wither Hills
|
Wither Hills
OUR WAIRAU VALLEY WINES
WAIRAU VALLEY SAUVIGNON BLANC
Sourced from a collection of vineyards throughout Marlborough's Wairau Valley, fruit is harvested at optimum flavor ripeness and kept separate throughout the winemaking process to ensure integrity of each site and to provide the greatest possible number of blending combinations. After fermentation in 100% stainless steel tanks the wines remained on light yeast lees to enhance palate feel and structure. Distinctly Marlborough, this Sauvignon Blanc exudes vibrant ripe citrus notes, crunchy greens and hints of tropical guava on the nose.
WAIRAU VALLEY PINOT NOIR
Sourced from our two stunning estate Pinot Noir vineyards, Benmorven and Taylor River, each site was hand-harvested at optimum ripeness and kept separate throughout the winemaking process to provide the greatest possible individual expression. The fruit was cold soaked in square fermenters, inoculated with selected yeast strains, basket pressed and left to relax for 14 months in French oak barriques. Rich brooding aromatics full of dark wild berry fruits, alluring toasty spice and subtle earthy undertones blend together in a concentrated hedonistic bouquet delivering the hallmark Wither Hills Pinot Noir style which, if patient, will reward cellaring for up to 12 years.
WAIRAU VALLEY ROSÉ OF PINOT NOIR
Strategically situated vineyards were chosen for this 100% Rosé of Pinot Noir from the Wairau Valley. The fruit was harvested at optimum ripeness for a fresh vibrant style of Rosé. The berries were gently pressed, cold settled, racked and cool fermented with selected yeast strains to enhance the unique aromatics and flavors. This inaugural Wither Hills Rosé is refreshing in style with perfumed aromas of wild strawberries and fresh raspberries.