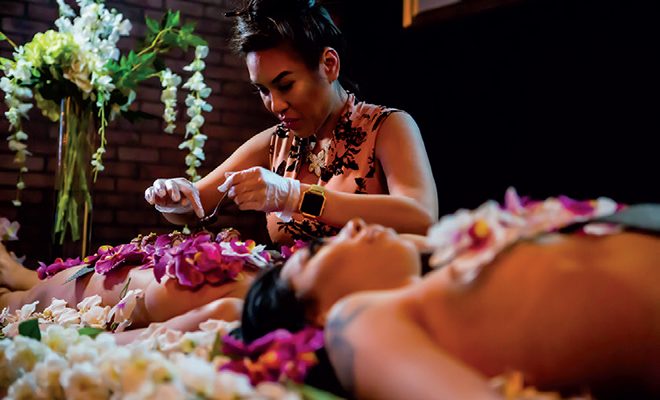 Sushi Chef Extraordinaire
|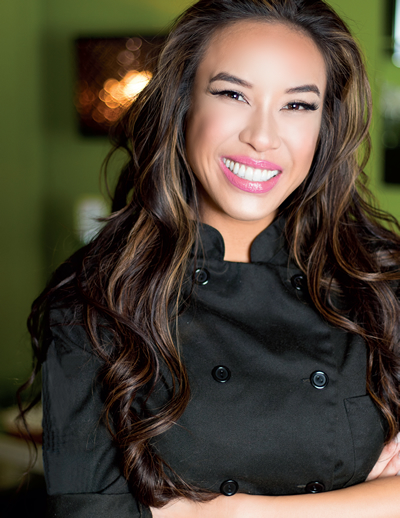 Great sushi is definitely an art, and Jennifer Ravalo, a young/up-and-coming entrepreneur, is raising the art of sushi to a whole new level! Born in San Diego, California, and raised in Mission Viejo, Ravalo is the owner and operator of Su She Art, a creative, high-end, Events Company specializing in all-thingssushi. Based in Orange County, Su She Art caters to the Orange County, Los Angeles, San Diego, and Las Vegas areas. Their signature service, you may ask? Naked sushi!
For those who are not familiar with the concept of naked sushi, this is where sushi is artistically displayed and served usually on top of bamboo leaves that are strategically placed directly on top of a naked model's body that is lying on top of a serving table. The food does not touch the model's bare skin, and flowers usually cover up the private parts of the model's body.
Su She Art's version of naked sushi is exquisite and the sushi itself is divine. Vegans need not despair, though. Su She Art offers delicious rolls and cones upon request that are just as spectacular as their non-vegan eats. The overall experience of Su She Art's cuisine and presentation is a sushi connoisseur's dream!
Ravalo, a graduate from the Sushi Chef Institute, was once told that she would work at a supermarket making rolls because "there are no female sushi chef." Instead of feeling defeated or insulted, Ravalo took it as a challenge to think outside-of-the-box. That's when the concept of naked sushi came along and actually helped her business take off. SuShe Art's main goal is to help plan and service unique events that leave a lasting impression.
So far, Ravalo already has an impressive resume. She has been a "Featured Chef" at the Las Vegas Food & Wine Festival at the SLS Hotel and Casino; she has serviced  a Golden Globes Pre-party in Los Angeles; she has participated in celebrity weddings, celebrity charity events, and corporate events. On March 12, 2017, Ravalo won a Chef Battle with her all female staff at the Illumination Foundation's annual OC Chef's Table charity gala that took place at Disney's Grand Californian Hotel. "I love food," explained Ravalo. "I love sushi, especially because of the presentation. It's beautiful, simple, and delicate." She added, "It's a privilege to feed people and I am very grateful to be connecting with people through my sushi creations."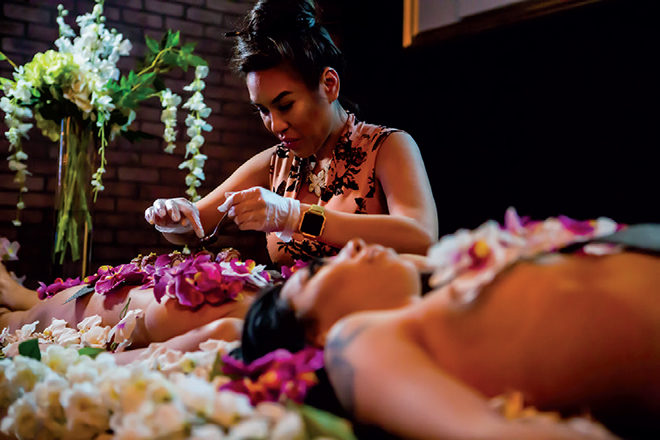 As for the "She" in Su She Art, she said, "It's a little reminder of what I was told; and, because I am a female sushi chef in
a male-dominated industry." As for advice to aspiring entrepreneurs, Ravalo cited a quote from Jim Carrey, "You can fail at what you don't want. So, might as well
For more information on Jennifer Ravalo and Su She Art, go to:
Facebook Pages: Su She Art & SuShe Art • Instagram: @SuShe.Art
Twitter: @SuShe_Art • Snapchat: @SuShe.Art