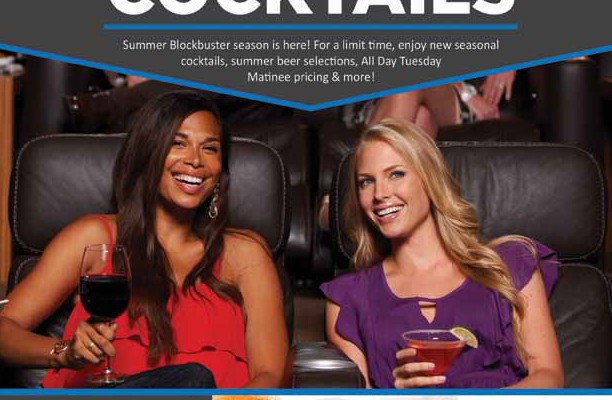 Sizzlin' Summer Cocktails
|
inépolis Luxury Cinemas is a revolutionary concept that has forever changed the movie-going experience. Our goal is to pamper our guests in an intimate and comfortable environment.
The Cinépolis Experience
The Cinépolis experience begins when you reserve your seats online and avoid the lines at box office. If that wasn't enough, our exclusive lobby and restaurant/bar area is the perfect space to unwind with friends and family before or after the movie. Here, you can sip on any of our signature cocktails or indulge in a wide selection of gourmet menu items. From hand-crafted salads and flat bread pizzas, to luscious cheesecakes and our very own "zebra" popcorn, covered in white and dark chocolate. Your senses will be delighted by the flavors, smells and sounds of Cinépolis Luxury Cinemas.
Reserve your seats online and avoid the lines
If your movie is about to start, you can comfortably stroll to your reserved seat without having to worry about the crowds. Once inside, you'll be greeted by our courteous staff who will accompany you to your fully-reclining leather seat. With the push of a button, you'll be able to enjoy at-your-seat waiter service and have your meal or drinks brought to you while you sit back and relax in your fully reclining leather seat.
The movie will only be an excuse, and the experience will be unforgettable. Live the luxury experience, Only at Cinépolis Luxury Cinemas.
Gourmet menu, Full Bar & At-your-seat waiter service
At-your-seat waiter service is available to all our guests so they can enjoy in-theater dining at any time by pressing the "call waiter" button located on your armrest. Press this button at any time to have a waiter come to your seat to take your order.
This is just a sample of our Menu options:
All our Cinemas have state of the art kitchen equipment & full bar service
Gourmet appetizers and entrées
Full bar: wines, spirits and beers
Flat bread pizzas, paninis and wraps
Sushi, seafood and other healthy options
Coffee shop products and luscious desserts
Movie Classics
AUDITORIUMS
Our theaters are the perfect combination between high-end comfort, and modern functionality. Our auditoriums offer an average of 70 fully-reclining premium leather seats with a swiveling glass table and a "call waiter" button for your convenience.
PROJECTION AND SOUND TECHNOLOGY
Cinépolis Luxury Cinemas offers state of the art digital Projection and Sound equipment. We provide our guests with active 3D technology for an immersive and unique 3D viewing experience.  www.cinepolisusa.com