Hell's Kitchen Winner Launches New Culinary Adventure in Las Vegas
|
The next time you visit Gordon Ramsay Pub & Grill at Caesars Palace, you may catch a glimpse of the handsome new head chef Scott Commings.  In fact he may even stop by your table to ask where you're from and what are your favorite dishes at the restaurant.  A native of Wisconsin, The 36 year old says he's a Midwest boy at heart and even after winning the 12th season of the hit FOX TV show Hell's Kitchen, Commings says that hasn't changed who he is: A family man who just loves to cook.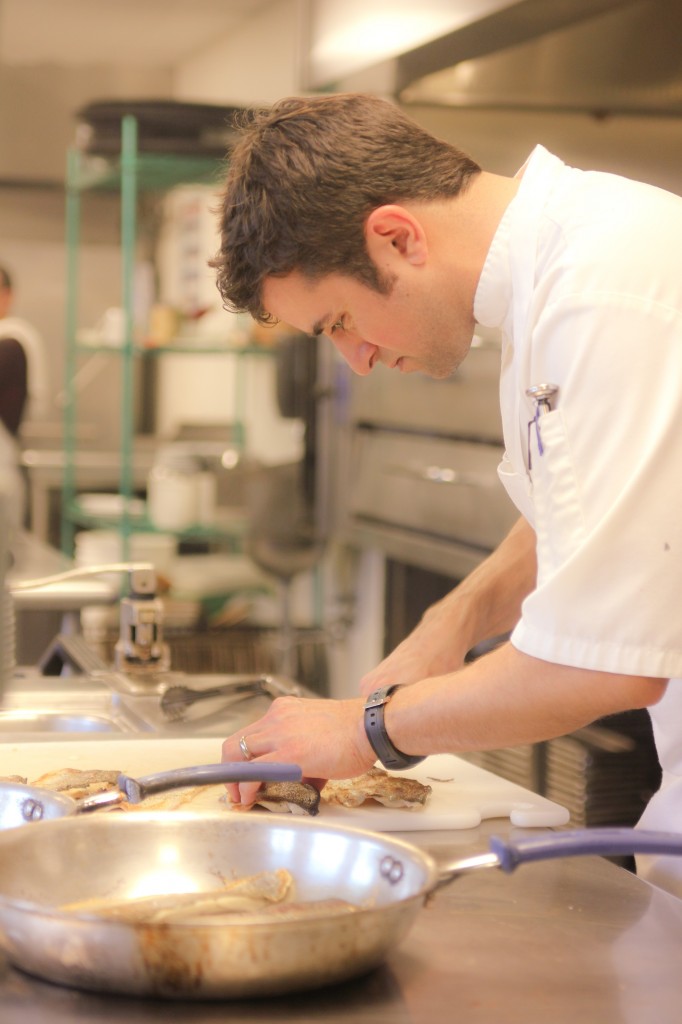 In a recent conversation with Vegas2LA.com, we got Commings to open up about his new life in Southern Nevada, why he is so excited about cooking in this city, and what he sees as the latest food trends in 2015.
Q: You have never been to Vegas until you got hired by Gordon Ramsey to run the popular restaurant at Caesars Palace. What was your first impression of sin city? How has it changed now you have been here for the past few months?
Scott:  My first impression was probably like almost anyone else: Overwhelmed. Everything was just bigger than life here. It's crazy and exciting. I serve food to more than 1500 people everyday at Gordon Ramsey.  It's a far cry from my previous job running a sustainable food operations at Loyola University north of Chicago.  But my family and I are settling into our new home in Henderson ( He and his wife have a 7 year old daughter and 3 year old son)  We do miss our family in the Midwest but one thing we don't miss is the cold minus 4 degree winter!
Q: What do you think made you stand out in Hell's Kitchen? What skills did you pick up from the show that you feel have come in handy running the kitchen at Gordon Ramsay Pub & Grilll?
Scott: The show was filmed in 2013 and aired earlier this year.  I think what made me stand out was my perseverance.  I always try to keep pushing forward with confidence.  I also have a good palette in tasting and pairing different types of dishes.  One of the best lessons I learned from the show is to always pay attention to detail. That's what I do as the new head chef at Gordon Ramsay Pub and Grill, I am careful with what goes into every dish from short ribs to shepherds pie and of course the restaurant's signature fish & chips.
Q: What's your take on the culinary world in Las Vegas so far? Do you think you have to be a celebrity chef to succeed here?
Scott: It's all blown up out here. There are so many Incredible chefs all over doing wonderful things. I love that there's new stuff happening all the time. I want to spend the upcoming year branching out and try as many local restaurants as possible.  Chicago has a great food scene and I think Las Vegas is also becoming one as well.
I don't you think you need to be a celebrity chef to succeed here in Las Vegas.  You just need to find your niche and be good at what you do.
Q: What food trends do you think we'll see in 2015?
Scott: I think we are moving back to real food and basic techniques.  I believe we just want good food. Glitz and glamour is great but people just want regular cooking that works.
Q: Do you have any cooking tips for us amateur chefs?
Scott: It's simple. Buy great ingredients and try not to mess it up.  I follow that advice everyday. You don't need a lot to showcase great food and that' what everybody should be doing.
Q: What's your favorite food?
Scott: Scallops, great pizza and artisan bakery.
Q: What's in your future?
Scott: I would love to have my own restaurant one day and being able to put my own spin into it.
Q: Lastly, what's your key to success?
Scott: Hard work and passion.  I started in this business as s dishwasher when I was 13 years old and moved up from there.  I am lucky to love what I do so I feel it's really not a job of me.  I have found a career that's exciting and fun and there;s  no to end to what you can do in this industry.