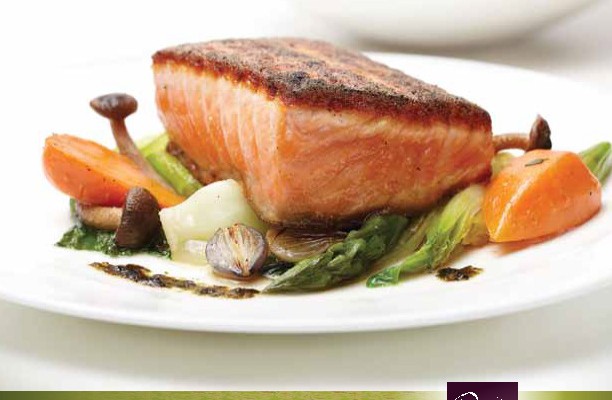 Roy's Topanga
|
Located in the west San Fernando Valley, right on bustling Topanga Canyon Boulevard, Roy's Woodland Hills is waiting to welcome you. Come in for inspired bites and enticing cocktails during Aloha Hour in the bar and sensational meals in the vibrant dining room that features our signature exhibition kitchen.
Chef partner
---
Bart Yunker
"I have always been an adventurous eater."
---
To you, what defines a memorable meal?
Wonderful meals always seem to involve friends and family.
What was it like training under Roy Yamaguchi?
His attention to detail is astounding. He is amazing. He taught me to make bold choices.
What inspires you in your daily life?
I have an awesome family. They motivate me and keep me going every single day.
Do you support any sport teams?
Many! I love my Lakers, LA Kings, Dodgers and USC!
What's your favorite vacation spot?
Kauai. It's inspiring in so many ways.
Raw

Sashimi Sampler*

Cold

Lakanilau Roll*

Wagyu Beef – Snow Crab – Tempura Asparagus – Avocado

Sesame Miso – Truffled Greens

Ebi Roll

Shrimp Tempura – Coconut – Cream Cheese – Avocado

Habanero Aioli – Nitsume

Lobster California Roll

Lobster Salad – Avocado – Cucumber – Tobiko

Auntie Lei's Aloha Roll *

Spicy Tuna – Cucumber – Yellowtail – Salmon – Avocado – Garlic Ponzu

Sunrise at Haleakala Roll*

Tuna – Yellowtail – Salmon – Avocado – Crispy Asparagus Roll – Spicy Butter Sauce

Roy's Original Blackened Island Ahi*

Spicy Soy Mustard

Misoyaki Butterfish Lettuce Wraps

Cucumber – Crispy Shallot – Sizzling Vinaigrette

Maui Wowie Shrimp Salad

Feta – Butter Leaf Lettuce – Avocado and Caper Lime Vinaigrette

Baby Greens Salad

Shaved Carrot – Grape Tomato – Japanese Yuzu Honey Emulsion

Caesar Salad

Furikake Croutons – Hearts of Palm – Parmesan Cheese

Creamy Togarashi Garlic Dressing

Hot

Red Curry Chicken Samosas

Puff Pastry – Creamy Cilantro Sauce

Lobster Potstickers

Spicy Togarashi Miso Butter Sauce

Beef Short Rib Bi Bim Bap

Go Chu Jang Sauce – Carrot – Scallion – Fried Egg

Vegetable Spring Roll

Mushrooms – Sesame – Bok Choy – Bibb Lettuce – Citrus Nam Pla

Szechuan Spiced Pork Ribs

Smoked and Glazed in Roy's Original Mongolian Sauce

Shrimp & Pork Gyoza

Firecracker Dipping Sauce

Canoe Appetizer for Two*

Thai Peanut Chicken Satay – Vegetable Spring Roll – Szechuan Ribs – Spicy Tuna Roll – Kim Chee & Shrimp