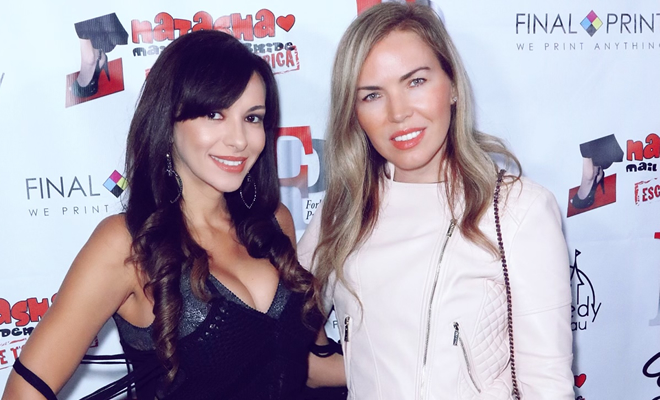 Red Carpet Events are Back
|
Vegas2LA is bringing the Red Carpet and the latest trends to you!
Actress and singer Carolina De Athey attended Brooke Forbes's Stained Red Carpet Comedy Fundraiser for Sheltering the Homeless at the Comedy Chateau. She was accompanied by fashionista, producer and influencer Galina Antonova and actress, producer and choreographer Alessia Bonacci.
Hosted by Brook Forbes the night was packed with great comedians such as Adam Richmond, Jimmy Shin, Tania Estrada and many talented people. Matt Rife was the headliner of the evening and let's just say based on the "laughter meter" his mission was beyond accomplished!
Our Rad Princess as we like to call her wore a Victoria Secret body, customized fringe dress, John John belt and Jimmy Choo sparkling boots.
Carolina shared with us she was very happy to be attending her first Red Carpet after the pandemic and she was excited to be playing the role of Miranda in the latest BScapades of Bohana and Santiago directed by Kurt T. Jones which still in production. Carolina also talked about 21st Century Blitz remix by Mr. Blarny that just came out and it's available in most music digital platforms. The music video should be out soon.
It girl Galina wore, Revolve and Lovers and Friends LA. Galina shared with us how excited she is about launching her latest project 24 Fashion TV which is available on Amazon Fire and ROKU. We will definitely, soon publish a segment on 24 Fashion TV which is a new 24 hours fashion channel and database for fashion professionals. Here at Vegas2LA we love fashion!
Charming Alessia wore a dress by Harper. She shared her excitement about attending the event and been out for the first time after the pandemic. She said the event was a lot of fun and she can't wait for the next night out with the girls. Alessia's constantly working with dance and she's also writing a script.
The trio was the Fashion highlight of the evening! We love the girl power and we'd love to cover the next adventure around Hollywood or wherever the glitz may take us!
By Carolina De Athey, Alessia Bonacci & Galina Antonova
Photos by Bob Delgadillo
@comedychateau
@bbforbes
@mattrife
@galinaantonovala
@alessia.Bonacci
@bs.capades
@kurtjones
@24fashion.tv
@bobdelgadillo
@jimmychoo
@revolve
@johnjohndenim
@victoriasecret
@loversandfroendsla