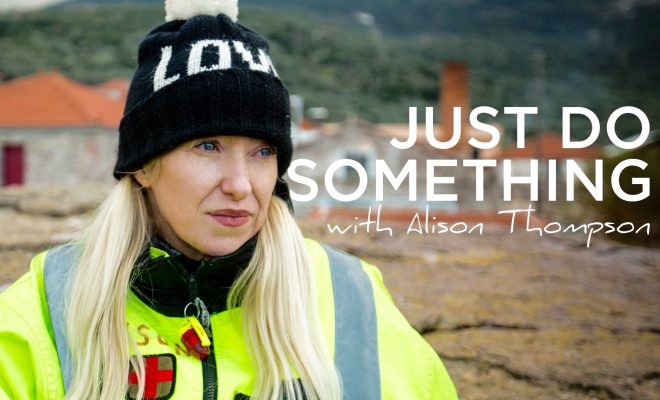 Pay It Forward
|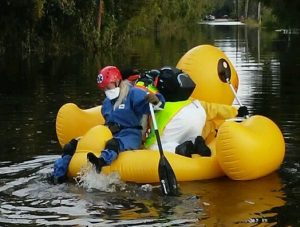 "It's easy to be in the wrong place at the wrong time, but it's leadership to be in the wrong place at the right time," says Alison Thompson, a 17-year full time humanitarian relief volunteer who is currently leading rescue efforts in Florida following Hurricane Irma, despite the fact that her own home in Miami took a significant hit in the storm.
Alison learned of Irma's impending strike on her adopted hometown while in Houston leading a rescue command center following the devastation of Hurricane Harvey. She raced to Miami, sandbagged her house and promptly prepared to help others, setting up a new command center in Florida through Third Wave Volunteers, the rescue organization she founded following Hurricane Sandy in New York.
Third Wave works in conjunction with Community Emergency Operations Center (CEOC), an alliance of grassroots groups that have come together with no red tape to get help straight to the people. These include New Florida Majority, Miami Climate Alliance, We Do Better, COH Florida, Urban Paradise Guild, H.E.A.R.T, HARP Rescue, Citizens Climate Lobby, SFLRS, Humanity Road and many more.  "Our central hub is in Miami and we are getting aid out to many affected areas in Naples, Tampa, Fort Meyers, the Keys and many more remote areas. It's all about humans helping humans," says Thompson. The CEOC were among the first on the scene in Florida, offering aid once the up to 185mph winds and driving rain subsided.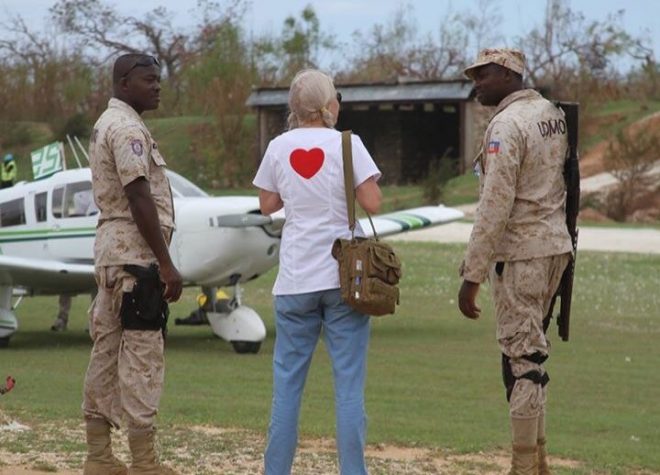 With $150 billion in damages and at least 69 people dead, the devastation Thompson and her teams have seen is incredible, and it is clear people in her hometown communities will need aid for months to come.  With 7 million people without electricity, Alison and Third Wave are positioned perfectly to bring critical help in the form of light. For 4 years, one of Alison's main missions around the world has been to distribute tiny yet powerful solar lights to disaster-ravaged and off-the-grid places. She has used SolarPuff lights to illuminate the path to safety up a mountain for Syrian refugees, she has delivered them in Haiti where electricity has been compromised in one way or another since the 2010 earthquake destroyed the infrastructure, and she is now bringing them to her friends and neighbors in Florida.
"I've been in the biggest disasters around the world for 18 years, but it's different when it happens to you. I'm driving around in destroyed neighborhoods and there are no words, just tears, which I hide because I have to be strong for everyone, " says Thompson.  "There's been so much hatred in this country this year, so now is a time for love, and I'm seeing everyone coming together – no colors or borders – just humans helping humans. And everybody's equal — for now. I know that won't last long, but love is here right now. I see it. I smell it. And love wins. That's what our country needs right now."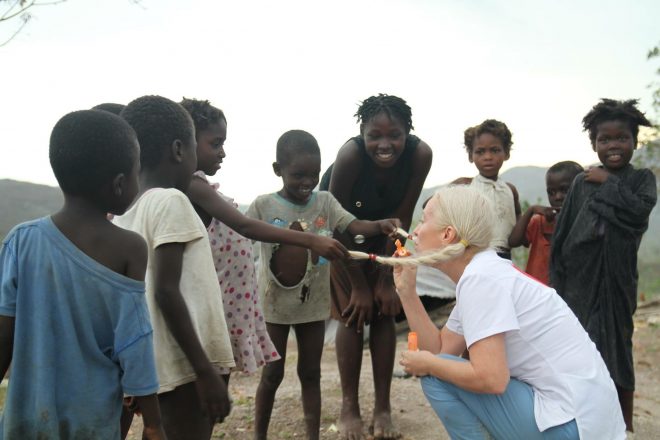 SolarPuff Lights soak up the sun for 12 hours and provide 8 hours of intensely bright light that can illuminate a significant area. They are inexpensive yet durable, waterproof and extremely lightweight. And they can be hooked on a wrist or a handle or a pole, so they are extremely versatile.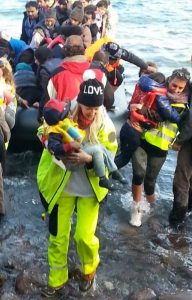 Alison received the prestigious Medal of Order, the highest civilian honor given by Queen Elizabeth and the Australian government for contributions to humankind and was named the 1st official Ambassador to the Haitian Ministry of the Environment. Alison's work began during the Sept 11th, 2001 attacks in New York, and she has run refugee and internally displaced persons camps and field hospitals in Sri Lanka, Haiti, Philippines, Greece (Syrian and Iraq refugees), Turkey, Nepal, Super Storm Sandy in NY and other distant places around the world.
Donna Karan called Alison "an inspiration" and Bono said, "Whatever you do, I hope your Third Wave Volunteers don't start a band, otherwise I'll be in deep trouble!"
Obviously, Thompson's work is having an impact not only in the thousands of people she has helped, but the many she has inspired to step up, find the wrong place at the right time, and lead.
If you'd like to help Alison and the victims of Hurricanes Harvey & Irma, please make a tax deductible contribution their Studio Unite Third Wave CrowdRise Campaign