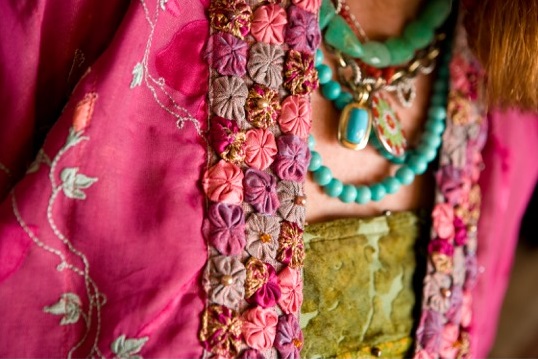 NADYA
|
Importing fashion, art and passion from Southeast Asia
By Andrea Rademan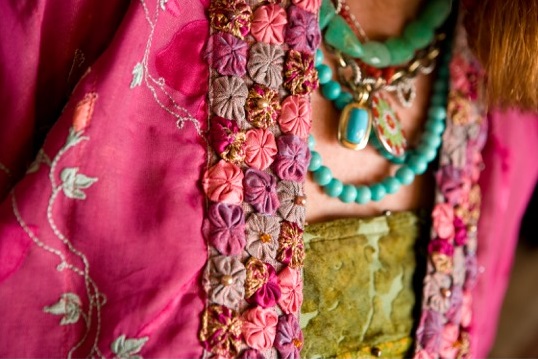 "Bali is the morning of the world," said the great Indian statesman and writer Pandit Nehru, speaking of this predominantly Hindu speck in the Indonesian archipelago. It's an art-filled magical paradise and unlike the fictional Shangri-La of Lost Horizon, Bali truly exists.
The Balinese people view nature and art as extensions of each other and consider both to be gifts of the gods. Given their belief that the surest way to keep the gods happy is to celebrate their gifts, they see creating art as a form of tribute. It's such a natural part of daily life that the local language has no word for "art" or "artist."
Artisans originally never signed their pieces. They used their paintings simply to commemorate a special occasion by telling a story, which after serving their purpose, were usually discarded, Paintings were not a mode of individual expression but an attempt to achieve perfection. Free of Western individualism and commercialism, the Balinese painter is proud when other artists copy his or her style.
Just outside of Ubud, Bali's cultural belly button, is a cluster of artisan villages that feature woodcarving, painting, batik (wax dying) and ikat (hand-weaving) to name a few. Among the Balinese and expat artisans who live here, few are more talented than Nadya, whose Puri Naga studio churns out an endless array of eye-stopping handmade clothing.
Nadya had no formal artistic training when she left her Chicago hometown and headed for Paris at the tender age of 21. Once there, she carved out a career with leading fashion designers by showing them how to market their couturier clothing to American women. Her wanderlust kept her traveling between both continents even after she married a successful attorney.
The marriage ended a decade later and she consoled herself with what she envisioned would be a once-in-a-lifetime tour of Southeast Asia. En route back to the States, she made one final stop. Bali. It was here that the unfinished pieces of her life came together. Unable to tear herself away, she stayed until she was flat out of cash and returned to Chicago with a trunk full of souvenirs. She gave an impromptu trunk show in a friend's living room and sold out every last piece. She used her earnings to return to Bali and repeated the cycle, then repeated it again and again until finally, she realized that Bali had become her true home.
Continuing to travel back and forth, this modern day nomad set up a fashion center in a garden studio, which has since expanded into a 12-house village compound where she lives among a carefully selected team of skilled artisans and their families.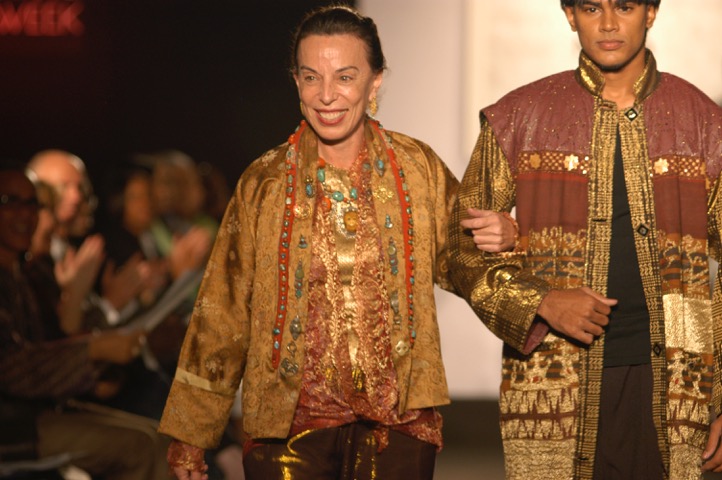 They use their own fabrics in many of their designs, beginning each garment with an outline and an idea.
"I tell them what I have in mind," says Nadya, "and they create what they thought they heard."
Although they pore over art books, their inspiration comes from a higher source.
"The Balinese," Nadya says, "listen to the gods for direction."
They rely on traditional cloth painting, batik, ikat and other techniques, sometimes embellished with beading, embroidery or patchwork. They even create many of their own buttons, often inlaying them with mother-of-pearl and onyx. No two pieces are alike because each material takes the dye differently.
"Mass production," Nadya says, "is not in harmony with the Balinese spirit."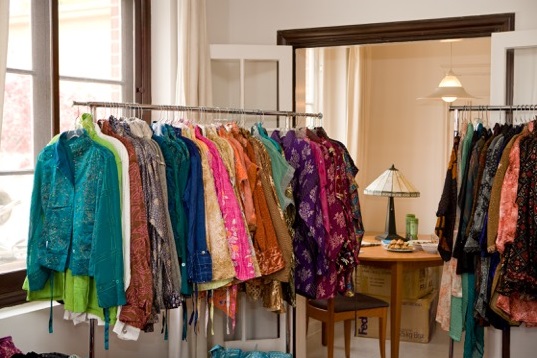 After a stint selling through upmarket shops such as New York's Bergdorf Goodman, Nadya opted to handle her own sales.
"Meeting the people who are buying my clothes makes my designs more personal," she says, "and their suggestions inspire me."
Customers range from business executives to society wives and from New York's intelligentsia to showbiz big shots in Los Angeles. Her clothes have been featured on-screen more often than many members of SAG and although she won't drop names, more than a few celebrities have covered their famous bodies with her fashions.
Her clients keep an eye on the inbox, waiting for an email from Bali signaling that Nadya is on her way to the States. They know she'll be toting duffel bags full of her show-stopping but comfortable, neither in nor out of style clothes. Unsized and mostly reversible, these jackets, coats, vests, skirts and pants in exotic fabrics and exquisite colors are meant for mixing and matching, allowing for the ultimate means of expression – one's own. This is not clothing meant to impress other women, boyfriends or husbands.
"This," says Nadya, "is clothing meant to dazzle the gods."
Nadya presents trunk shows in Los Angeles, Chicago, Washington, D.C., New York, Seattle and San Francisco. She is also looking for new locations in Las Vegas. Contact her at www.nadya.com
By Andrea Rademan
Photos: Johanna Jacobson/ambientimage.com