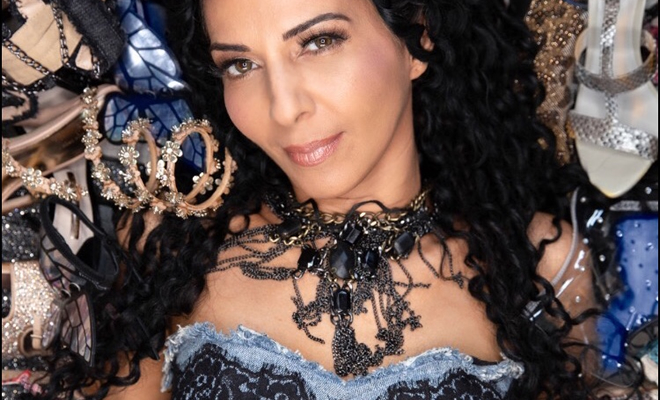 KEEPING UP WITH KLAUDIA
KEEPING UP WITH KLAUDIA ZINATY-CAPALBO OF FASHION GROUP INTERNATIONAL TORONTO
By: Janice Ronan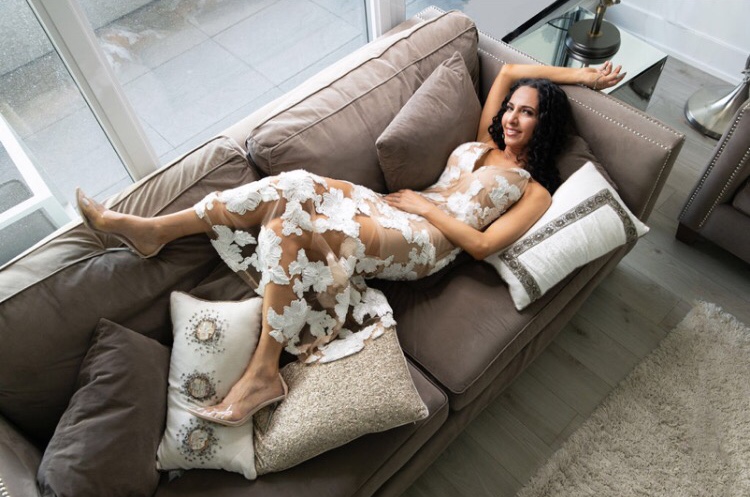 Bombshell beauty and brains. Poised, kind and business savvy. Rarely do you meet someone that clearly and modestly encompasses each of these merits. Klaudia Zinaty Capalbo does just that – all while maintaining a graceful and grateful attitude.
Previously, Vegas2LA was privy to a private tour of her legendary walk-in dressing room that houses her incredible collection of over 380 pairs of designer shoes. Recently, we caught up with Klaudia at Toronto Luxury Suites. A luxe photoshoot and candid conversation were on the agenda – detailing her exciting new role next year as Regional Director of Fashion Group International (FGI) Toronto.
With your new role as Regional Director of FGI Toronto, do you have any new & exciting initiatives in the works?
My goal is to provide a forum where professionals in the fashion industry can continue to learn, grow, be inspired and connect with industry peers. Our Board will develop amazing new initiatives over the next year and continue to recognize and celebrate the achievements of Canadian talent in our industry. We want to provide more networking and collaborative opportunities for our community and members, encourage careers in fashion and related fields while mentoring those who want to develop and grow their personal skills and knowledge.
How would you describe your leadership style?
Strategic yet democratic. I want to ensure that I align our strategies with the objectives and values of our main headquarters in NYC, thus, building on the growth of our organization and presence in Toronto. At the same time, I want to ensure that every member in our organization has an opportunity to share their opinion and provide input in making suggestions for our yearly initiatives.
What notion would you like dispelled about the fashion industry?
People believe that we are competing with one another but that's untrue. We all support the fashion industry in Canada and our goal is the same. Continually showcasing and growing the incredible talent we have here and to celebrate the national and global achievements of our Canadian fashion industry leaders. There is enough room for all players in this industry big and small. Each designer, retailer, influencer, fashion event, etc. brings something unique. I've witnessed so many in the fashion industry congratulate others on their events and supporting one another's success. We are stronger when we stand together instead of facing one another.
Do you have any career advice for those looking to get into the industry? How can people get involved?
I'd strongly suggest becoming a member of local fashion organizations such as our Fashion Group International. It's a great way to expand their network and connect with other industry professionals. I'd also recommend finding a great mentor in the field which they are interested in. Mentors provide guidance, experience and insight into the industry, help them learn and develop their skills while motivating them to attain both personal and professional goals.
Now Just For Fun….
Who are you in shoe form?
Sophia Webster "Evangeline Butterfly" wing heels – they are classy yet playful.
What shoe are you currently coveting/Dream shoe?
Christian Louboutin "Sexy Strass Crystal" heels and Sophia Webster "Black Royalty Velvet Crown" embellished sandals.
How has your style evolved?
It's really become a complete evolution. Prior to being in the fashion industry, I worked at the NBA and Chum Television. The work environment was very corporate so my style was simple and conservative. Blazers, dress pants, dress shirts and skirts were the key staples of my wardrobe.
However, once I started working at FLARE magazine, I began to experiment with different styles, colours, patterns and designs. I learned to appreciate the fit and incredible details of different designers and pieces of clothing. Currently, my style ranges from sexy sophistication, casual street style, to total glitz and glamour. Regardless of what style I wear, it's always paired with a great pair of heels!
Ultimate style icon?
I really don't have a particular style icon, but rather I appreciate the style of characters from shows such as Carrie Bradshaw from Sex and the City or Cookie Lyon from Empire. Their styles are so diverse from elegant to playful to full on glam. I also admire the versatility of Jennifer Lopez's style from casual leisurewear to her incredible red carpet looks.
What are some of your fashion do's & don'ts?
Do invest in good quality pieces. You'll enjoy and appreciate the items longer than fast fashion, preventing landfill build up and waste.
Do find pieces that fit your shape and are comfortable to wear.
Don't be afraid to try something new. I used to always wear black all the time. Currently, I started to incorporate more colours into my wardrobe. You'd be surprised the difference an accent of color makes!
Don't buy something that doesn't fit you properly or because it's on sale – you will regret it later.
Do have basic staples in your closet – a little black dress, great pair of pumps, neutral handbag, classic blazer, great fitting trousers or jeans. They will never go out of style.
Do incorporate your sense of style in everything you buy and wear – use the runway looks or current trends as inspiration but always be sure to make it your own.
What are some of the current trends for summer?
As you can see from the photoshoot, some of my favorite trends are the bright bold colors this season, romantic lace, animal prints such as snakeskin and leopard print. Metallics and clear heels are still a huge trend as well this season with embellishments and unique designs. I've always wanted to create my own version of Sex and the City encompassing each of the characters in the show and incorporating some of these great summer trends. I'd like to call it Sex and the 6ix…Canadian style!
Credits:
Lead Stylist
Basil Waris | @basilwaris
Assistant Stylist
Renee Lindo | @letsgetdressednow
Hair and Makeup
Angela Lee | @angelaleemakeup
Photographer
Nick Merzetti | @merzetti
Designer (White Fringe & Black/Suit Dress)
Oshel | @oshelhouseoffashion 
Location